Repair buttons for TX11, Dynamco, Dynatron series 3 & series 7, Cyclops car Alarm Immobiliser remote.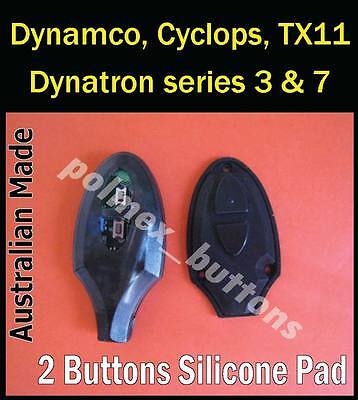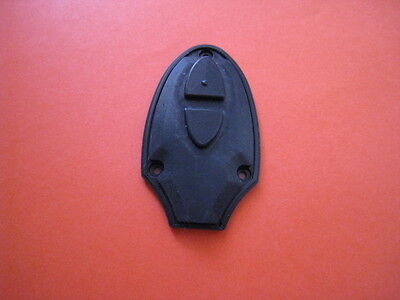 What are the Most common problems with car remote keys ?
Your remote may not be working due to some problems outlined below that need to be sorted out before you purchase replacement buttons :
·Electronic switches had broken off their solder points.
They need to be re-soldered back into place where they popped off from.
Battery is running low or not working.
You can buy replacement batteries from any electronic shop i.e. Dick Smith and replace it. You have to follow your car owner's manual instructions for battery replacement.
Electronic switches are clogged with residue from breaking down aged elastomers used for manufacturing of key buttons.
Remote key buttons age due to: deteriorating effects of temperatures, sunlight, ozone,contact with chemicals, fluids and oils commonly encountered in service such as Citric Acid, Detergent, Vegetable Oil, and Methanol
As buttons age material they are made of (with exception of LSR Silicone) breaks down and oily substance comes out clogging switches.
Your Remote key still works but buttons are becoming less responsive and work randomly. You keep on pressing harder and deeper and you eventually get it to work but not for long. In effect you may even break or split your buttons as deteriorated material is already weakened. Your Worn buttons get the blame for remote not working properly when in fact your switches were the main cause of the problem.
To clean switches
you would need Isopropyl alcohol (also known as Rubbing
Alcohol or Isopropanol
) which can be purchased in Australia from local chemist, dick smith or mitre 10. Approximate cost of 100 ml is $10. If Isopropanol is hard to get you can substitute it with tea tree oil.Use wooden skewer or toothpick to dip it in Isopropanol. Place couple of drops on the top of switches in your remote key Keep pressing switch a few times till it starts clicking. Wipe excess of alcohol of with cotton bud and repeat the same process. After couple of rounds of cleaning, your switches should unblock and become more responsive Once cleaning process is finished you can fit in new Silicone Replacement Buttons
Worn, perished or lost key buttons. We supply Silicone Buttons and Pads made from German, high quality, medical grade Silicone (LSR). Please visit our store for wide range of products. Our polmex_buttons products have been tested by large number of users in various conditions over period of time and have been overwhelmingly applauded. You can trust its quality proved by an excellent feedbacks.
Your best option available: Fix your remote car key cheaply with Silicone polmex_buttons