E-type Jaguar Cars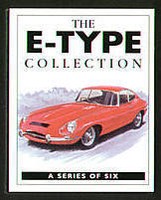 This is one of many illustrated classic car guides I've created for the eBay community. I hope you enjoy it and if you would like to find out more about the classic Jaguar E-type car (XKE) art featured in this guide please click here.
When in 1961 Jaguar unveiled the sensational E-type (or XKE as it was to be known in North America), it immediately became the most coveted sports car in the world. As the XK series had before it, the model set new standards of sports car performance, comfort, and value for money. During its 14 year life, the car was offered with three engines and three distinct body styles (Drop-head Roadster, Fixed-head Coupe and 2-plus-2) and when production ceased in 1975, 72,506 E-Types had been built.
E-Type Series 1 3.8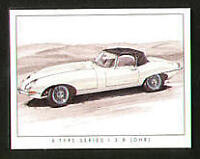 The original 3.8 model was launched at Geneva Motor Show of 1961. Embodying all the main ingredients of Jaguar's greatest sports-racing car, the D-Type, it was a remarkable piece of engineering and one of the most clear cut examples of what were purely racing design features being transferred to a road car. Available as a drop-head roadster or a fixed-head coupe, the new model had few peers. It was fast, with beautiful lines and for many it represented the climax of the true British sports car.
E-Type Series 1 4.2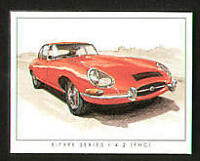 The desire for more torque for the saloon car range led Jaguar to expand the "old faithful" XK unit from 3781 to 436cc and from October 1964 it was fitted into E-Types. The 4.2 E-Type was little different externally to its predecessor but changes had been made under the skin. Most significant of these was the new gearbox with synchromesh on all forward gears, together with a few interior improvements, making the new 4.2 E-Type more pleasurable to drive and quite literally in a class of its own.
E-Type Series 1 ½ (Two Plus Two)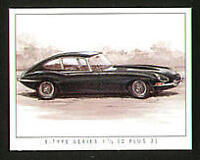 Introduced in March 1966, the 2-plus-2 made the E-Type into a viable family car.9" longer and 2" taller than the standard fixed-head coupe, the extra dimensions were well disguised and barely affected the sleek and sporting lines. A versatile and useful high speed tourer identified by a more angled screen and bright strips on door shoulders, the 2-plus-2 accounted for almost half of closed Series 4.2 production. The Series 1.5 was really an interim model not acknowledged as a distinct model by Jaguar.
E-Type Series 2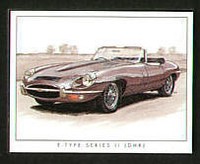 Stricter North American regulations concerning such items as light position, impact penetration and toxidity of exhaust emissions led to the Series II appearing in October 1968. Obvious changes were the larger "mouth" with fatter decorative bar, headlamps brought forward by 2" and larger sidelights beneath the bumpers. Internally, a snap off rear view mirror was fitted, along with rocker instead of toggle switches and redesigned doors accommodated anti-burst locks. Wire wheels now had smooth centres. With the advent of the Series II there were what accounted to radical changes to the E-Type's appearance. Gone were the slim sidelights and delicate bumpers and although still stunningly beautiful, the car had lost a little of its original charm. In North America, the E-Type's main export market, the edge was being taken off performance from the effects of "enforced plumbing" to control exhaust emissions. It is doubtful if the last of the 117bhp emission cars managed 130mph.
E-Type Series 3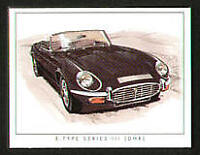 It needed the 12-cylinder engine to redress the balance and ten years from the announcement of the original, the third and last version of the Jaguar E arrived. The magnificent aluminium V12 5343cc power plant was beautifully smooth and put the car firmly back in the 150mph class. Few cars could match its top speed of 120/130mph cruising ability, even amongst exotica from Italy, and none at all the silence and smoothness of its Jaguar engine.
Thank you for reading my guide and I hope you found it interesting!