HOW TO REPLACE AN EXTERNAL / INLINE FRIDGE FILTER WITH PUSH-FIT CONNECTIONS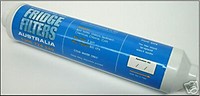 Traditional inline fridge filters have brass adapters that can leak and require unscrewing, thread tape, re-screwing and carry the risk of being over tightened and then threaded, resulting in headaches and time wasted.
The new Premium External / Inline Fridge Filter offered by Aussie Fridge Filters, not only offers the latest in 'Pure Water Filter Technology''but comes with the latest sonically welded 'push fit'connections dramatically reducing leaking while also making filter changeovers a breeze.

To convert from your old filter to the new Premium External / Inline Fridge Filter, simply make a clean square cut either side of your brass or plastic fittings at the inlet and outlet to your old filter (after isolating your water).
Wet the end of the hose to assist in sealing, then insert the inlet tube first into the outlet, until it hits the seal inside the outlet. Using a bucket or container, turn the water back on to flush the filter clear from carbon fines and loose media. Now turn the water back off and insert the outlet end of the tube. Once again turn your water back on and the job is done!