With the correct tools and a little bit of creativity anyone can make a pair of stunning earrings in only minutes! Practically everything you need to get started can be purchased on ebay at great prices. Follow these step by step instructions to make your very own earrings that will have all your friends talking!
1. Puchase bead making tools. The most useful tools are small nosed pliars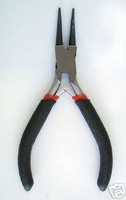 and wire cutters.
2. Purchase earring hooks and some flexible wire known as tigers tail. Both are available in a range of colours and are easily sourced through EBAY.
3. Purchase your beads!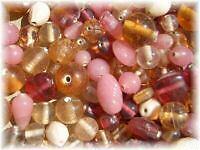 This is the fun part. You can choose from literally thousands of beads ranging from pearls, gemstones, glass beads, crystals to metallic beads and wooden beads.
4. Purchase the little beads used to secure everything in place. These are called crimps. They are available generally in silver, gold and black nickel.
Now that you have all that is necessary to get started, you can start getting creative!
1. Cut your tigers tail to the desired length.
2. Thread the tigers tail through the eyelet of the earring hook leaving one end long and the other very short.
3. Crease the tigers tail firmly in place (around the eyelet) and thread a crimp onto the long end of the tigers tail.
4. Move the crimp to the end of the tigers tail so that the small length of tigers tail also threads through the crimp. You want to ensure that you get the small end neatly in line with the crimp.
5. Using your pliars, press the crimp firmly securing the wire around the eyelet of the earing.
6. Thread your beads onto the tigers tails and when you are almost left with no room thread one more crimp on the end to secure the beads in place. Again press firmly on to the crimp using your pliars.
Repeat again for your second earring.
Before you know it, you'll be making earrings for everyone!