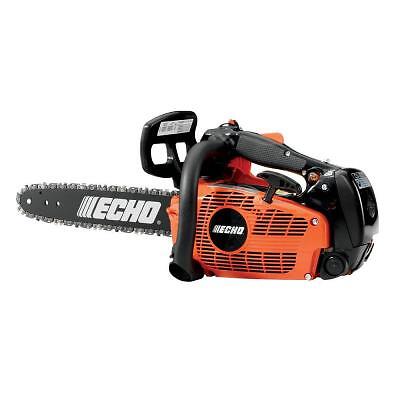 When it comes to buying a chainsaw, consumers have a multitude of brand name choices on the market. One of the names that consistently come up in reviews and online forums is Echo. Echo brand chainsaws offer a quality build, good power, and are simple and intuitive to use.
Echo chainsaws offer a number of features for buyers. The handle placement, engine, and chain bar length are important. There are other less critical features that are still important for comfort such as the ignition system and vibration reduction. Once buyers understand these features, deciding between the different Echo chainsaw models is much easier.
Echo Chainsaw Handle Placement
All Echo chainsaws come with either a top handle or a rear handle placement. The choice of handle placement affects the type of cutting. The top handle chainsaw allows users to control the direction and operation from the top of the saw. Top handle saws are handy for trimming branches within a tree. Top handle chainsaws are powerful with good balance. On the other hand, they are not optimal for use at ground level.
On the other hand, the rear handle chainsaw design allows for use at either ground level or heights. Since they are versatile and manageable tools, the rear handle chainsaws are beginner friendly yet suitable for more advanced users. One of the few downsides of a rear handled chainsaw is that it is not well suited for one-handed use.
Echo Chainsaw Engine
The term cc in the description of petrol fuelled chainsaw engines refers to engine size. The term cc is an abbreviation for cubic centimetres. This is the measurement of the volume of fuel pumped through to power the engine. The higher the number of cc, the more powerful the engine is. Keeping in mind that professional loggers use chainsaws with a minimum engine of 70cc, home users of Echo chainsaws should expect to find suitable saws in a range from 26cc to 80cc. In comparison, motor scooters can have engines as small as 50cc.
The Echo CS-8000 saw is one of the most powerful chainsaws on the market. With an 80cc engine, bar lengths of up to 1100 centimetres, this saw is built for professional loggers. The power capability of the CS-8000 and the reliability are very high for this model. Of course, it comes at a price, albeit not as high as that of other name-brand chainsaws.
Engine Ignition System
Echo chainsaws have different ignition systems buyers can choose from. There is the i-30 starting system, the spring-assisted starting system, and a digital ignition system. Some models also come with an integrated choke and fast idle for easy starting.
Echo describes the i-30 starting system as reducing starting effort by 30 per cent. The spring-assisted starting technology works on a secondary spring that aids in turning the engine over, thus allowing larger chainsaw engines to start even on a slower pull. Finally, the digital ignition system works to automatically adjust the timing of the engine start.
Vibration Reduction Technology
Echo chainsaws are large tools with powerful engines. Add to that the fact that they cut through large pieces of wood, and they vibrate quite a bit. The vibration reduction technology in most Echo chainsaws makes for smoother and more comfortable use, particularly when the user has larger jobs to complete.
Echo Chainsaw Chain Bar Length
The chain bar length dictates the safe size of the piece of wood cut. In general, for safety purposes, the chain bar should be longer than the item in question. Genuine Echo chainsaws come in a wide range of bar lengths, from 30 to 91 centimetres. Many models come with a range of bar lengths so that the buyer can customise the chainsaw as much as possible.
A small chain bar length available for Echo chainsaws is 30 centimetres. Not many Echo models come with chain bars this small. In fact, only the lower, lighter-weight chainsaws have bars so small. Chainsaws such as the Echo CS-271T are lightweight and very appropriate for beginners.
Echo Chainsaw Models
While the following table does not include all of the Echo chainsaw models, it has enough information to give buyers an opportunity to see what is the best fit. The table compares model against the engine size, bar length, and starter. Of course, there are many other features to discuss as well.
| | | | |
| --- | --- | --- | --- |
| Chainsaw Model | Engine Size (cc) | Bar Length (cm) | Starting System |
| | 26.9 | 30 | i-30, digital |
| CS-341 | 33.4 | 30, 35, 40 | standard |
| CS-370 | 36.3 | 35, 40, 45 | i-30, digital |
| CS-400 | 40.2 | 40, 45 | i-30 digital |
| CS-450P | 45.0 | 40, 45, 50 | standard, digital |
| CS-680 | 66.8 | 50, 60, 68 | standard |
| CS-8000 | 80.7 | 60, 68, 1100 | standard |
Some of the other features buyers may find include ones such as the performance cutting system with an upgraded bar and chain. Other options are the automatic oiler that offers more oil control for heavy-duty jobs and the longer handles that extend the user's reach.
How to Buy an Echo Chainsaw on eBay
eBay is a good source of Echo chainsaws at very reasonable prices. To begin the search for an Echo chainsaw, type your search term in the box on any page. If you are as descriptive as possible from the start, your search is more productive. For example, if you know you want a larger chain bar, typing 'Echo chainsaw 50 centimetres' might be a good option. No matter what intentions you have for your new chainsaw, understanding engine size, handle placement, and chain bar length gives you the background you need to find the right product on eBay or eBay Deals.