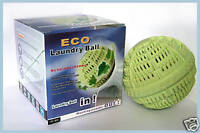 What is an Eco Wash Laundry Ball?
An Eco Wash Laundry Ball is a small plastic ball that is filled with 3 types of small ceramic balls which eliminate chlorine from the water supply, kills germs, mildew and odour (especially effective removing that smell from front loaders), raises PH and includes negative ion/far infrared beads coupled with incredibly strong magnets! This powerful combination in an Eco Wash Laundry Ball creates a cleaning experience as good as or better than any detergent on the market today without any chemicals or animal fats being introduced into our water supply!
Powerful magnets activate water clusters, softens the water and minimizes the size of the water molecules which helps reduce scale and rust build-up in washing machines and pipes.
Far infrared and negative ions break water molecule hydrogen combinations into small clusters and forces the small water cluster being activated to increase its molecular motion and penetration force ensuring a powerful wash. In addition, radiating negative ions weaken the surface and inter-fabric adhesion allowing dirt to be removed without using harmful detergents.
Benefits of Using an Eco Laundry Ball
An Eco Laundry Ball naturally has great antibacterial properties to kill germs in the wash therefore removes various kinds of bacteria, it also helps to remove chlorine from the water.

Great for adults and children with skin sensitivities and allergies as an Eco Laundry Ball is free of harmful chemicals such as phosphor and boron, so it can protect clothes as well as skin - especially suitable for babies and children with eczema, allergies and asthma.

Save lots of money!! An Eco Laundry Ball can be used repeatedly (1000 times) which saves you lots of money in comparison to the amount of washing powder you would normally buy over that time.

Eco friendly with no harmful chemicals and therefore better for you and the environment and also saves on consumption of water and power.

Cuts down water pollution in the washing machine.

No left over residue like standard washing powders can leave on clothes.

Softens the water which therefore softens your clothes.

Removes bad smells from your clothes.
Ingredients of an Eco Laundry Ball
There are more than 80 kinds of natural minerals in the ceramic balls that are inside plus magnets which magnetize the water and strengthen its decontamination capability, at the same time they have an effect on the ceramic balls to enlarge their function and remove scale and rust from the water.
Life Cycle of an Eco Laundry Ball
An Eco Laundry Ball can be used for up to 1000 washes or 2 years! This makes it exceptionally economical compared to using traditional laundry powder.
Click Here to Buy An Eco Laundry Ball