Hallo there and welcome. I love wooden toys as they have an ageless appeal. ..I want my toys to furnish an alternative to some of the throw away aspects of Life today. Time stands still and one is transported back to when everything was uncomplicated.
" Wouldn't it be nice "... to be a child again..
Quality handcrafted wooden toys are beautifully simple encouraging creative learning through play. That is why I chose this line of Wooden Toys
Look at these Keywords -educational children's wooden toys, childcare resources, multicultural wooden toys/ resources, educational wall charts/ hangings, community helpers, all nations, world of nations, wooden puzzles, letters, numbers, counting puzzle, wooden animals, wooden pirates - " Pirates don't brush their teeth... " my grandson informed me after having his favourite story -" How I Became a Pirate" read to him AGAIN as he clutched his wooden pirates. See in store
All of the above cover the vast area of Children's learning, fun and play time. Children are only young once. Very impressionable and mouldable AND a precious gift.
Now let's repeat again, " Educational Children's Wooden Toys- Wood is best!"
I will try to explain in a simple way. Wood is natural. It has been alive once and has special qualities. The same way why you feel envigorated and refreshed after having been in a rainforest. Compare that to having spent a day in a bustling city where most things are artificial and man made.
Hold, feel and handle some Hand Crafted Eco friendly wooden toys. Give some to a child and stimulate their senses in a positive way. Wood has texture, warmth and character -a quality which is sadly lacking in plastic toys.
Wood will last and last from one child to the next
These quality handcrafted wooden toys are beautifully simple encouraging creative play in the child.
multicultural educational wooden toys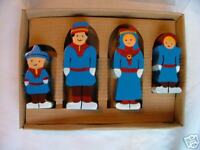 These comments are offered to encourage natural imaginative play and give some food for thought. In time I will endeavour to add a little more...
Email if you have any queries or ideas.