Electrical Goods- Check Mandatory insulated pin plugs
In Australia, all new electrical equipment is required to have insulated live pins to reduce the danger of shocks when coming into contact with partially removed plugs
In Australia, all new electrical equipment must have insulated live pins. The safety standard AS/NZS 3112:2004 Approval and test specification - Plugs and socket outlets introduced requirements and tests for the insulation of live pins (active and neutral pins) of 10 Amp and 15 Amp plugs and equipment with integral pins.
The safety improvement was introduced in response to a number of incidents including fatalities involving plugs or plug-in devices partially removed from a socket and objects such as a metal blind slat, the edge of a sheet of roofing iron or jewellery touching the exposed live plug pin.
No new equipment is permitted to be supplied or offered for supply in Australia unless it has insulated live pins in accordance with AS/NZS 3112:2004. No electrical product is permitted to be granted electrical safety approval unless it is fitted with insulated live pins after 3 April 2005.
So next time when you like to buy an electrical goods from overseas, please ensure to check if their plugs are the insulated, and iHubCentral offers all electrical products with insulated plugs for your piece of mind.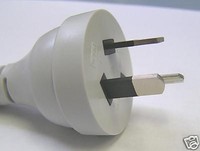 Vote YES for me if you reckon this article is helpful, and please check out my other 30 eBay reviews today! Thanks.