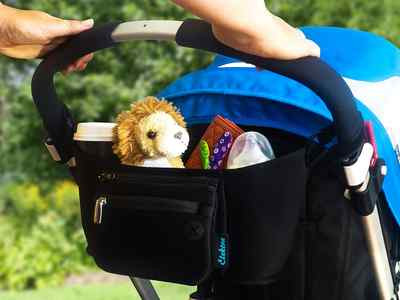 How to deal with full hands at the shops
Are you sick of going through your massive nappy bag trying to look for your wallet, wipes, keys, phone, dummy? Especially when you are in a rush (I mean when are you not right?!)

Well as a mother myself this was the pain of my existence especially with two of my own kids to deal with.

So I came up with a revolutionary product that has made my life so much easier as well as other mothers out there who use it.

The Elektra thermo insulated pram organiser does it all. It fits on any stroller. We guarantee this or your money back.

It can carry the things you need access to the most such as your phone, keys, money, wipes and dummies.

The best thing about it is that its made of neoprene material which is able to maintain the temperature of your baby bottle or hot coffee. No more cold coffees on the go!!

It also comes with a detachable pouch which means you can store your most valuable items in there and when you need to leave the pram, you can just take the pouch and strap it to your wrist.

The pouch also comes with an ear phone insert so you can pop your iPod in there when taking bub for a walk.

Now you would expect something that does all of this to be super expensive but we want this product to be affordable to all mothers which is why its priced at just $29.95 plus postage.

We know you will love your organiser just as much as all our customers who currently use it and swear by it.

This would also be a perfect gift for a mum to be so if you are looking for something to give at a baby shower then look no further than the Elektra pram organiser.