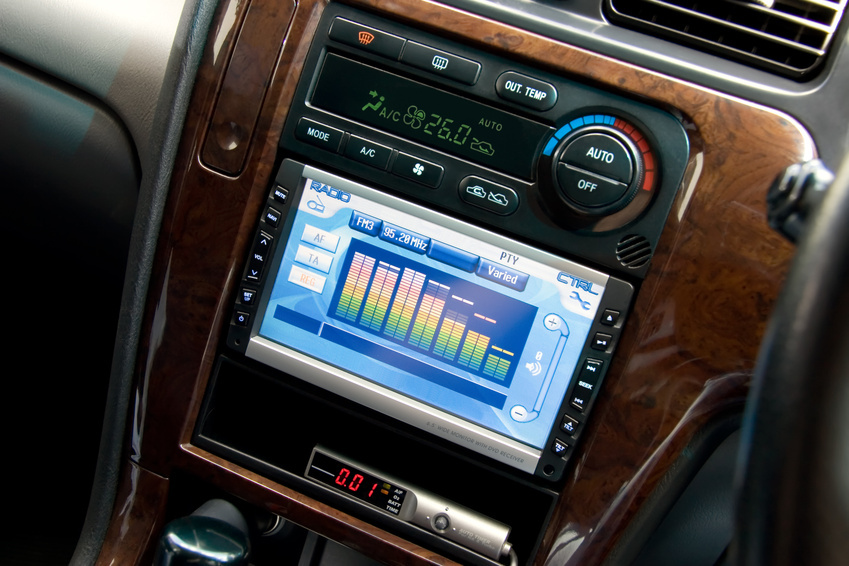 For music fans, upgrading a car's audio system has its advantages. From improved sound, added bass, and a performance that is unparalleled compared to stock sound systems. When it comes to such an upgrade, there are many features to consider, from the types of subwoofers to the brand of the audio system. Each make up the elements of a modified audio system.
Head Unit
The head unit is the brains of a car's sound system, allowing listeners to play music either through CDs, MP3, or the more recent addition of connections with smartphones via cable or Bluetooth. Popular units include brands from Sony, Pioneer, and Kenwood. Preference for a head unit usually comes down to features and function, since the quality of sound is determined by the performance of the speakers.
Speakers
Speakers are by far the most important part of a high-quality audio system. They provide better balance between high, low, and mid frequencies than stock speakers, providing better sound. Those interested in upgrading can go online to purchase the highest quality speakers in order to get the most improvement in sound superiority. There are multiple sizes available, from 1" tweeters to subwoofers with a diameter greater than 12".
Subwoofers
For those looking to add bass to their car's audio, subwoofers are a must. Subwoofers work by moving air to produce low frequencies. With a large cone for increased movement, subwoofers produce audio on a theatrical level, producing thundering sounds listeners can 'feel'. Without a subwoofer, low-frequency sounds would be unheard. Upgrading means choosing between different sizes, shapes, and styles.
Amplifiers
Amplifiers work with your speakers to produce better sound quality by adding wattage to your car's system. When adding an amplifier, it is important to understand that there are different options on the market, with devices containing certain configurations, such as the number of channels. Mono amplifiers have only one channel, making them ideal for attaching to subwoofers. Two-channel amplifiers can be used as stereo amplifiers, as they provide power for two speakers. Multi-channel amplifiers can have up to six channels, giving them the ability to power more speakers. Adding additional speakers doesn't necessarily generate greater sound, however. A balance of frequencies is the source of superior sound, not speaker quantity.
Upgrading a car's audio system
Modifying a car's audio system means deciding on the level of sound quality, as well as the budget for after market purchases. Once a buyer has determined the level of quality, they should consider the multiple options for upgrading. There is no wrong way to upgrade a car's audio system. Even with simple adjustments, such as adding a subwoofer or an amplifier, drivers can find better quality. For those on a budget, these minor changes may be suitable. But for those looking for the ultimate upgrade, changing all of a car's audio features can make a big difference in the sound quality.