Please vote yes for this guide so we can help others!

Hello and Welcome to our Guide on eliminating the risk of buying Chinese Panda Coins online.
Reason I'm writing this guide is to educate our clients and the eBay community on how to protect from counterfeit Chinese Panda Coin Scams mainly from Chinese vendors, and also make people aware the benefits of buying certified graded coins.
No offence to my chinese counterparts, but there's been a rash of "fake" Chinese Pandas hitting the US and European marketplace like never before.
Counterfeit coins in general hurts the hobby,dealers and investors alike including myself.
By writing this guide I'm hoping it will eliminate 99.9% of all Chinese Panda fraud here on eBay.
I've been dealing in coins full time since for a few years ; I've also sold thousands of Chinese Pandas since 1998.
Here are some random examples of certified Panda coins by two leading grading and authentication services.
NGC Gold 1983 PCGS Silver 2005 NGC Silver 1989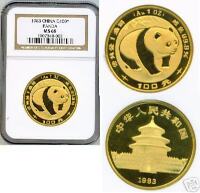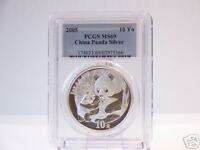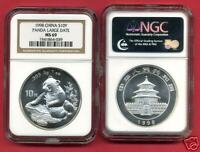 The gold example sells for about $1400 or so dollars, that's if you can find one; cost for a professional numismatist to submit this for grading is about $35-50 dollars depending on the value of the coin being submitted.
The silver examples cost about $30-40 for PCGS and $25 for NGC per silver panda respectively.
To give you an idea, a gem quality PCGS silver panda sells for about $80-100 and the NGC sells for $60-80 dollars.
What does that mean for you?
Your coin will not only be guaranteed authentic, but it will have a numismatic grade which in turns gives you great liquidity potential when it comes time to sell.
In a nutshell, it's wise investment to either have your coins submitted or buy them already "certified as authentic by either NGC or PCGS.
Your other option is.... continue to buy fake coins not only you'll lose your money, you'll also lose that very coin you've worked very hard to save up for your collection.
My only question here is... Would you rather pay $1300 for a counterfeit Gold 1983 or buy one that's been "certified" to be genuine for a couple hundred more?
After all it is your money isn't it?
By buying "certified" you are guaranteed by the grading company that your coin authentic for both the metal content and condition of the coin, which is very important if you're doing this for investment purposes.
Both services use a tamper proof sonically sealed plastic holder commonly referred as a"slab" to insure that the coin and grade are not tampered with.
I hope this helps eliminate this problem here on eBay, and helps all who read this.
Come by my eBay store, and say hello sometime.
The Professional-CoinAuctioneer.
©2007