Virtually all emeralds are oiled to improve their clarity, make the appearance of whitish coloured imperfections less obvious & also the improve their longevity. This has been the standard practice in the Gem trade for hundreds of years. This practice actually goes back to the days of the ancient Greeks & this is widely accepted by the Gem Trade, with Cedar wood oil being the traditional oil used for this purpose.
One very important point to note is that because the Emeralds are oiled then it is very important that the emerald is not exposed degreaser chemicals or exposed to the use of an ultrasonic cleaner.

Another stronger but very common treatment for Emeralds is the use of a chemical called Opticon, which is a type of resin that has been commercially sold for at least 20 years. Some consider the treatment of emeralds with this substance the same as gluing together a stone !!! Noting that resins come in two parts; the resin itself & a hardener; & only the resin is used in the treatment of Emeralds (not the hardener) then it's not really gluing a stone together but it is quite a hard treatment nevertheless. One disadvantage of this treatment is that sometimes the colour will change more yellow over time although the time lag can be very long (10 years + & sometimes more than 20 years).

There are in fact many treatments for emeralds that provide differing levels of enhancement in different ways. A summary (but not fully comprehensive list) follows:
• Cedar wood Oil - Already mentioned in this article
• Opticon - Already mentioned in this article - Most of the Emeralds we sell are treated in this way
• Palm Resin – This is an oily-plastic type substance that is used in place of the more traditional Cedar wood oil treatment. This treatment is not considered to be permanent & often leaves a white milky residue
• Joban - A treatment commonly used in India that uses a green oil to fill and hide cracks and fissures in a stone. The green tint in the oil gives the stone a much better colour, but this treatment is considered generally to be unethical.
• Paraffin - Commonly used on African emeralds, paraffin is used in an oil or wax form.
Emeralds are currently commonly sourced from the following countries:
• Brazil
• Colombia
• India
• Pakistan
• Madagascar
• Russia
• Zambia
• Zimbabwe
Synthetic Emerald – note how clear it is (this is a dead give away that it is not a natural emerald)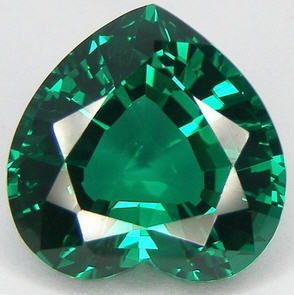 A Natural Emerald Treated with Cedar Wood Oil (note the stone is not perfectly clear – this is typical for natural emeralds)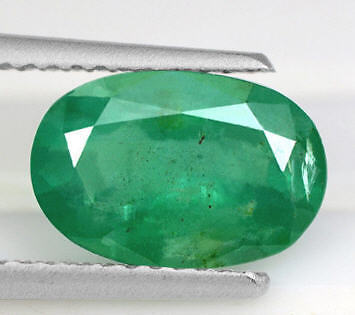 We have a large range of items at NRS-Diamonds & are constantly updating our stocks (http://stores.ebay.com.au/NRS-GEMS-and-DIAMONDS)
And just in case you're not happy with your purchase we offer refunds as detailed in our eBay advertising & we're always happy to provide advise.
We want happy customers who think so much of us that they come back time & time again!
If you found this guide helpful please let us know by clicking on 'yes' below