I heard the strangest news today and its something that I want to share. I heard that the names of our fave characters that we all knew and loved while we were growing up are to be editted in the later new publications of the enchanted wood and the faraway tree.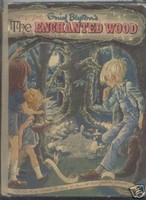 How ridiculous.. What on earth is this world coming to? Will they soon not allow the word Tom because you are referring to someones name in short or not referring to them as their full name or suggesting that they are not a desexed cat???.
To Change the names to Franny and Rick is just silly. I can get over it. I have a 6 year old who is having these stories read at school in grade 1 and I most certainly do not have a problem with it. Nor do any others in the class or their parents.
It is the far away dreamy adventures that these children have that is magic. It takes well away from their names which new edittors deem to be unsavoury.
I know in our family we will continue to collect the classic tales before our literature world is abandoned. Next will the names in the bible be changed too?
All I can say is thank goodness for eBay and the horders who have collected these much loved family treasures and who are eager to declutter their storage space and share these books before they are destroyed by politically correct absurdness!!!
It is all just getting out of control