Escort Mk1 Cars
This is one of many illustrated classic car guides I've created for the community. I hope you enjoy it. If you wish to find out more about the classic Ford Escort Mk1 art featured in this guide please click here.
This guide features several classic Escort Mk1 cars.
Escort Mexico 1970-1974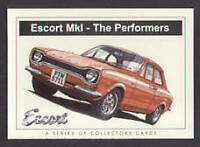 Named to commemorate the 1970 World Cup Rally from London to Mexico, which Ford won with Hannu Mikkola, the Mexico looks like an RS 1600 apart from its colour-contrast stripes. The reinforced structure, suspension, brakes and instrumentation are pure RS, but the engine isn't, being a straightforward Kent-type pushrod unit from the Cortina/Capri 1600GT. Much more practical for the everyday owner than an RS. Made in reasonable numbers.
Escort 1300GT 1968-1973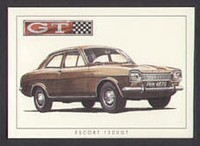 High performance models always added glamour and therefore sales to a model, and the Escort 1300GT was inevitable following the success of the earlier Cortina and Corsair GT. It was the car that paved the way for a long line of hot Escorts. Producing an impressive 75bhp and benefiting from a close-ratio gearbox, servo-assisted front disc brakes, stiffer suspension, radial tyres, oil pressure, the GT was many drivers' first fast ford, all for only £765.
Escort Twin Cam 1968-1971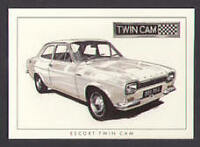 Lotus-engined Escort, 1,558cc and 106bhp, first 25 produced at Boreham, then on the normal line at Halewood. Forerunner of the RS1600 with much of the same running gear, including Type 49 bodyshell and close ratio gearbox first seen in Corsair 2000E, with hydraulic clutch. For the majority of its life, the Twin Cam was only available in white, and to keep costs down they were fitted with similar interiors to the Escort GT. Early cars made up to 1969 have rectangular headlights. Very rare.
Escort RS1600 1970-1974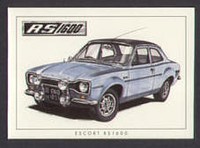 In essence a re-engined Twin-Cam, now with 16-valve Cosworth BDA unit featuring cogged-belt camshaft drive. 120bhp spells 113mph, with a 0-60mph time of around 9 seconds. Many competition extras could be fitted to an AVO-built RS 1600.
Escort Sport 1300 1971-1974
Announced in Autumn of 1971, the Escort 1300 Sport was an amalgam of Mexico, Escort GT and other Ford details. It was built around a standard two-door bodyshell, with the Mexico/RS1600 flared front arches, but without any of the structural stiffening normal to those cars.
Escort RS2000 1973-1974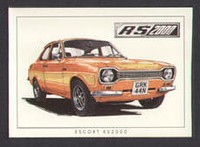 Stylish and practical German-inspired car, last to be made by AVO at South Ockenden, using Pinto 2-litre engine from Cortina/Taunus, plus Cortina-type cable clutch and gearbox, brakes and axle. Performance-wise as good as a RS1600, with greater refinement and economy, but not the handling, despite the fact it sits an inch lower. Tony Pond won the 1975 Tour of Britain in TFR 8, a private but Ford-assisted RS2000 MK1.
Escort 1300E 1973-1974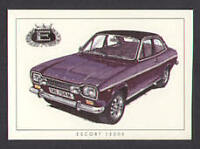 From March 1972 a luxury Escort saloon joined the rage. The E stood for Executive and upgrades were limited to trim and furnishing details such as the polished walnut veneer which was added to the binnacle, door and side cappings. Available in the range of emotive colours that had also been offered on the legendary Cortina 1600E, the 1300E went on sale from 1973. Some cars were finished at the Ford Advanced Vehicle Operations site in Aveley, Essex.
Thank you for reading my guide and I hope you found it interesting!