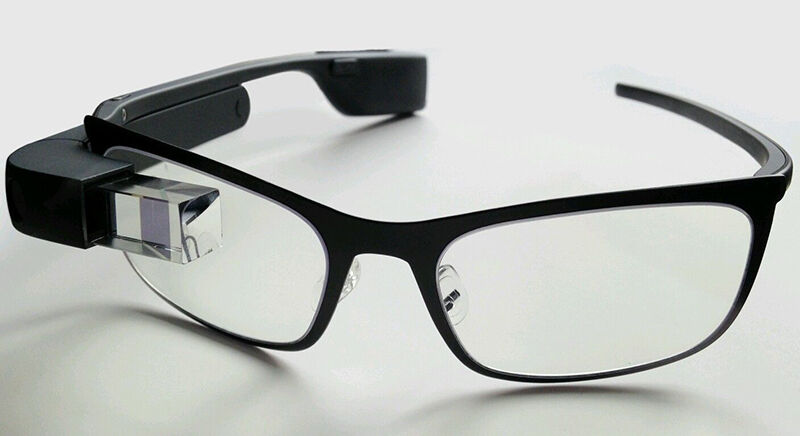 Having access to the internet at any time and in any place has become a vital part of life these days. However, a hand-held device is not always convenient. Google has solved this problem with its hands-free, smartphone-like device called Google Glass. Google Glass allows users to talk, message, take pictures and videos, and access the internet while leaving their hands free. The following guide is packed with essential information about this wearable technology.
What Is Google Glass
Google Glass is a computer mounted to a pair of glasses. Users have a choice of four standard, prescription or non-prescription eye glasses or sunglasses with frames. Buyers can also choose a stylish frame from the Italian eye-wear company Luxottica for additional design choices.
Wearers access the internet through natural voice commands, and the information is displayed on the small screen fastened to their glasses. The device can also be controlled by the touchpad located on the side of the glasses. Swiping backwards on the pad displays current events such as weather conditions, and swiping forward displays past events like missed phone calls and messages. Users can take pictures or videos as they walk, run, or bike. Google Glass should not be used while operating a motorised vehicle.
Google Glass offers a wide variety of free apps developed by third party developers, like facial recognition and photo manipulation apps, as well as standard Google apps such as Gmail, Google+, Google Maps, and Google Now.
What Google Glass Can Do
Google Glass is designed for people on the move. The running assistance app allows wearers to access real time feedback to help track runs and analyse performance. The navigation system gives users real time directions, just like the ones used in cars.
Golfers will benefit from Golfsight, which is a GPS range-finder designed specifically for Google Glass that instantly gives users accurate course data, pin distance, and scoring information. SwingByte enhances the experience by providing users with swing data and coaching tips.
Avid bike riders can track their progress in time and distance, and still keep both hands on the handle bar. The hands-free messaging app allows cyclers to instantly send and receive messages through Hangouts or SMS, or make or take hands-free calls.
For added enjoyment, users can play music. Google Glass gives wearers instant access to any tracks from Google Play Music through a voice command.
Travellers will benefit from apps such as word lens, which instantly translates any written words, from road signs to menus, into any language. The field trip app scans hundreds of publications to provide detailed information about any location. Other useful apps include:
Search the web - One simple command allows users to instantly access Google Search, and everything the internet has to offer.
Take pictures or videos - Glass takes high quality pictures and videos that can then instantly be shared with friends and family.
Compass - Google Glass has a convenient built-in compass.
Social networking - Instantly share any live experience on Google+, Twitter, Path, Facebook,Tumblr, and YouTube.
Allthecooks - This is a special Google app that gives users hands-free access to any recipe. Users can find and share recipes with voice commands, leaving their hands free to chop, dice, and cook.
Evernote - Evernote is a convenient, voice activated notepad, without the pen and paper. Great for shopping lists, and reminders.
Google Glass is available in multiple colours, features feather-light titanium frames, lenses coloured in a variety of shades, and includes high quality ear buds. The ear buds provide full range audio and come in five interchangeable colours.
Technical Specifications
Google Glass packs tons of technology into the smallest unit imaginable. The Android powered device features a five megapixel camera, with 720p video capabilities and a 640 x 360 Himax HX7 309 LCos display. With a three axis gyroscope, three axis compass, and three axis accelerometer, users always know exactly where they are. Other specifications include:
Wi-Fi 802.11
16 GB storage
2 GB RAM
Bluetooth
Texas Instruments OMAP 4430 SoC 1.2Ghz Dual(ARMv7)
Bone conduction audio transducer
Ambient light sensing and proximity sensor
Conclusion
Google Glass is an innovative device unlike anything else on the market. Many mobile devices let users access the internet on the road, take pictures, and videos, but none of them are attached to a pair of eye glasses. With its unique natural voice command operation, this computer is the ultimate hands-free mobile device. Although the device is safe to use while walking, running, and cycling, it should not be used while operating a motorised vehicle.