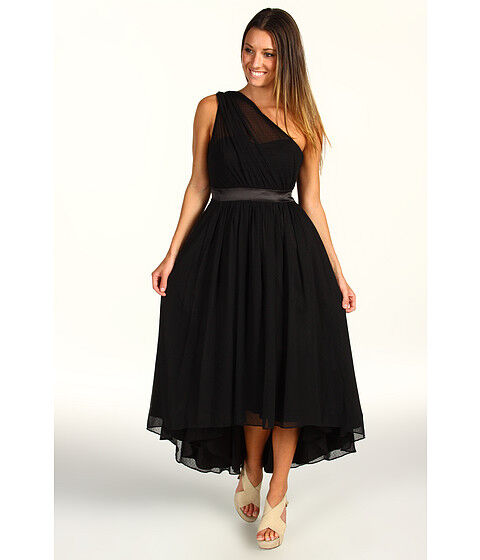 What woman does not love buying evening dresses? The fabrics and colours are beautiful; the cuts are designed to flatter; the beadwork or sequin detail makes anyone feel like a star on the red carpet.
A hundred years ago, the evening dress was the exclusive province of the upper class woman. Every woman had her 'best' dress but the idea of having a gown would have seemed fantastic. Today, any woman heading for a cruise vacation may pack several evening dresses.
Happily, knowing the basics about how evening wear is worn, what fabrics are used, and some new options for having gowns tailored makes it possible for anyone to make excellent choices and find great deals on dresses.
Selecting Evening Dresses for Specific Events
Certain circumstances are still circumscribed by certain expectations as to dress. Therefore, summarised below are general principles to be considered when invited to a wedding, a gala, traveling on a cruise, or attending a homecoming.
Wedding Guest
The informal rules for selecting gowns appropriate for a formal evening wedding are extensive, yet sensible. On one level, they all can be summed up in a single rule: This is the bride's day. Let her shine. However, for clarity, essential details are noted below.
| | |
| --- | --- |
| The Rules for Wedding Wear | The Reason |
| Never wear white, cream, or ivory | Reserved for the bride |
| Never wear red | Draws attention that should go to the bride |
| Avoid solid black | Solid black is generally considered to express disapproval of the marriage; when black is worn, if not in a patterned dress, colourful accessories are a must |
| No excessively high or low cuts | Draws attention that should go to the bride; even an off-the-shoulder gown requires a wrap during a church service |
| Avoid whatever colour the bridesmaids are wearing | Embarrassing to be mistaken for a member of the wedding party |
If it seems like most of the wedding rules are about colour, that is true. An elegant gown in a darker tone that falls short of black is always appropriate for a formal wedding. Think navy, burgundy, rust, charcoal, various browns, and darker shades of green.
Guest at a Gala or Corporate Event
Dresses should be selected with thought to what could advance the career. That means backless, low-cut, deeply slit, and very short dresses are appropriate for those who work in high fashion or the cinema. Everyone else needs to remember her photo from the party is likely to live forever on social media, to be seen by future employers.
Travelling on a Cruise
Depending on how much luggage a woman is willing to carry, she may prefer cocktail dresses to floor-length evening gowns for most of the cruise's formal functions. Then again, if the cruise has many nights, it offers one of the best opportunities in a lifetime to enjoy every ball gown in the closet.
A Word About Dress Lengths
It is rare that one finds oneself in a gathering where the traditional rules about hemlines still remain. Nonetheless, even today certain attire is still expected in certain settings. Here are some guidelines.
| | |
| --- | --- |
| Invitation States | Kind of Dress Expected |
| White Tie | The most formal of events: balance a floor-length evening gown with elaborate jewellery and makeup; a darker tone for the gown is best at weddings |
| Black Tie | A long evening dress that may have hand-stitched detailing in the form of beads, sequins, or pearls; cocktail dresses may appear |
| Formal or Black Tie Optional | Same evening dress as for 'Black Tie', again, in darker tones for weddings; cocktail dresses may appear |
| Lounge Suit / Cocktail | Long or three-quarter length are recommended for business functions; reserve shorter skirts and cocktail dresses for private functions |
Of course, the reality is that social codes are shattering in every direction. At an event described as 'Black Tie', many women in attendance are most certainly wearing cocktail dresses. Their attire is not according to proper etiquette, but then again, neither is that of many of the gentlemen.
Custom and Semi-Custom Evening Dresses
Many online dress shops based in China, India, and the Philippines offer custom-tailored evening dresses or custom made evening dresses sewn from the buyer's selection of fabrics and made to the buyer's own measurements. These are often surprisingly affordable compared to off-the-rod goods in high-end dress shops. They may be easily accessed via eBay, where many of these tailors have set up their online stores.
Fabrics Used in Evening Dresses
Evening dresses use many fabrics that are not used in ordinary daywear. Below, some of the less familiar or often confused names are demystified.
| | |
| --- | --- |
| Fabric or Fibre | Details |
| Silk | A fibre, not a fabric; silk threads are woven into different kinds of fabric; the most prized silks are the filaments from mulberry-fed caterpillars |
| Satin | A weave with a glossy front and dull back made from filament threads such as silk, nylon, and polyester; often used for garment linings as well as for shimmery gowns |
| | Sheer fabric made from rayon, polyester, nylon, cotton, or silk; drapes well and is very light so it floats as a top layer over a less revealing underskirt; crinkle chiffon retains its texture as a result of chemical treatments |
| | Thin, light fabric with slight crinkle; flows well; also clings; traditionally made of silk; also from polyester |
| | A silk fabric that is satin-woven |
| | A sheer, stiff fabric; often used in multiple layers for skirts |
| Illusion | A fine netting, much softer than tulle; may be coloured or have sparkles |
| | Sheer fabric made from blends of silk, polyester, or nylon; often used in creation of full skirts of multiple tiers or layers |
| Crepe or Crape | A lightweight fabric of silk, polyester, or wool that may be smooth or crinkled in texture; crinkled crepes or crêpes de Chine gain their texture through heat treatment |
| | Beautiful draping qualities give this workday workhorse value in evening wear |
| | Stiff, shiny fabric, most often seen in winter season gowns |
When selecting an evening dress, the most important issue in fabric selection is whether it makes the wearer look and feel beautiful. Some synthetic laces can be stiff so if a gown feels stiff or scratchy, it may not be the best choice. Traditionally, it has been suggested that heavier women avoid smoothly fitted satins. Contemporary designs, which often rely on twisted and pleated fabrics, overcome this objection by shattering reflected light into many planes. With so many fabric options, it is easy to find a beautiful gown that feels comfortable throughout the evening.
Buying Evening Dresses on eBay
Both new and previously worn evening dresses may be purchased from a wide selection of international sellers on eBay. Women are able to find suitable gowns including designer fashions, vintage dresses, and dresses that are made to their measure.
Make Sure Your Dress Arrives on Time
Since evening dresses are needed for special events, it is important that they arrive on time and fit properly. Leaving time for the gown to be hemmed is always wise. Some eBay sellers produce semi-custom evening gowns fitted to the buyer's measurements. If purchasing from one of these sellers, be sure to take measurements when wearing the shoes intended to be worn to the event.
Sellers post their shipping policies, shipping options, and and rates on the Postage and Payments page. Delivery dates are estimates so it is wise to allow extra time.
Conclusion
Buying an evening dress is one of the most delightful experiences a woman can enjoy. The dresses are made of special fabrics and are designed with lines intended to make her look like royalty.
Depending on the event, an evening dress might be more or less colourful, revealing, or attention-getting. Sometimes conservative evening dress makes the strongest impression.
Finding quality evening dress and appropriate accessories is easy in the international eBay marketplace. Sellers offer new and gently used gowns, including designer wear, and a number of tailors offer semi-custom evening gowns in the buyer's choice of fabrics, fitted to their measurements. It is a pleasure to obtain a beautiful gown for an event or several gowns for a cruise on eBay.