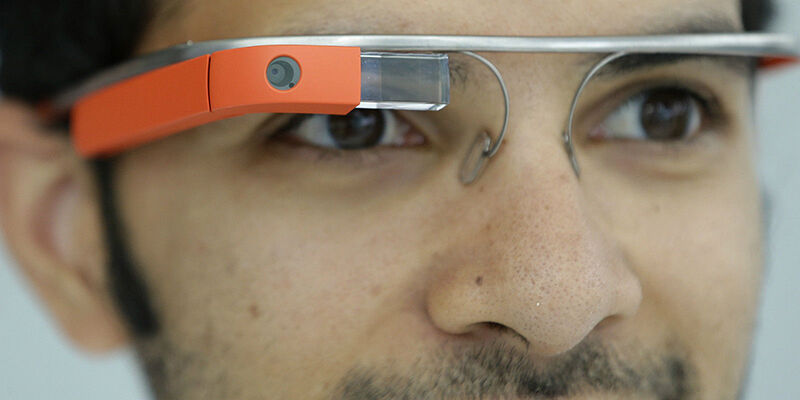 Google Glass may be controversial, but that hasn't stopped tech-savvy members of the press and public from wanting to get their hands on this innovative piece of technology. While Google Glass has sparked a lot of curiosity, the real question you're probably asking is what does Google Glass actually do, and is it worth buying? This guide will help clear up some of those questions and give you a better idea of Google Glass' functionality and performance.
Design
Google Glass looks and feels like a slightly heavier version of a standard pair of glasses, but has a very distinct look that makes it immediately recognizable. It is the presence of the slim camera above the right lens which marks it as more than a vision aid. Google Glass allows you to get actual prescription lenses installed into your wearable smart device, but you can also choose clear lenses or shaded lenses if you don't need it to correct your vision.
Google Glass has also improved its look with the new version, offering four titanium frame styles that make the device very light. The adjustable nose pieces help Google Glass fit even more comfortably on a variety of face shapes. There are five colours available, including shale, cotton, charcoal, tangerine, and sky. As with other smart devices, one can only assume that the design options will increase over time.
Hardware
If you're not familiar with how Google Glass works, it basically provides an interactive display prism placed just on the outside of the right lens. The screen features a decent 640 x 360 resolution that allows you access to the Internet, multimedia, music, and apps.
Google Glass comes with up to 2GB of RAM, and a battery encased in the plastic frame on the right side of your glasses. Also on the right side, you'll find a small touch pad where you can scroll through menus and perform other functions.
Phone Calls and SMS
You can pair your phone with Google Glass to make hands-free phone calls. You can also perform voice-activated SMS messages, a very useful feature for someone who sends a lot of texts.
Voice Recognition
One of the greatest features of Google Glass is its excellent voice recognition capabilities. By speaking to your glasses, you can easily find directions on a map, surf the Web, play a specific song from you music library, or read your e-mail. This essentially allows you to be a multi-tasking master, leaving you free to make voice memos, for instance, or track how many miles you've run through your interface.
Photos And Video
Google Glass also offers voice-activated 5 MP photos and 720p HD video options. The photos compare with other standard smartphone cameras, and allow you to frame your photo through Google Glass' display. There's also a camera button on the device if you're in a loud room and the voice commands don't work.
Navigation Features
One of the coolest bonuses about Google Glass is the ability to navigate using only your glasses. On the inside screen of your glasses, you will see an interactive map that allows you to check out the closest restaurants in your area, read reviews, and find your way via Google Maps.
Apps
There are currently over 60 apps for Google Glass, which may not sound like much, but most significantly add new functionality. Internally designed apps such as Google Now allows you to get updates on sports teams, check your flight information, and get weather updates. There are also third-party apps, such as Livestream, which allows you to watch streaming video, or Word Lens, which allows you to take a photo of a foreign language and overlay the translation directly over the image. As Google Glass continues to evolve and grow its user base, the availability of apps will naturally increase as well.
Privacy
In general, other people are unable to see your screen while you use Google Glass, allowing you a whole new level of privacy in comparison to using a smartphone or tablet.
Battery Life
You should get about five hours of battery life with Google Glass, possibly more or less based on whether you do energy-intensive activities such as video recording. A small USB port connected to Google Glass also allows you to fully recharge an empty battery in approximately two hours.
Conclusion
Ultimately, Google Glass is an innovative product that will remain a must-have for many tech-lovers and consumers. This wearable device has a coolness factor and a set of innovative features that really underline just how good Google is at pushing the boundaries of technology. For those interested in jumping on this bandwagon, Google Glass is available at both brick and mortar stores and online retailers such as eBay.