Every garden must have some form of flowing water to truly deem itself as complete. Water features are a great way to add some depth and dimension to your garden as well as a natural ability to attract birds & butterflies and other wildlife. Here we will give you some great tips, pointers and answer the questions on everyone's mind , whether you're a gardening professional or a first time feature buyer we will guide you through the basics of water features and for proper care and maintenance.
Feel free to view any of the below water features in our Ebay shop by simply clicking on the desired feature's image and this will take you to the items buying page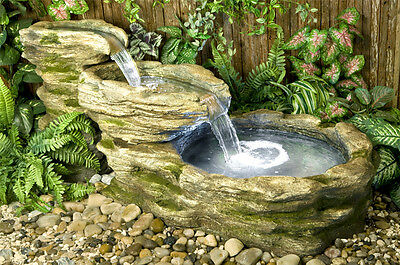 Cascading:
Commonly with these water features the water descends down a series of rock steps, creating a soothing atmosphere with the sounds of trickling water with a natural look.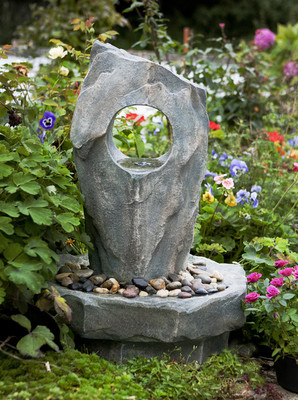 Monolith:
This kind of water feature will bring luxury and class to any garden. Monoliths are large sediments of rock that have been carefully made to create a breathtaking natural looking feature.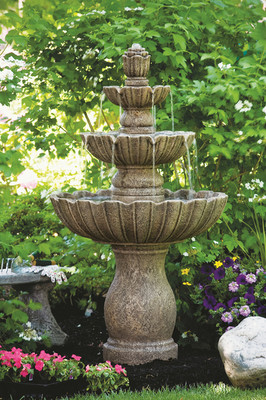 Tiered:
What's better than to invest in an impressive tiered fountain to tie your garden together?
Tiered fountains have basin's in ascending order to catch the water falling from above, normally with a spouting head too. Try out a classical tiered fountain in your outdoor area for an enchanting secret garden.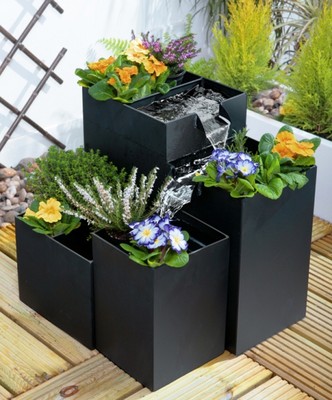 Planter:
Eye catching, original and useful.
Add a stylish touch to your flower and herb garden with a planter water feature. Grow your herbs, flowers and small vegetables within the specially designed pockets of these modern water features. They looks great when fully planted in both country and urban settings.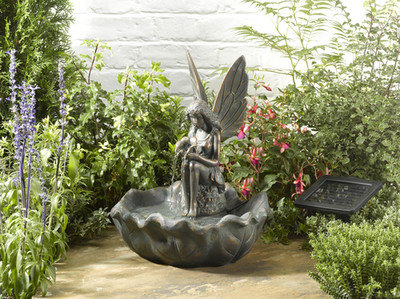 Solar:
Solar water features have been quickly taking over the gardening world. Not only are they economical, they cause no damage to the environment and they provide you with free energy! What more could you want?
Bird baths:
Beautiful birds are attracted to our stunning ranges of baths all year round, in the summer to cool off by splashing in the bowls & in winter to drink from ice free water. Normally bird baths have a large basin and occasionally a fountain to keep the water from becoming stagnant over time, keeping away the dreaded mosquitoes!.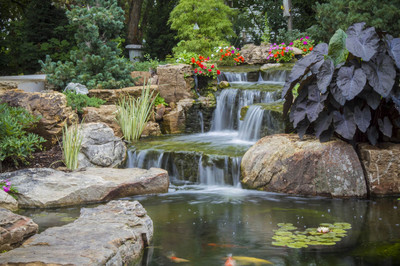 Waterfalls:
Not only are they stunning to look at but incorporating a waterfall into your garden can be beneficial for many reasons. They are a great way to add life and movement to a pond, bringing the benefit of increased oxygenation which promotes beneficial bacteria, insect and fish health too.
Wall hanging:
They come in all ranges of styles, from modern, contemporary, glass features to traditional stone effect cascade designs. Some features can stand alone and others have been designed as wall mounted fountains. Garden wall fountains typically include popular old style lion head's and a selection of stone and terracotta effect features.
Fountains and spray's:
Shooting water as high or as low as you would like, fountains and sprays can create stunning water displays in ponds, lakes or as stand-alone water feature. From a gentle trickle to a dramatic commercial fountain display there are many heights and diameters available.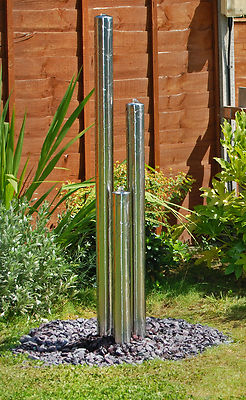 Pillars & towers:
Normally self contained, these pillars wont be wasting any water. These pillars and towers can come in many shapes and sizes. They are fast becoming a must have with many exterior designer's as a staple in any modern garden.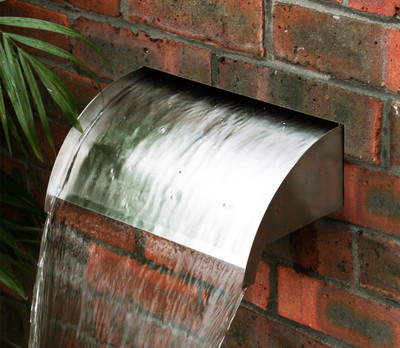 Blades:
With a sheer descent into any place of your choice these water features are as versatile as they come.
They are easy to install and can be mounted on virtually any flat surface, think of all the possibility's for your own gardens water feature.
Water walls:
These are exactly as they sound, a wall of water . Mighty & bold in appearance these self contained walls can bring sophistication and style to your garden.
popular around the country with high end hotels and restaurants, these are a water feature that will never go out of style.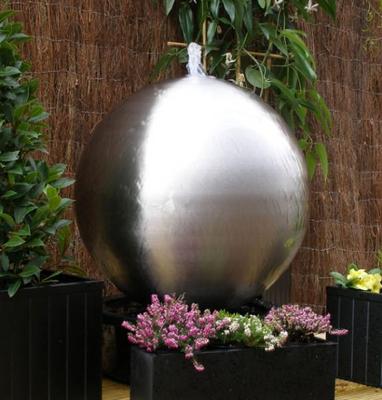 Stainless Steel:
Ranging in different shapes and size's Stainless Steel is a great choice for a water feature. Eye-catching, strong and sturdy these products will last a lifetime. These features are very easy to maintain & keep clean, making them a great choice for the gardener on the go.
Useful tips for your water feature:
Pumps
Choosing a pump can be tricky, you're looking to find a pump with the capacity to pump the entire volume of water in the pond in an hour.
Try and measure the diameter of the hole at the top of the water feature and do a little math. In most cases, for every inch of diameter, the pump will need to circulate 100 gallons of water per hour.

It is important to know the approximate number of gallons in your water feature to be sure that sufficient circulation can occur. Insufficient circulation can cause areas of stagnant water (which mosquito's love to breed in), unacceptably low oxygen levels, lack of proper filtration, and many other things, which will eventually lead to an unhealthy feature.

Always make sure the submersible pump is unplugged during installation or when making any adjustments. Picking up a live pump with wet hands or when standing in water or on wet surfaces can cause a fatal electrical shock..

Safety
We all know that kids love open water, it has always been a big invitation to them. It would be wise to keep a close eye on them and their activities, especially around larger water features, they could potentially hurt themselves and can harm features.

Building a pond or water feature underneath or close to trees is a no-no as the roots of the tree can do serious damage to the liner or the water reservoir in due time. Also be aware that in autumn, the falling leaves of the tree could potentially block your feature.

Maintenance

Examining the fountain for signs of wear and tear every few weeks is great step to take to avoid any kind of breakdowns. Since your fountain is out facing the elements all day, it's going to suffer some of the effects of mother nature. Dirt, soil, wind, animals, Insects & rain can affect your feature's operation, so it's important to make bi-weekly checks to ensure it's running smoothly as can be.

The single most important piece of equipment in your fountain is the pump. If it isn't working or working at reduced capacity, turn it off, unplug and remove it before making repairs. Look for any obstructions once a month, remove leaves and other debris from the pump's intake valve . Wiping it clean with a damp cloth or using a toothbrush to clean the extra hard-to-reach places should keep it running without a hitch.

Thoroughly cleaning the surface area of the fountain is a great way to keep it looking tip-top. Outdoor fountains can be made dirty by a few everyday garden occurrence's. Algae, natural mineral deposits and animal wastage and can make the water in your fountain unclean and affect its appearance and practice. When white water stains appear the best way to fight them is to wipe it clean with vinegar on a dry cloth.

Changing the water in an outdoor fountain at least once every 10 days can be beneficial. Adding activated carbon can clear the water and use additives that are designed to inhibit algae growth & deposit buildups with each water change. Freshening up the water helps keep the system running smoothly and makes the fountain inviting to nearby wildlife.

If your water feature has fish incorporated into its design and the water temperature is around 10C stop feeding your fish. Continuing to feed your fish could cause health problems or death for them, since their digestive systems slow down when the air is colder.