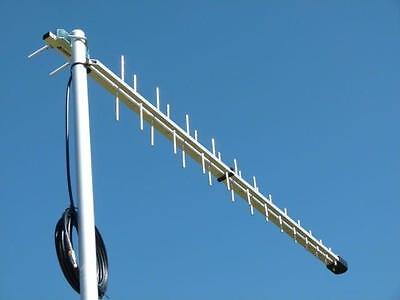 Add a caption
A pole mounted directional antenna.
Click to Edit Caption
What is a directional antenna?
A directional antenna is ideal to enhance mobile voice, text and data coverage for 850MHz, 900MHz, 1800MHz, 2100MHz and 1800MHz bands. Normally they are mounted on a pole and pointed directly towards a mobile communications tower in order to gain signal and connectivity. You can mostly find directional antennas in rural Australian areas where mobile communication signals are unreliable or scarce (typically called a blackspot). Metropolitan areas of Australia can also use directional antennas if they experience mobile communication signal issues.
How can you connect an antenna to a mobile phone or internet dongle?
There are three different methods of connecting an external antenna to a mobile phone - direct using a patch lead (direct to your mobile or 3G/4G modem), induction using a phone cradle or wireless using a repeater. Most mobiles and smartphones of today do not have an external antenna connection port except for some Telstra and Samsung branded devices. These will either have a TS9 or CRC9 type connector and will need to have a patch lead between the device and the antenna to work properly (we often have both patch leads for sale on our eBay account - please message us for details).

If you decide on induction, only a purpose built CarComm or Smoothtalker brand cradles for your model phone are recommended, costs around $110 (you can find these on eBay). Cheaper small surface induction adapters are not strong enough.

The only legal repeater in Australia is the Telstra Smart Repeater, and these retail for around $750. You can connect a directional antenna to this repeater using a FME Male - SMA Male adapter (we often have these for sale on our eBay account - please message us for details).

There is also a "desk pad" induction system for one or more phones which can connect to a directional antenna then Bluetooth to a home phone handset. This setup will need a Bluetooth capable home phone kit - JB Hi-Fi normally sell these.