A comprehensive guide to collecting post war German WW2 1957 De-Nazified Military Decorations, their manufacturing techniques and detecting the fakes, valuations of original TYPE 1 and TYPE 2 German decorations.
The year of 1945 brought an absolute destruction to Germany and especially to the industrial military medal making center in Berlin, Hamburg and Dresden. Germans needed food, houses, clothes - the last thing they needed were medals and badges.
The nucleus of the newly formed West German Bundeswehr (Federal Defence Force) was created from those who had served in Hitler's legions during WW2. The West German government passed a new federal law in 1957 that specific Third Reich orders were now permitted for wear without the Swastika. These are known as " German 1957 Award Pieces " these 1957 awards are official and genuine and are now becoming quite collectable.
The main government contract to manufacture and supply these new de-nazified WW2 1957 official decorations went to the world famous German firm Steinhauer & Lueck, Luedenscheid Germany. Knights Crosses, Iron Crosses , Wound Badges, Tank Assault Badges etc were re-designed by Steinhauer & Lueck - often with the oak-leaf spray replacing the swastika, with S&L having the sole patent rights to all WW2 1957 German decorations.
S&L did not have the whole monopoly on medal making the new Federal German 1957 re-issue decorations, the second Government contract went to Wilhelm Deumer, Ludenscheid this company only made 1957 awards until the late 1960's, the other non Government contracted manufacturers were firms such as Deschler & Sohn, BH Maher and Juncker also manufactured these new German decorations.





Luedenscheid is situated between the cities Dortmund and Bonn. It was here that one of the youngest medal firms was founded in 1889 by August Steinhauer and Gustav Adolf Lueck. The first production began in a cellar, the customer base continued to increase. A property was bought at 51 Hochstrasse which is still home for this famous company today. During WW2 Steinhauer & Lueck produced medals and badges, like the famous Knights Cross and many other types of medals and badges. In 1957 this company was awarded the contract to produce all the newly re-designed legal WW2 1957 de-nazified decorations, plus the contract to manufacture all of Germany's official decorations including Germany's highest order the Bundesverdienstkreuz. Only a very limited number of original WW2 1957 medals are still produced, mainly Iron Crosses, German Cross Gold & Silver & Wound Badges and are considered 100% genuine by the German Government.
Please read the letter from the company director of Steinhauer & Lueck below who confirms the authenticity of these 1957 S&L decorations.
Summary of the new German 1957 Regulations:
Only certain wartime medals may be worn in the new form (de-nazified) and a list is available showing samples of the new style. All other Nazi awards are banned, Nazi medals must not be bought/made/sold or traded. There is a 3 month prison sentence and/or a fine for breach of regulations
Examples of Medals which are banned: and not available in the 1957 new form: SS Awards such as SS Long Service, The Anti-Partisan (Bandit Badge) Mothers Crosses, NSDAP and Rally Badges.
There are two types of what are classed as original WW2 1957 version decorations. The first is the TYPE 1 these are the very high quality early pieces manufactured as were worn by serving Heer (Army), Marine (Navy) and Luftwaffe (Air Force) soldier's and Officers in the late 1950's and 1960's and by WWII Veterans' at their annual unit reunions. The 1957 German Knight Cross of the Iron Cross matches exactly its 1939 counterpart, measuring 48mm x 48mm (W&H), and the Iron Cross First Class & Second Class measuring 44mm x44mm (W&H), it was made of the correct three-part construction with magnetic center core for the TYPE 1 and a non Iron cores for the TYPE 2. Early examples had frames stamped from the same dies as those used during WW2. And are found with an "800" silver content mark on the reverse of the frame. A nice original TYPE 1 cased Knight Cross is worth around $900 to 1200 USD a TYPE 2 cased set $300 to 500 USD
Close to 500 of the original 7,631 Third Reich Ritterkreuzträger (Knights Cross Recipients) served in the newly formed Bundeswehr with 60 recipients also wearing their 1939 Oak Leaves and 10x with Oak Leaves & Swords. At first when this new law was passed most of the WW2 veteran's now serving Deutschland in uniform again simply wore their Third Reich Knights Crosses with only the reverse plain side showing, or more commonly as a medal bar attachment. Other badges they simply filed the Swastika from their decorations. Once these newly redesigned 1957 became finally available in late 1958, Ritterkreuzträger became responsible for purchasing this new from of 1957 Knights Cross privately. Finding a late 1950's to early 1960's TYPE 1 Knights Cross or Iron Cross is well worth the effort as they are classed as very rare and highly prize by collector's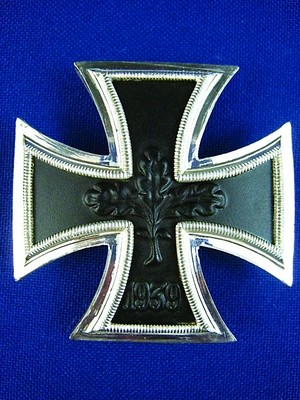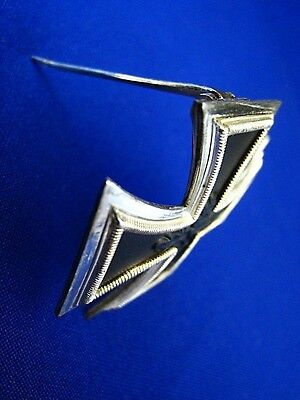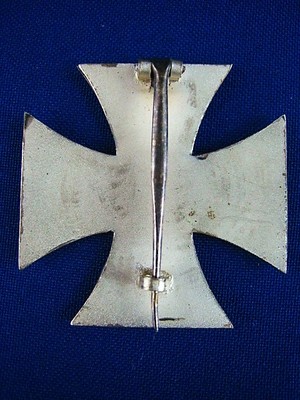 In the late 1960's S&L changed the center cores on all Iron Crosses from a magnetic Iron center type core to a non Iron core, to prevent cores from rusting, these original TYPE 2 Knights Crosses are still made with genuine solid 800. fine silver content frames and are marked as such on the reverse of the frame 800 still made to German Government regulation with correct a three-part construction, a very stunning piece to admire and add to your military collection. These non magnetic core Iron Crosses are classed as the TYPE 2 originals. TYPE 1 pieces are the most highly prized by collector's worldwide as they have the highest collector's value as they are becoming extremely hard to find these days..

By the early 1970' the vast number of different badges seized being manufactured by S&L, badges like the Panzer Assault Badges, Pilots Badges, General Assault Badge, Luftwaffe Paratrooper Badges etc, so these pieces again are very collectable now, some of these badges are still obtainable in a near mint condition from certain well known dealers in Germany that managed to purchase all of the old stock from Steinhauer & Lueck.
COPIES: To fill the void, copies of all types of rare 57 badges & medals started being manufactured in Germany and still are for the collector's market today. You can easily tell these apart from the original S&L pieces as they are not of a multi part construction, they are cheaply pressed and usually only of a one piece construction, they lack the very sharp extra fine detail of the original pieces, you will find these being sold on eBay Germany and eBay USA . The Chinese never really got into making 1957 German medals and badges, as they concentrated on making Third Reich copies. One dealer in the USA and another in Canada sell a Chinese copy of the 57 Knights Cross, very easy to detect as it is of a very poor quality and only of a one piece construction and they actually tell you that it is a copy. One of the best fake 57 Knights Crosses we have seen and is made from the correct 3 piece construction is made in Germany hallmarked (makers marked) Fa-St.u.L.
As a collector, you should always strive to find the rarer early TYPE 1 pieces. Steinhauer & Lueck still manufacture certain types of original TYPE 2 decorations, these are classed as "100% GENUINE" by the GERMAN FEDERAL GOVERNMENT and by all EXPERTS IN GERMAN MILITARIA. Remember Steinhauer & Lueck received the main contract in 1957 to manufacture all of Germany's official decorations including the 57 decorations, and have all the patent rights.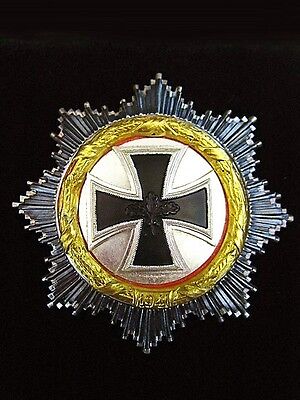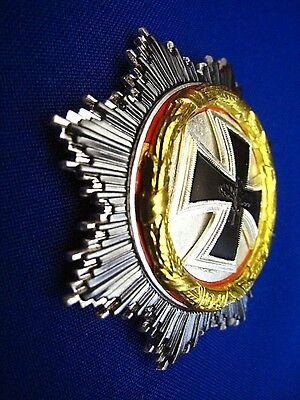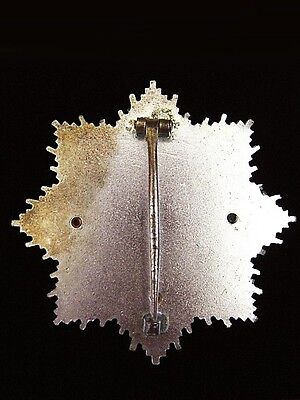 The revised 1957 German Cross in Gold and Silver class, with S&L holding the patent rights S&L came up with a novel approach to replace the Swastika on the German Cross in Gold with the shape of an Iron Cross, and in the case of the German Cross in Silver the new type 1957 version of the War Merit Cross. Measuring 64mm x 64.mm (W &H)
These original pieces by Steinhauer & Lueck are still made as per the correct war time "6 PART CONSTRUCTION" wth the correct "4 DOMED RIVETS" showing on the reverse, exactly as S&L used to make this particular decoration during WW2. The early TYPE 1's are very scarce and easily distinguishable from a S&L TYPE 2 cross as the red circle on the early types is Enameled and not painted. Deschler & Sohns version of this decoration differs slightly on the reverse as they used 4 hollow rivets.
The most common copy of this cross that is sold on eBay is made in Germany of an incorrect one piece or only of two part construction, as the correct 6 Part war time construction with the original 4 Dome Rivets is way to complicated and expensive to manufacture. A nice TYPE 1 cased set is worth around $900 to $1300 USD and a TYPE 2 $300 to 500 USD.
Just make sure if you buy a WW2 1957 German Cross in Gold or Silver that it was made by Steinhauer & Lueck a guarantee that it is a 100% genuine original piece.
We contacted Steinhauer & Lueck to clarify if they class their decorations as genuine or replicas as we wanted to make 100% sure that we only sell "GENUINE" WW2 1957 German Decoration's.

Below is an exact extract of a letter of Authenticity by the S&L company director dated 04.06.2007, inserting a picture of this letter would have been too small to read, so we have re-typed it for you. A copy of this letter is supplied to each customer that purchase an original WW2 1957 German Decoration made by Steinhauer & Lueck, Luedenscheid Germany.
Steinhauer & Lueck 04.06.2007
Letter of Authenticity
Dear Ladies and Gentlemen
The 1957-Ritterkreuz in real silver 800 (Knights Cross) we deliver is the original made pattern medal and manufactured by Steinhauer& Lueck GmbH & Co.Kg Luedenscheid, Germany. All militaria from the second world war we produce, are the 1957-version without swastika. Symbols belonging to the 3.Reich-era 1934-1945 are prohibited to produce and /or sell in Germany (StGB 86a). We still produce some of these 1957-medals here in our company Luedenscheid and we don't trade with cheap replicas or copies.
With best regards
Steinhauer & Lueck
Signed
A.C. Winter
This letter of Authenticity was signed by S&L company director A.C. Winter, he quite clearly states that all the 1957 German medals still produced by Steinhauer & Lueck are made from the original pattern, meaning they are "100% ORIGINAL (GENUINE)" as they don't trade with cheap replicas or copies.
So the key here to avoid ending up buying a fake German WW2 1957 decorations is to only buy one manufactured by the only German authorized manufacturer by the German Federal Government "Steinhauer & Lueck, Luedenscheid Germany".
If you have any questions on collecting these original WW2 1957 German decorations, or would like us to look at any auction for an opinion, please e-mail us.
We would like to add that this guide was based on facts and full research done. All the information that we have supplied is 100% accurate and may be verified as such by contacting Steinhauer & Lueck, Luedenscheid in Germany directly, or by contacting a reputable military dealers in Germany.
**********************

Thank you for having taken the time to read our guide, if you found it helpful please vote YES