How to identify counterfeit Sony Memory Stick Pro Duo MagicGate Cards
Below is a stringent list of Certified Genuine & Authentic sellers for peace of mind purchase of flash and computer memories on eBay. One can safely purchase from these sellers as they have been through our restrictive process of verification & checks:-
The list is open to all genuine sellers to join. Due to overwhelming requests to be on the list, sellers MUST maintain 99.8% and above eBay feedback and/or a minimum of 1000 positive feedbacks before you will receive a reply. These requirements even surpass the standard eBay PowerSeller program at any level.
Since October-2006, eBay has decided all sellers could no longer hide their BAD feedbacks. Simply enter seller's eBay ID and watch for Negative/Neutral feedbacks wordings such as 'fake' and 'counterfeit' before buying at http://www.toolhaus.org/cgi-bin/negs
Millions of eBayers have been deceived by inferior quality, unpopular cheap MSPD disguised as Sony Memory Stick Pro Duo as more than 98% of ALL 1GB, 2GB, 4GB, 8GB, 16GB MSPD listed on eBay are counterfeit items and many have FAKE & OVERSTATED capacities (some even call it OEM or COMPRESSED). Genuine buyers got scammed by fraudulent eBay sellers everyday and this process keep on repeating.
- Don't be foolish thinking you got a "CHEAP 4GB / 8GB / 16GB" MSPD deal, in fact you were paying for a corresponding "VERY EXPENSIVE 1GB / 2GB / 4GB" MSPD. The sellers are laughing their way to the bank!

- Check with us for a list of notorious eBay Powersellers who have high positive feedbacks (with also many negative feedbacks) who are selling nothing else but only FAKE Sony MSPD and/or SanDisk Extreme CF! Hence you MUST always do your homework before buying! Our experience advises you to avoid buying from all eBay sellers registered in China and Hong Kong, especially avoid listings with 'Buyer: User ID kept private'!


- Why risk losing your irrecoverable valuable moment and capture? The FACT is there are NO Cheap Genuine cards, there are only Cheap FAKE and OEM cards. We can't be more precise!
Since many have not seen genuine production Sony unit and counterfeit is now made to appear like 90% genuine, it is indeed difficult for most people to tell them apart. From the pictures submitted by eBayers all over the world, we are exposing the physical difference in the counterfeit which you can benefit from whether you intend to purchase one or make comparison with your own. Beware of sellers that are using original SONY web download pictures to sell FAKE Sony as they do not represent the actual item that you will receive!
For SanDisk flash memory product
Clue #1 False SONY Part Number or False UPC / EAN Part Numbers

Genuine SONY Memory Sticks have exactly the following Sony Part Numbers and UPC Part Numbers on the retail paper insert and all MUST includes "

Sony IC Recording Media Memory Stick PRO Duo - Operating instructions

" sheet(s) in 14 languages, folded 20 times. It is a special 70% or more recycled paper using VOC (Volatile Organic Compound) - free vegetable oil based ink:-
Pro series: 1GB (MSX-1GS), 2GB (MSX-2GS)
Pro Duo Hi-Speed series

1GB (MSX-M1GN) = 4-901780-942947 or 0-27242-64714-5
2GB (MSX-M2GN) = 4-901780-892532 or 0-27242-64715-2
4GB (MSX-M4GN) = 4-905524-319217

Pro Duo series (with separate Sony Warranty sheet in 14 languages; with 2 hidden UPC Security Tags)

1GB (MSX-M1GST/X) = 4-905524-386865; (MSX-M1GST) = 0-27242-66543-9

2GB (MSX-M2GS/X) = 4-905524-387889; (MSX-M2GS) = 0-27242-67114-0

4GB (MSX-M4GS/X) = 4-905524-333688; (MSX-M4GS) = 0-27242-69239-8

8GB (MSX-M8GS/X) = 4-905524-333695; (MSX-M8GS) = 0-27242-69240-4

Pro Duo

MARK2

series (with separate Sony Warranty sheet in 14 languages or with 2 hidden UPC Security Tags)

1GB (MS-MT1G) = 4-905524-486469 or 0-27242-73614-4

2GB (MS-MT2G) = 4-905524-486483 or 0-27242-73619-1

4GB (MS-MT4G) = 4-905524-486506 or 0-27242-73620-7

8GB (MS-MT8G) = 4-905524-486520 or 0-27242-73621-4

16GB (MS-MT16G) = 4-905524-408133 or 0-27242-71313-0
FAKE Sony have easily identifiable

FALSE

Sony part numbers with

extra letter T

and also mixed/incorrect UPC Part Number on the retail paper insert.
Pro Duo:

2GB (MSX-M2GST/X)
4GB (MSX-M4GST/X)
8GB (MSX-M8GST/X)
16GB (OEM ?)
Newer FAKE may have correct Sony Part Number but the UPC Part Number may still be incorrect on the retail insert! Fake has none of the Operating Instructions sheet(s) and none of the separate Sony Warranty sheet.

Clue #2 For PSP Owners: MagicGate Unknown and Incorrect User Capacity

In your PSP Menu screen, go to

Memory Stick

, press the

Triangle

button, then select

Information

. Genuine SONY will display as

MagicGate Supported

. If you see

Unknown

or

Unsupported

then you know you have a FAKE Sony!

Genuine Memory Stick displays

User Capacity

:

8GB

as

7687MB

or

7763MB

;

4GB

as

3839MB

;

2GB

as

1909MB

or

1910MB

;

1GB

as

956MB

.

Fake Memory Sticks displays

User Capacity

:

8GB

as

7727MB

or

7839MB

;

4GB

as

3876MB

;

2GB

as

1937MB

or

1949MB

or

1956MB

or

1959MB

;

1GB

as 969MB of memory space when being tested.

Most

fakes

have HALF or less than half of the usable capacity from the stated capacity. The only bullet-proof way to find out its

real capacity

is to try transferring as much data as possible to your card and then

READ BACK

data from the card to see if it will actually hold close to the stated capacity with no sign of missing files or data corruption.

Genuine card has high transfer speed at about 80Mbps while Fake has painfully much slower transfer speed.
Clue #3 Incorrect Retail Packaging

Genuine retail blister packaging has

9+6+9 (some has 3+2+3) long-staple-shape heat-pressed seals

along the Left, Top & Right edges of the pack indicated by the positions of the yellow arrows while fake always only has

3+0+3 round dimple or long glue seals

along the Left, Top & Right edges with

NO seals

at the Top edge indicated by the encircled red arrows. This applies to all 1GB/2GB/4GB/8GB retail packaging products. Newer fake may also have 9+6+9 staple seals but the TOP vertical staple seal is misaligned with the 6 horizontal seals. It may also have old 3+0+3 dimple seals pattern left on the packaging.

Genuine has

COLOR CODED

round label:

1GB/GO

is

Light Blue

,

2GB/GO

is

Light Green

,

4GB/GO

is

Purple Blue

,

8GB/GO

is

Red

. Fake Sony has similar color codes for 1GB, 2GB and 4GB so not as easy to differentiate, older

FAKE 8GB/GO

is

Light Blue

which can be easily identified, newer

FAKE 8GB/GO

is also

Red

which makes it hard to identify.


Genuine retail blister packaging will have a golden metallic 'SONY hologram sticker' at the front as pictured.

Fakes also have similar hologram sticker, however on the

fake the SONY wordings does not go on and off, become black and light up in alternate pattern when viewing from various angles, fake's SONY wordings will be ALL ON or ALL OFF easy to differentiate.


Bring the packaging to your nearest SONY retail outlet and ask for a

SONY Anti-counterfeit Handy Viewer

to tell if your item is genuine. The viewer has 2 see through Lens.

Genuine hologram will appear as complete

BLACK

when see through the Left lens and

Normal

on the Right lens. Counterfeit hologram will appear as Normal through both Left and Right lens.

-

Counterfeit 8GB extra T - Genuine 8GB

-

Counterfeit 4GB extra T - Genuine 4GB
Clue #4 Front view
Genuine uses print ready/control vector art technique to print all the letterings. Fake uses inferior hi-res bitmap to copy the genuine, so zoom in a bit to see the printing flaw. The font on the fake usually is bolder, messy and can be rub off.

Genuine black plastic casing background has

2 distinct textures

, a much darker texture on the inside enclosed by rectangular frame comparing with its outer casing. The 2 distinct textures apply to both front and back of the card. The casing texture of the Fake card is uniform throughout, hence lower cost for manufacturing.
There is no OEM version of SONY memory stick pro duo being produced, all genuine SONY are produced in sealed retail blister pack. Hence if you discover an

unidentified sticker

at the back of the card after opening the sealed pack, like the one shown in the picture below, then it is fake! (I guess fakers are attempting to mark their own products)


-

Top is Counterfeit - Left is Counterfeit

Clue #5 Back view
The font face, font size and printing technique are the main criteria to differentiate the genuine from the fake, please take notice!
Genuine has the letter 'S' in 'MSX-4GS' as Italic than the 'S' used in other writings such as 'BBSC1000000'. Also notice the OPEN top letter '4' for both 2GB and 4GB cards. Old fake is using identical normal font face throughout but newer fake now has italic '

S

'.


Genuine uses print ready/control vector art technique and has all golden letterings

engraved

by

laser-etched

into the plastic shell of the card,

the letterings are metallic reflective quality against light source

and is EASY to read. Fake uses

inferior

hi-res bitmap to copy the genuine, hard to read via naked eye, so zoom in a bit to see the printing

flaw

, and is not reflective against light source. The font on the fake usually is

messy

,

out of focus

and can be rub off. To know if it is printed, just use your finger to feel the surface as the letterings are a bit raised.

On the 10 gold metal stripes/contact, genuine is covered fully by the black plastic housing from the top to the bottom end. Fakes may have small black holes on the some metal stripes, some have its gold metal stripe not fully covered by the black plastic housing. Some fakes have internal green color PCB board exposed as pictured displaying its inferior manufacturing defect.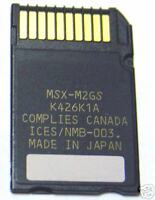 -

Genuine 2GB - Genuine 4GB
Clue #6 Exposing internals
On the inside, genuine has Sony-marked PCB (Printed Circuit Board) and usually use Samsung flash memory chip wheares the fake does not use the same Sony-marked PCB and is unmarked with unmarked/unknown brand flash memory chip.

Genuine uses BGA (Ball Grid Array) memory chip where the pin connections are beneath the chip whereas the fake uses TSOP (Thin Small Outline Package) chips where its pin connections are on the edge. Fake always perform unreliably.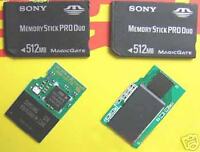 -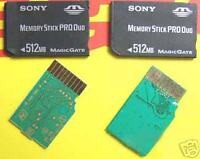 Clue #7 SONY counterfeit hotline
What to do if I have acquired a counterfeit item! Who is responsible?
Selling counterfeit items deceiving as genuine is considered as

FRAUD

, not merely a simple mistake. It is seller's sole responsibility.

Consumer protection laws are designed to protect all consumers, the gullible as well as the shrewd. The fact that a false statement may be obviously false to those who are trained and experienced does not change its character or take away its power to deceive others less experienced. Our consumer protection laws were enacted for the protection of the people, many who are trusting and naive about the wolves of the business world who come dressed in lambs' clothing.

Counterfeit items are NOT covered by genuine manufacturer's 5 Year Warranty.

If your item is from high volume sellers, don't be left ALONE in the battle, kindly advise and encourage all buyers in same situation as you are to take action.
How to get full refund and how to expose fraudulent eBay sellers?
Check if the seller is still actively listing the same counterfeit items today!

After confirming receiving counterfeit item, please follow eBay guideline to contact seller to obtain full refund from seller. However if you are NOT telling PayPal/eBay about this problem, you are NOT assisting the process of exposing counterfeit sellers.

Many counterfeit sellers are willing to provide full refund,

only if they get caught by you

, if you did not catch them, they are laughing their way to the bank. So it is STRONGLY recommended that you must always file a report to PayPal/eBay by completing the Item Not Received or Significantly Not as Described process dispute after 10 days of item closing date so they are alerted of the development of fraudulent transaction and seller's

BAD

record will be permanently written in PayPal/eBay dispute system. If you have paid by Paypal, completing the Paypal Buyer Complaint Process to obtain full refund from Paypal within 45 days. Effectively you will get your money back either from the seller or from Paypal.

Most important by going through the PayPal/eBay reporting procedure, you have assisted the process of exposing fraudulent sellers on eBay

.
Since you have NOT been provided with what you have paid for, it does not falls into seller's return policy of faulty product so that they can get away for you to return the fakes at your own cost. Counterfeit is FRAUD, do not settle with the seller unless the seller is paying for all the associated return shipping cost of the item. You are covered by the 90 days protection period under eBay Standard Purchase Protection Program.
In many countries it is actually

ILLEGAL

to post counterfeit merchandise by mail or by commercial carrier, if the merchandise is being discovered by your local Customs, they will be confiscated with

HEAVY FINE

to both sender and recipient. If PayPal / eBay seriously wants you to ship the counterfeit items back to sellers before offering a refund to you, you should seriously bring the

LAW

to their full attention.

Beware that

intentional wrong feedback extortion tactic

is on the increase where you will receive a "positive comment/feedback in writing" but then it was purposely selected as red negative. Sellers are using this tactic so it would make you to believe that he has carelessly chosen the wrong feedback radio-button so that you would agree to mutually to retract the negative feedback you have provided him earlier in order to hide all his past BAD ratings.

They have sold you a counterfeit, so don't fall into his feedback trap the second time

.

In most countries, FRAUD is a CRIMINAL offense and injunctions may be brought against the fraudsters to prevent them from moving on under a different name after being banned. Thus, you may choose to contact your law enforcement agencies or each respective brand manufacturers in your region, to report counterfeit and provide them with your item detail and the source of the item, seller's address and contact phone number.
Why eBay did not put a full stop to all these fraudulent activities?

We have been informed that eBay will NOT act unless the trademark owner (SanDisk, Sony, Kingston) contacts them. All buyers report to eBay hoping that the sellers receive permanent suspension for supplying counterfeits are in vain. eBay will ONLY act if directed to do so by your local law enforcement agency or the rightful trademark owner under eBay's VeRO program.

You must file a complaint to your local government agency (in Australia is the Department of Fair Trading) about your seller. When increasing amount of fake reports are received daily by the government agency, pressure will accumulate and more heat will be generated.
When there is enough pressure and momentum, something will eventually be done as such government agencies are obliged to act against eBay's unguarded open web channel of allowing high influx of fraudulent items into each country's public marketplace, directly from overseas.