A guide to An easy way to fit a false tail
Fitting a false tail can be easy and fast if you know how. Using the latch hook attachment method is fast simple and done correctly will not fall out. Latch hook can be purchased at spot light in Australia for as little as $4 in the craft section of the store.
Step 1. Take 3 even pieces of horse hair at approx 1" up from the base of the tail bone. Ensure the your plait is nice and tight,close to the tail bone and in the middle.
Step 2. Plait the hair as tight as possible down approx 10 -12 cross overs and then double band.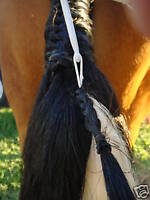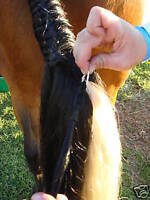 Step 3. Now using a latch hook or a small hook insert in downwards throught he middle of the plait(about the second cross over) place the loop of the false tail in the hook and pull back up through the plait as seen in picture above.
Step 4. Using the plait to lock it all in place, go in a backwards motion with the plaited hair through the middle of the loop pulling towards you(as above).Now as Picture below by pulling down on the false tail it will tighten the lock on the loop and another elastic band can be placed on to hold it all in place.
Now just brush the tails add some products for shine and cut to suit.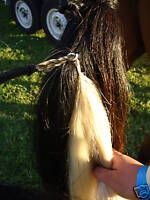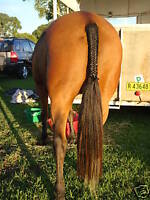 If this has been helpful please let me know by voting yes at the bottom of the page.
Cheers
Jocelyn.