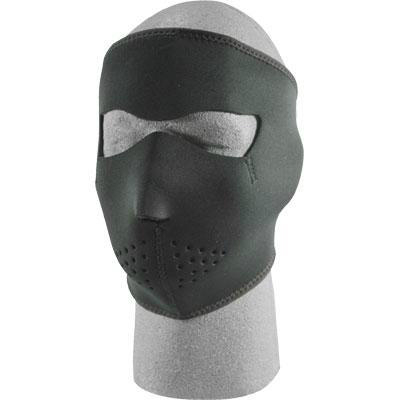 Though they are mainly functional, motorcycle face masks can be very stylish as well. With all the fabrics and patterns available, these masks, like a motorcycle, let the biker express his or her individuality and unique taste preferences. However, the biker should learn more about face masks before immediately buying one as with several types of masks, the kinds of material they are made out of, and the patterns available, there is a lot of information the shopper should be aware of. After reading about face masks, the motorcycle rider can then go to eBay to start finding the ideal mask. Here, they can choose from hundreds of thousands of items, with new products becoming available every day, from thousands of sellers.
Face Mask Materials
The consumer may want several masks made out of different materials because of the varying thickness, warmth, and cleaning ease that is present. While some masks may be very warm, they may not be very easy to clean, or within the buyer's price range. In order for the buyer to get his or her money's worth, the shopper should look for a mask that can be used most in the region that he or she lives in.
Neoprene
The heat retention qualities of neoprene make it the warmest face mask available, and thus a good product to have in cold and rainy months. However, because of the small amount of rubber in the material, neoprene is not a particularly breathable fabric, and it can fit a little too snugly at times, especially when paired with a helmet. This mask should be spot cleaned only.
Leather
Typically only available in a half-mask, leather is very effective at shielding one's face from the elements. Because it only covers half of one's face, it is recommended that a helmet or another face-covering accessory is used with the leather half-face mask. The consumer should be sure to buy a leather face mask that includes a lining, because a leather mask without lining sometimes leaves black dye on the user's face. Like neoprene, leather should only be spot cleaned.
Fleece
One of the warmest masks, fleece masks are thick and soft, which makes them great for retaining heat, but not so much for wearing with helmets. Fleece masks can often be put in a washing machine on a cold setting.
Cotton/Polyester
Probably the most popular types of material to make face masks out of, cotton and polyester masks may not be the warmest coverings, but both are easy to wash, have a good amount of stretch, and moves with one's face as one moves. These masks can be worn with a helmet without problems, and mainly prevent rain and dust from getting into the wearer's face. Thin and airy, cotton and polyester masks are the ideal products for all-season coverage, but not for those who live in regions that experiences extreme seasons. These masks can be cleaned in a washing machine on a cool/cold setting.
Suede
Though they are the most expensive of all the face masks listed here, suede masks can add a lot of flair and style to one's biker apparel. With a wide variety of colour options, suede masks, often with an inner layer of lightweight microfiber, deliver light but steady protection from the elements.
Types of Face Masks
Types of face masks refers to the different kinds of coverage various masks provide; from full face protection to half face protection to neck protection, the user has several options to consider. The best face mask for the rider depends on what kind of environment and weather he or she is going to be riding in most of the time, and what suits his or her style.
Full Face
As the name suggests, full-face masks cover one's entire face, with holes for the eyes and sometimes the nose as well. The user can purchase a full-face mask that leaves the top of the head covered or uncovered, which can make wearing helmets more comfortable. These masks are best for protection against very dusty environments, and can also prevent one's face from becoming frozen in cold climates.
Half-Face
Half-face masks cover the lower half of one's face. These are most useful in environments that are not particularly cold, so the wearer's face does not get too hot but still has protection against dirt and debris. Half-face masks are usually worn over the mouth and nose; some do not have any holes in them, and others have several small holes around the mouth and nose for easy breathing.
"Neodanna"
A "neodanna" is essentially a half-face mask with a long bandanna that covers the front and back of the neck. Often neoprene masks are combined with microfleece bandannas to create a comfortable, lightweight product that still protects one against the elements.
Balaclava
Many face masks are available as a balaclava, which is much like a full-face mask; however, balaclavas have a long neck shield, and only a hole for sight, though this hole can sometimes be stretched to expose the nose or mouth.
Full Face with Neck Shield
As the name suggests, this product combines a full-face mask with a large neck shield that even covers some of one's shoulders. This is ideal for very cold environments, where one wants to cover as much skin as possible against the elements.
Patterns
The most common type of pattern seen on biker face masks is skulls, but not just generic skulls patterned all over the cloth; many half-face masks with the design of the lower half of one's skull, so it appears to be the wearer's skull, are available. A Full-face masks can have an incredibly detailed skull branded on it, so again, it gives the appearance of being the wearer's skull. Other popular designs include lightning, the classic paisley style seen on bandannas, generic skull and crossbones, camouflage, and flames.
How to Buy on eBay
To start shopping for face masks on eBay, you must first go to the eBay home page. Then, type in keywords that relate to your search, like "neoprene full face mask", into the search engine or browse eBay's deals pages. To narrow down the search results, you may refine certain categories to find the exact product you want. Categories may include price, condition, and more.
If you are hesitant to purchase items from unknown sellers, eBay has a program that highlights trustworthy and reliable sellers through the "Top-Rated Seller" program. To become a Top-Rated Seller, one must have received consistently positive feedback from previous buyers, and have met certain selling quotas set by eBay. For those who meet these qualifications, eBay awards them with a Top-Rated Seller badge that is visible on the seller's personal page and on all the pages of the items he or she is selling.
Conclusion
If one is not wearing a helmet (helmet laws vary by country), then a face mask is a must for those who are not going on quick trips. Biker masks protect one's face from dirt, dust and debris, windburn, cold, and more. Additionally, there are many other biker accessories that one can wear with face masks for extra style or extra protection. Some accessories include goggles, "flydannas" (bandannas that are worn on one's head), neck warmers and scarves, and just good, old-fashioned bandannas as headbands. With all the materials, styles, colours, and patterns available on eBay, and with all the knowledge the user has about face masks, the shopper is sure to find the ideal face mask to fit his or her style.
face mask|motorcycle face mask|biker face mask|full face mask|half face mask