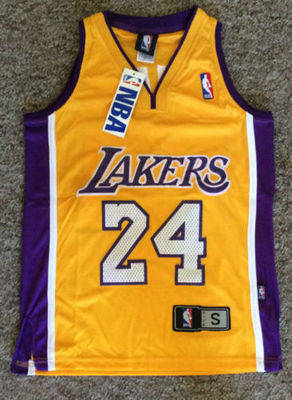 Add a caption
So fake it hurts...wrong jock tag, wrong neck tag, wrong brand tag, font is inaccurate, cut is inaccurate, stitching...
NBA JERSEYS
A low price for a Mitchell and Ness Jersey = Fake. No one sells genuine Mitchell and Ness jerseys for $50. Refer to the official Mitchell and Ness website for details, the NBA Store and other official sites such as Eastbay. Many Asian sellers love to sell the fake stuff. And their items are very obvious fakes. Watch out for some sellers from NZ too. A few of them are floating around. A Rookie Kobe Bryant Mitchell and Ness Jersey is approximately USD$300, it is not $60.

You can't get a Wilt Chamberlain jersey from his Overbrook High School days for $50, IN ANY SIZE! Oh yeah, when it says from "APO" = FAKE. You don't want a jersey put together in a sweat shop by a deranged Asian worker who earns $2/day. You get a $2 jersey.

It is impossible for someone to sell jerseys for half the RRP. They do not have the buying power to offer such discounts. When it's cheap, it's fake. As a jersey collector, it is painful to see people in non-authentic apparel. If you can't afford it, then don't get it as you only look cheaper for choosing to wear such eyesores. Be real to yourself.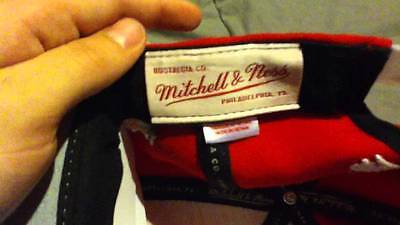 NBA HATS
Adidas has been the official apparel manufacturer of the NBA since 2006. Brands such as 47 Brand, Starter and Mitchell and Ness are also authorised manufacturers.

As for Mitchell and Ness hats, the differences are in the details. A cheaper hat = cheap quality. Details such as logos (consistent and yellow under the hat), the insignia underneath the button, the tag placement, air holes (quality, with no loose stitching), double stitching near the snapback area and the size of the logo itself are tell tales.

In terms of the logo, the genuine item has the embroidery showing ALL THE WAY THROUGH UNDERNEATH THE HAT.
CAVEAT EMPTOR
I could go on (Jordans, Starter, Nike)...but you are all adults (hopefully) and if you are some juvenile trying to look like the '90s, go educate yourself with access to the World Wide Web. Either way, a teenager wearing a Sonics jersey doesn't make sense to me. It never will. Hipsters do not play basketball, they ride their crappy fixies with jeans on AND LOOK LIKE LITTLE GIRLS. That's another article if I ever choose to write about cycling and some of the fakeness going around there too.