Currently, there are a huge number of fake SONY memory sticks on the market.
As well as eBay, and many (seemingly reputable) on-line stores, fakes seem to have appeared on Bartercard as well.
They look so real that even suppliers can't see the differences.
And, of course, all on-line sellers use pictures of the genuine items (taken from the SONY web site) in their listings.
The following information should show you how to recognise fake SONY memory stick pro duo products.
1 - Prices
The prices of fake MS Pro Duo are usually very cheap. The real prices for genuine Sony sticks as of March 15th 2006 are
2GB HS High Speed with Red Stripe A$999 Discount Street price A$800+
2GB Standard Speed A$299 Discount Street price A$???+
1GB HS High Speed with Red stripe A$244 Discount Street price A$???+
1GB Standard Speed A$159 Discount Street price A$???+
However, watch out, some Bartercard sellers are starting their auctions (or listings) at the retail price of the genuine article.
2 - Seals
Original Sony Packages have long (shaped like a staple) heat seals. Note, they are heat sealed. Fake Sony packages have round seals, and the seals seem to using glue not heat.
3 - Capacity
Some fake 2GB MS Pro Duo cards used to show 1948MB and 1959MB of memory space when tested. Genuine ones have a capacity of 1909MB while some devices will read them at 1910MB. WARNING: Fake 2GB cards may now show any of these figures - including the 1910 figure of genuine sticks - BUT some fakes have a true capacity of only 1GB. Try transferring as much data as possible to your card and see if it will hold close to 2GB - most 2GB fakes won't hold anything like 2GB.
4 - Transfer Speed
The transfer speed of a real HS (High Speed) card (red stripe) is about 80Mbps. Fake ones will have a slower transfer speed. 1948MB fake one actually can do about 65Mbps to 70Mbps - the 1959MB one can do at most 60Mbps.
To test timing, try transferring a 1GB file to the stick and use a stopwatch, or the second hand of your watch, to calculate the time of the file transfer. This is the easiest way.
5 - Physical Structure
A fake MS Pro Duo is often thicker than a genuine one. Try fitting it into an adapter, and you will find that it has problems. It doesn't seems to fit into the adapter easily (feels like its squeezing in). The newer fake versions (1959mb versions) even have problems fitting into a PSP (PlayStation Portable)
The words on the rear of a fake MS Pro Duo card are printed on, while on a genuine Sony card they are engraved into it. To know if it is printed on or not, just use your thumb to feel it. On a fake one, the words feel a bit raised. On a fake, you cant feel the words.
On a fake, the metallic stripes, also called the connectors, could have black holes - as the metal stripe did not fully cover the black plastic. This is most often seen on the1959mb fake version and the 1948mb newer version fake. A genuine Sony stick is fully covered to the bottom.
6 - Package
Most fake packages actually look exactly the same as the genuine Sony packages. Most people can not actually see any differences. Even the hologram seems real.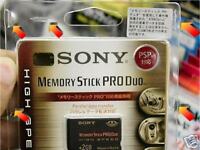 REAL SONY PACKAGE SEALS
Note also that this is a genuine Japanese market package - so has the "PSP Compatible" logo

FAKE SONY PACKAGE SEALS
Note also that this fake English Language package has a "PSP Compatible" logo
However...............
At the side of the package there are 4 pictures. Look carefully! On some fake packages the pictures are not in the correct order.
Some fake packages have the Sony "PSP Compatible" logo on the top right corner of the pack. But note that the genuine Japanese Sony package also has this logo. So if the package you are checking has Japanese writing all over it, this point can not be used to determine that you have a fake. However, if you are checking a Chinese or English language package, this is a good sign that the pack is a fake. (See pics above)
On the rear of some fake packages the black printing has white spots in it. Good quality printing on genuine Sony packaging will not have any white spots.