This is a guide intended to inform people who wish to buy AUTHENTIC Primp Pony, Anchor or Bunny Thermals. The AUTHENTIC Primp Thermal is an extremly popular item and there are a lot of fake/counterfit thermals out there on e-bay and people are paying mega dollars for them!
So here is how you can protect yourself and your dollars. Below are some guidelines on how to tell an AUTHENTIC Primp Thermal from a FAKE (The below information is to be used as a GUIDE only. It is up to the discretion of the buyer to ensure they are 100% happy to purchase a Primp Thermal from e-bay):
1. THE CRYSTALS
The crystals should actually be Swarsovksi Crystals and should be no more than approximately 3mm in diametre.
The Anchor and Bunny Thermal crystals are "white" whilst the Pony Thermal crystals are in fact a "browny/amber" colour.
The crystals on authentic thermals are placed on the print very neatly and the rows of crystals line up correctly. At no time should a crystal be placed on the outside of the Pony, Bunny or Anchor print (i.e. cystals should not sit on the coloured fabric - the crystals should only sit within the printed area of the Bunny, Pony or Anchor). If the crystals look like they have been placed on "sloppily" you are more than likely looking at a fake. Also the Swarsovski Crystals are usually quite bright and look high quality - they should not be dull or look cheap.
2. COLOURS
Authentic Bunny Thermals currently come in a (very) Light Pink and in a colour called Bell (a smokey grey) with Black Bunnies.
Authentic Pony Thermals currently come in a Brown (a chocolatey brown) or Cream with Brown Ponies.
Authentic Anchor Thermals did come in Red or Tiffany (sea green) with Black Anchors - Please note that Tiffany and Red Anchor Thermals are extremely hard to come by... if it seems too good to be true, it probably is! Primp has also just released a Light Blue and a Cream Anchor Thermal - but these have only just hit the American shelves and Authentic tops are probably very hard to come by as they are new season stock with limited availability.
3. THE PRINT
Authentic Primp Thermals have very clean prints. If the prints on the top you are looking at (whether it be bunnies, ponies or anchors) are smudged, stay well away!
4. THE FIT
Authentic Primp Thermals are designed to be a LOOSE FIT - they tend to run on the large-ish side and the arm length tends to be quite generous.
The Authentic Primp Thermal XS would best fit a size 6 (maybe a small size 8), the S would fit an 8-10, the M would fit a 10-12, and the large would fit a 12-14.
The Authentic Pony Thermal is actually a baggier fit than the Authentic Bunny and Anchor Thermals. It is baggier around the middle.
5. FABRIC
Authentic Primp Thermals are made out of a 50% cotton, 50% polyblend only!
The fabric should be quite thin (probably a little thicker than a bonds singlet/thermal), should be very soft and the top should be quite warm when you wear it (hence why it is a thermal). The fabric is also made out of a specific weave - the fabric on an AUTHENTIC top is a made from a "woven" weave (which is a "squarish" looking weave), whilst the weave on a FAKE is a "ribbed" weave (which gives the fabric a "vertical stripey" look all over).
6. STITCHING
Authentic Primp Thermals have exposed overlocked seams all the way down the sides of the tops (from the underarm to the waistband) and all the way down the sleaves (from the underarm to the wristcuffs). Primp thermals do not have hidden seams. The stitching around the collar, wrist cuffs and wrist band is also an overlocked stitch. If the top you are looking at doesn't have overlocked seams (i.e. if the seams are hidden) it's a fake.
In regards to the Anchor Thermal the Red and Tiffany coloured tops, these tops actually have contrast stitching (i.e. the stitching on both tops is darker than the fabric. On the pink Bunny and cream Pony the stitching is the same colour as the fabric, while the stitching on the bell Bunny and brown Pony may be slightly darker than, if not the same colour as the fabric.
7. PRICING
I have noticed that on e-bay there are sellers claiming that Primp Thermals cost over $200 US in stores. PRIMP THERMALS ARE NOT THIS EXPENSIVE! Primp Thermal Tops sell for between $60 and $80 US (depending on which boutique you buy from) which means you would expect to pay somewhere between $90 - $105 Australian.
Please note however, there may be some sellers on e-bay actually selling Authentic Primp Thermals for over $100. This is due to the shipping costs that they have had to pay to get the items over here - i.e. if the seller purchased a top from a US on-line store, they would have probably paid US $100 for the top (this includes shipping), so if they wanted to get their money back they would charge accordingly.
8. COUNTRY OF ORIGIN
Real Primp Products are made in the USA. However, fake products may also state that they have been made in the USA when infact they have been made elsewhere. There are factories in China, Vietnam Korea and Tawain (just to name a few) that will do anything to sell product. Hey, if they rip off the design of a high selling fashion item, what's to stop them from putting "Made in the USA" on the care label? Nothing! Make sure you do you check all of the above points before you buy!
DON'T BUY FAKE! COUNTERFIT PRODUCTS ROB THE ORIGINAL DESIGNER OF THEIR DESERVED INCOME!
The counterfit "Primp Thermals" look cheap and are of extremely poor quality. If you want a great looking top, I recommend parting with a few dollars more, to get the real deal. I have seen sellers on e-bay selling AUTHENTIC Primp thermals but they do charge accordingly (these are afterall a sold-out item). You may pay more but you WILL get an AUTHENTIC item that is of high quality and looks great.
If you are going to buy from e-bay do your research first. Don't let yourself get ripped off. I have seen people pay over $100 Australian for a top that was clearly fake, when they could have spent the same money on the real thing. If the person you are buying from on Ebay only lists pictures that they have found on the internet, stay well clear. Also, if you do find a listed item that does show a couple of photographs of the actual item, ask for more! If the seller ignores you or says they can't get anymore pictures, its time to move on! Sellers that are selling authentic product will happily show you more pictures - its when a seller is selling a fake item that they tend to not want to send more images. Also, just because they say the item is authentic or that they have a "receipt" doesn't mean the item is actually authentic (I am a graphic designer, and I can tell you now, its easy as to make a fake receipt!). Triple check with the buyer before you bid or buy!
Also I find it hard to believe that the lovely people at Primp would sell numerous (say 20 tops) to "independant buyers". There aren't any boutiques in Australia that sell Primp (as of yet) - so how can someone on e-bay have 20 tops to sell and say that they are Authentic. Primp is considered to be a "boutique" label in the states - and in order to buy Primp you need to have a boutique!!!
Stay well clear of sellers who have more than 1 item to sell!!!!
P.S: these guidelines also apply to the Primp Thermal Bunny, Pony and Anchor Pants. Please note that Primp also has a Heart Thermal, but I haven never come across one of these for sale on an online store before, so I am not sure what exactly they look like or what colours they are - I'd go as far to say, if you find one of these on e-bay, its a similar story to the Anchor Thermal - too good to be true! You may be lucky enough to find an authentic Bunny or Pony thermal on e-bay, but do your research first!
Below are some piccys of current colours and styles of Authentic Primp Thermals - but you need to ensure that you obtain a sufficient amount of images of the actual product you are looking at buying from the seller before you bid.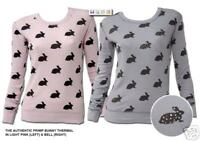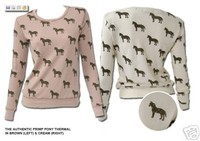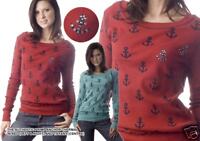 Hopefully this has been helpful! Happy searching!