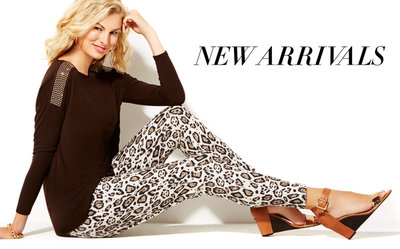 Anyone remember Pa's nickname for his daughter Laura on Little House on the Prairie? If you said "Half-Pint," you'd be right. Although most of us short women can easily laugh off the little jokes that come with being petite (my 6'4" husband thinks it's hilarious to request a table for "one and a half" when we dine out), it's no joke when it comes to the fashion frustrations short women face in a design world that glorifies and caters to tall women.Some short women long to be tall just so that they can wear the fashion that looks so good on designers' catwalks. I admit that I've been tempted more than once by garments that were definitely styled for tall women, and I've succumbed to temptation a time or two, even though I should know better. There's a Zac Posen pastel plaid, full, tea-length skirt hanging in my closet right now that still has the tags on it. It would look wonderful on a woman who has the height of a runway model, but the style does nothing to flatter me (those deep discounts at sales don't always translate into bargains).

Strangely the fashion design world presents runway fashion modeled by tall women who are around 5'10" although according to National Health Statistics Reports published by the United States Department of Health and Human Services, the average American woman is 63.8 inches in height--that's just under 5'4". A height of 5'4" is considered to be in the petite range by many clothing manufacturers while others use a height of 5'3" when making clothing specifically for petites.

Considering the fact that the average woman falls into or close to the petite category, it's always seemed odd to me that most off-the-rack clothing is made for a woman who stands 5'5" - 5'8" tall. Anyone who's shopped in the petites' department at a major retailer knows that the selections there are much more limited than they are in the regular or misses' department.

When we're shopping, our options in the petites' department are limited, and we sometimes try to make do with clothing from either the regular department or some other department. Sometimes this strategy works, but frequently trying to fit a short body into clothing made for someone taller is not very successful, and we either have to bypass the item or have it altered to fit, but unfortunately not all clothing can be altered successfully.

It's not so much a matter of disliking being short, but more of a fashion frustration that's the problem. Of course, our fitting problems could easily be solved with custom fashion, clothing made the old-fashioned way to fit an individual's unique figure, but custom design, sewing, and tailoring are expensive and beyond the reach of many women. So we keep on keeping on, trying our best to find clothing that's stylish in the petites' department or adapting to clothing we find in other departments.

On the subject of petite fashion, my daughter Sara, who is a petite woman under five feet, says, "I have plenty of complaints." She feels frustrated because "everything needs to be hemmed." Even petite pants and jeans are too long for her, but she's sometimes able to find extra-short petite pants that are the right length.

Another sad-but-true observation Sara made is that a petite woman "can't wear long sweaters without looking shorter and fatter," and she also commented that a "five- or ten-pound weight gain looks more like a twenty- or thirty-pound weight gain" although a few tricks of fashion illusion can help a bit when it comes to dressing to look thinner.One reader, a short woman who usually shops in the regular department, complained that "I hate it that in the regular world, I'm a size 6, but in the petite world, I'm a size 8." She also said, "I don't like that I can't wear skinny jeans. OK, I wear them because I like to tuck jeans inside my boots, but I don't look my best in them. They're just not flattering for short people."Another reader, who now lives in Europe, wrote that "Even though I have found Petites at long last about 10 years ago, there are still some nagging fit problems." At 5'2", this 57-year-old petite woman has found a couple of pants' brands that work for her--Brax pants (not petite, but short) and Principles Petites (although they may be too short for some petites), which can be found at the British retailer Debenhams (Vendor's Site). Another option for her used to be Lands' End custom fit jeans, but they are no longer available. However Lands' End (Vendor's Site) currently offers some pants with a choice of inseam length.

Petite actress and fashionista Rachel Bilson finds that she is able to wear cropped jeans, which eliminates the need to hem jeans, and, in her October 2010 column in InStyle, she recommended that other short women try cropped jeans too. Two brands of jeans that she wears in the cropped style are Siwy and Paige, both available at Shopbop (Buy Direct).

Tops and dresses can be just as difficult to fit as pants and jeans. Most petite women have narrow shoulders, and not all short women fit the B-cup fashion standard that clothing manufacturers normally use to size tops and dresses. Those of us who wear a D-cup bra find that if the shoulders of a jacket fit, the garment is to tight across the bust. Other petites have the opposite problem. With a bra cup size of AA or A, jackets and dresses don't fit these petite women well either, but a specialty petite bra can be a bit help in solving this particular fitting issue.

I sometimes find that the sleeves on petite clothing are still too long for me while other short women complain of the opposite problem with sleeves on petite clothing actually being too short for them.

The bottom line is that short women come in all shapes and sizes, and although there's more petite clothing available than ever before, it's still difficult to find a good fit. Our European reader concluded that "I'm just a normal petite woman. Shopping for clothes should not be misery. I began to think about custom tailoring some years ago but balked at the price. Now I think it might not be so bad to have a few perfectly fitting items and be able to ditch the rest. The uniform idea!"

Dressing in a fashion uniform may indeed be a fashion solution that can work for some petite women. For others, the uniform idea is not so appealing because they favor trendy clothing or because it doesn't seem workable for their life styles, and so the search for garments that both fit well and fit into a petite woman's world will continue. Unfortunately, a magic, one-size-fits-all fashion solution doesn't exist for petite women.