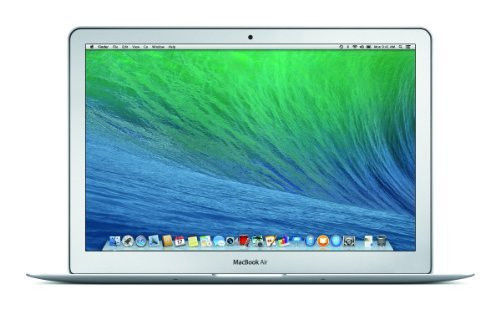 Lightweight and easy to carry, the MacBook Air has quickly become one of the most popular laptops in its category. The new 2014 MacBook Air is gaining ground with faster processing speeds, longer battery life, lighter weight, and better memory. The 2014 MacBook Air features two options in the 11-in display category and two in the 13-in display category. The new MacBook Air is available for purchase through a number of online retailers.
Memory and Storage
MacBook Air comes with 4GB of on-board memory and can also be configured to 8GB.
Both the 11-in MacBook Air and the 13-in MacBook Air come in two options for storage (also known as "flash storage"): 128GB or 256GB. This is enough storage for average users who employ their MacBook for web surfing, social media, email, etc. This may even be enough for some professional users and heavy gamers. If users opt for the 256GB, it can be configured to 512GB.
Processing Speed
The MacBook Air has a fourth-generation Intel CPU. All MacBook Air models have the same 1.4GHz dual-core Intel Core i5, which has a Turbo Boost up to 2.7GHz. Again, this should be plenty for most non-professional users.
Size and Weight
MacBook Air laptops are known for their portability, and the 2014 models do not disappoint.
MacBook Air 11-in weight and dimensions:
Height: 0.3-1.7 cm
Width: 30 cm
Depth: 19.2 cm
Weight: 1.08 kg
MacBook Air 13-in weight and dimensions:
Height: 0.3-1.7 cm
Width: 32.5 cm
Depth: 22.7 cm
Weight: 1.35 kg
Battery Life
The MacBook Air is all about extending battery life. The 11-in MacBook Air will give nine hours of battery life for web surfing. The 13-in MacBook Air is even more impressive, clocking in at 12 hours of web surfing. Both models boast 30 days of standby time. The 11-in model has a 38-watt-hour lithium-polymer battery, and the 13-in model has a 54-watt-hour lithium-polymer battery.
Other Features
The MacBook Air comes with a 720p FaceTime HD camera, and Bluetooth 4.0 wireless technology. This laptop can also accommodate users' audio needs with stereo speakers, dual microphones, a headphone port, and support for the Apple iPhone headset.
Despite its portable size, the MacBook Air features a full-size backlit keyboard and multi-touch trackpad for high-level control of the cursor. The trackpad allows expert control and the ability to swipe, tap, double-tap, drag, pinch, and scroll.
The MacBook Air has two USB ports, a MagSafe 2 power port, and a thunderbolt port. The 13-in model also has a SDXC card slot for quickly and easily reading photographs from a memory card.
Lastly, the MacBook Air comes with Apple software, including iPhoto, iMovie, GarageBand, Pages, Numbers, Keynote, Maps, iBooks, Safari, Mail, FaceTime, Messages, Calendar, Contacts, Reminders, Time Machine, Photo Booth, iTunes, Game Center, Preview, Notes, and Mac App Store. All of these applications are used with the OS X Mavericks operating system.