Ferrari F1 Racing 1961-2000
This is one of many illustrated classic f1 guides I've created for the community. I hope you enjoy it. If you wish to find out more about the classic F1 racing art featured in this guide please click here.
"Shark Attack" (1961)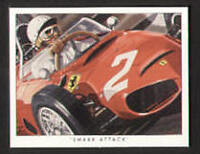 The 1961 Season belonged to Ferrari, with four of the new 120 V-6 powered cars in the hands of Phil Hill, Count Von Trips, Richie Ginther and Willy Mairesse. Victories at Zandvoort, Spa and Aintree proved that Ferrari could almost win at will. At Monza, Italy, tragedy struck, when Von Trips was killed together with 14 spectators, leaving Phil Hill to win the world championship for Ferrari.
"Niki" (1976)
After winning the first of his two world championships for Ferrari in 1975, Niki Lauda looked set for a repeat performance in 1976 until his accident at Nurburgring. His amazing recovery and return at Monza took the championship to the wire, eventually losing by only one point to James Hunt after he could not continue in the rain-soaked Japanese Grand Prix.
"Forever Ferrari" (1981)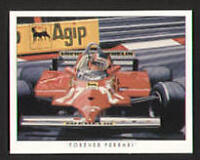 Having started with Ferrari in 1978, Gilles Villeneuve could have been world champion in 1979, but he obeyed team orders which gave the title to team mate Jody Scheckter. With only two victories in 1981, he had the perfect equipment in 1982, until tragedy struck during practice for the Belgian Grand Prix. Gilles had stayed with Ferrari until the end and is still revered by Ferrari fans to this day.
"Happy Birthday Jean" (1995)
The 1995 Ferrari team of Jean Alesi and Gerhard Berger did not have superior equipment but Jean Alesi had an exciting season with four second place finishes and a near victory at the Nurburgring. At the Candian Grand Prix Alexi, on his birthday, thrilled Ferrari fans with his only GP victory driving the famous Ferrari No 27 at the Gilles Villeneuve circuit.
"Scarlet Fever" (1996)
In 1996, Michael Schumacher joined Ferrari, with one ambition - to win the world championship for the "Prancing Horse". In his 1st season, against the strong Williams team of Hill and Villeneuve, he managed victories at Spain, Belgium and importantly the Italian GP Monza. His efforts helped Ferrari to 2nd place in the constructors' championship and he achieved 3rd place in the drivers' championship.
"Mission Accomplished" (1999)
The 1999 season looked good for Schumacher and Ferrari with victories at Imola and Monaco, until an accident at the British Grand Prix resulted in a broken leg. The challenge was taken up by Ferrari's Eddie Irvine with victories in Austria, Germany and Malaysia but his 3rd place lost him the title by just 4 points to Mika Hakkinen in Japan. but won the constructors' championship for Ferrari.
"The Italian Dream" (2000)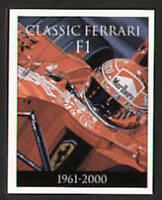 After the unfortunate season for Schumacher in 1999, he attacked the 2000 championship with a vengeance. Taking 9 victories (equalling Nigel Mansell's record wins in a season), 3 podiums and nine pole positions, Michael Schumacher finally brought about "The Italian Dream" and gave Ferrari their first driver's world championship for 21 years and the 2nd successive constructors' championship.
Thank you for reading my guide and I hope you found it interesting!