Ferrari Cars 70s and 80s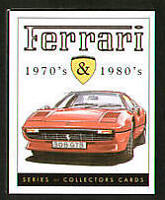 This is one of many illustrated classic car guides I've created for the eBay community. I hope you enjoy it and if you would like to find out more about the classic Ferrari car art featured in this guide please click here.
This guide celebrates seven of Ferrari's finest models of the 1970s and 1980s.
F40 1988-1992
Built to celebrate 40 years of Ferrari cars, the F40 was also created to upstage the Porsche 959 and to be the world's fastest production car. In essence, it was a GTO with different body panels, stripped of carpets and interior door panels, and it even had sliding Plexiglas windows to save weight. The engine was a short-stroke variation of the 3-litre quattrovalvole V8 with twin 1H1 turbochargers, producing a massive 471bhp with 426lb/ft torque. In this form it was claimed to top 201mph/325km/h and reach 60mph (100km/h) in under four seconds. For those looking for even more performance, a factory kit with larger turbochargers and different camshafts could add a further 200bhp.
Ferrari 308 GTB and 308 GTS 1975-1985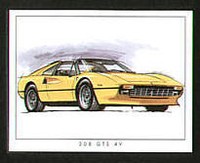 One of the longest-lived of all Ferraris, the 308 GTB arrived in 1975 with - shock, horror - part-glassfibre bodywork. Its transverse mid-mounted four-cam V8 gave 250bhp and 0-60mph in 6.5sec.Despite glassfibre's lightness and durability, customers forced a change to steel panels in 1977, knocking 4mph off the top speed. The targa-topped GTS version arrived in 1978. Bosch fuel injection from 1981 killed power for the sake of emissions (214bhp, 148mph/238kmh), but four valves per cylinder (Quattrovalvole) in 1983 brought it back up, while an extra269cc in the bodily-identical 328 GTB of 1985 took the stunning Pininfarina flyer to over 160mph (257kmh) and a well-deserved 13-year lifespan.
Ferrari 512 BB and 512 Bbi 1976-1984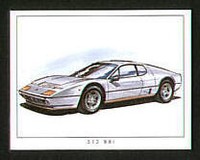 The 512BB (Berlinetta Boxer) was introduced at the Paris Salon in 1976 as a replacement for the 365 GT4/BB. Visually there appeared to be little difference but on close inspection the new car had a "chin" spoiler under the front grille and NACA ducts low down on the body sides and just in front of the rear wings. The flat-12 boxer engine was given an extra 552cc over the 365 GT4/BB model, bringing the displacement up to 4,942cc. Quoted power was now 360bhp and the maximum speed had risen to 188mph/302kmh. Production ended in 1984 to make way for the controversially-styled Testarossa.
Ferrari 288 GTO 1984-1985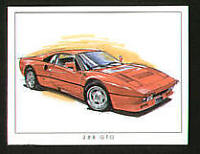 Produced for Group B competition, which required a production run of at least 200 but was cancelled in 1986, the GTO was considered special enough to receive one of Ferrari's most famous model names. Designed at the factory, it resembled the 308 GTB and used that car's engine, but now the 3-litre V8 was mounted north/south rather than east/west and with twin turbochargers and electronic fuel injection, it pumped out over 400bhp, with 366lb/ft torque at 3800rpm. The 288 GTO is easily distinguished by its high door mirrors, but less obvious is that the wheelbase is 4.4in longer, mainly to accommodate the different engine position. Ferrari claimed a top speed of 190mph/305kmh and 0-60 in five seconds.
Ferrari Dino 246 GT and 246 GTS 1969-1974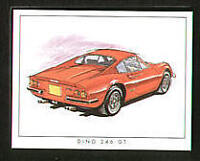 The original Dino 206 of 1967-1969 was fitted with an aluminium 2-litre engine/gearbox transversely mounted across the chassis behind the seats. Its multi-tube chassis all-independent suspension and Pininfarina-styled body were all "typical-Ferrari" of the period. Within two years of the launch, however, the Dino became the Dino 246 - not only with an enlarged, iron-block, 2.4-litre V6 engine and a longer wheelbase but with steel instead of light-alloy panels. The 246 Coupe was joined by the soft-top GTS in 1972. Both were displaced by the new Type 308 V8-engined models in 1973. Total 246/GTS production: 3,761 cars.
Ferrari 365 GTB/4 and 365 GTS/4 Daytona 1968-1973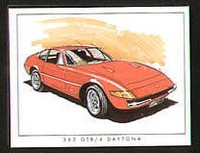 A proud last gasp statement by Ferrari in the front-engined Grand tourer stakes, the 365 GTB/4 Daytona was introduced in 1968. The Pininfarina styling was muscular yet handsome and early cars used unusual Plexiglas covered front lights, soon replaced by retractable units that gave the Daytona a menacing squint at the front. Fitted with the magnificent 4.4-litre quad-cam-V-twelve engine, the Daytona could reach 174mph/280kmh and soar to 60mph in neck-straining 5.4secs -quite truly a sensational road car. A highly desirable 365 GTS/4 open-topped version was also produced to the tune of 165 examples.
Thank you for reading my guide and I hope you found it interesting!