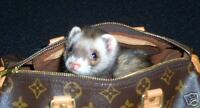 If you've clicked on this link, you're probably a
ferret
owner. Welcome, from a fellow ferret lover!
Ferrets are still relatively rare in Australia. These domesticated pets are extremely inquisitive, friendly, and fun! They sleep for approxmiatenly 18 hours a day, which make them an ideal pet for working people.When they ARE awake however, they are full of energy and ready to play with you!
Most pet stores in Australia do not stock ferret-specific products. Your easiest way to find these items for your ferret is to buy them on
eBay
and have them delivered to your door. eBay is a wonderful resource for finding great
snacks
for your ferret, or fun
toys and accessories
. You'll even find useful
ferret books
on how to take care of your pet ferret.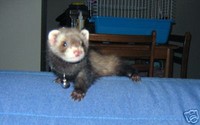 Things you can buy for your ferret: