Fiat Cars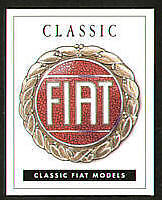 This is one of many illustrated classic car guides I've created for the community. I hope you enjoy it. If you wish to find out more about the classic Fiat car art featured in this guide please click here.
This guide covers six classic Fiat models of the post-war era. Included is Fiat's trademark 500 model, a car which provided affordable transportation for the masses, selling over 4-million examples, and the supremely successful 124 Spider, arguably the best mass-produced sports car of its generation.
Fiat 500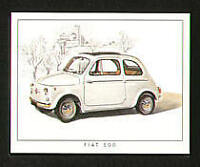 A minimalist four-seater with go-kart like handling, the original Fiat 500 was powered by an aircooled 479cc flat-twin, mounted in the rear. Early cars had rear-hinged "suicide" doors and a full length sunroof. Post-1965 500F models had conventional front hinges, but the 500 retained its drum brakes and crude non-syncro "crash" gearbox to the end. Fiat built more than four million 500s in a twenty-year run.
Fiat 130 Coupe
Based on the mechanics of the ordinary-looking Type 130 saloons, the Pininfarina-styled 130 Coupe was fast, impressive and an altogether attractive four-seater. Launched in 1971, it used a Lampredi-designed V6 engine, which at 3.2-litres produced 165BHP and gave the car a top speed of nearly 120mph. Available with a choice of manual or automatic transmission, disc brakes all round and all-independent suspension., 4,491 were sold in 1977.
Fiat 850 Coupe
The sports version of Fiat's bread-and-butter 850 arrived a year after the saloon version in 1965. Bertone styled a cute two-seater spider variant, while Fiat's own styling department produced a neat fastback four-seater coupe with a water-cooled, rear-mounted engine. Handling was excellent, with light positive steering, lots of grip and responsive brakes (discs at front), 380,000 examples were built before production ended in 1971.
Fiat 124 Spider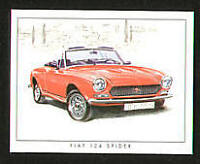 Launched in 1966, the 124 Spider became arguably the best affordable, mass-produced sports cars of its generation. Much of its appeal stemmed from its fabulous twin-cam engine, a novelty at the time for such an inexpensive machine, although stylish lines and good handling were the other strengths that kept the model in production for nearly 20 years. The closely related 124 Coupe was introduced a year later with similar acclaim.
Fiat Dino Spider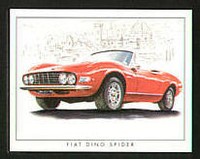 There were two distinct Fiat Dino styles: an open two-seater and a closed 2+2 model. The curvy Pinafarina-bodied Spider was first on the market in late 1966. Using a version of the Ferrari-designed two-litre V6, detuned slightly to produce 160 rather than 175bhp, it had a maximum speed of close to 130mph. From late 1969 an even better Dino was offered, fitted with a 2.4-litre engine, stronger ZF gearbox and independent rear suspension.
Fiat X1/9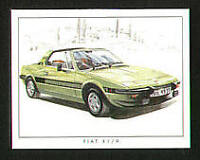 The X 1/9 was the first mid-engined sports-car to sell in large numbers. Announced in 1972, it made competitors like the Triumph Spitfire and MG Midget look obsolete at a stroke. Bertone styled and built the monocoque structure, and the power was by transverse engine/transmission unit mounted behind the two seats. The first models were 1300S, but for 1979 a 1.5-litre was fitted. Production reached approximately 100,000.
Thank you for reading my guide and I hope you found it interesting!