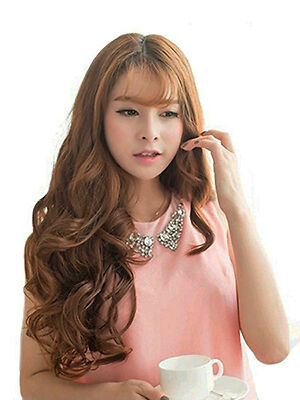 Why do models and actresses look so good in advertisements and on the red carpet? Professionally applied makeup helps, but it's hard to notice that from a distance. The one thing that turns heads most often is luxurious hair extensions.
Whether short or long, straight or curly, a full head of hair is a sign of youth, health, and sex appeal.
Before hair extensions, people losing their hair through stress, health conditions, or ageing had three way to deal with their problem: a wig, a scarf, or a hat. Today, with hair extensions it's possible to appear to have a full head of hair when there's not much there.

Types of Hair Extensions
Unlike wigs, which completely hide the natural hair and can often be quite noticeable, hair extensions add a subtle fullness to natural hair, matching it in colour, texture and, if desired, in length. Extensions can be used to make short hair fuller, but they are most often used to add length as well as body.
Special Occasion Hair Extensions
If the hair extensions will be worn to a special event or for a short period, clip ins are fine. There is little risk of the hair falling out, the clipped extensions are easily removed and replaced after shampooing, and they can be added to or thinned, depending on the hairstyle.
Everyday Hair Extensions
While clip-in hair extensions are fast and convenient, they may not be the best choice for everyday wear, and although it can be expensive, a more permanent hair extension solution, such as a weave, is another option. A weave takes several hours to apply, and it has to be re-done every few months.
Synthetic vs. Human Hair Extensions
Human hair extensions, like wigs made with human hair, appear more natural at first but they can be high maintenance. It may be difficult for non-salon professionals to find human hair extensions. It might be possible to find them on eBay. They can be more expensive than synthetics.
These human hair extensions can be coloured, washed, and styled on a wig stand, although it's best to leave the maintenance and styling to a professional.
Synthetic hair extensions are made of synthetic fibres. Two main fibres are used in synthetic extensions: Toyokalon fibre lasts long and is less subject to getting tangled. Kanekelon fibres are more resistant to heat, so hair straighteners and curling irons won't damage them.

What to Consider When Buying Hair Extensions
There are 4 main factors to consider when buying hair extensions:
When shopping for hair extensions, cost may be the most important factor, but for a natural look, the quality of the hair extensions may mean paying just a little more.
Hair Colour
Matching natural hair colour is very important in choosing the right extensions. The trick is to make the transition from 'extension less' to 'extended' hair as unobtrusive as possible. Mismatched hair colour from one section to another is a dead giveaway that this is not 'real' hair.
However in some instances, hair extensions in the right shades can be used as highlights or low lights, and take the place of professional salon colour.
Hair Style
Ideally, styling should match. Straight hair needs straight hair extensions. Curly hair should match the style of curl in the natural hair as much as possible.
Hair Length
Hair extensions the same length as the natural haircut may be less obvious and will add volume. For a full, longer look, choose hair extensions that fall at least 2-6 inches below the current hair length.

Shopping for Hair Extensions on eBay
There are numerous highly rated sellers on eBay who offer quality, affordable hair extensions, made of both synthetic and human hair. Shoppers can enter keywords in the search bar on eBay in relation to colour, cut, style, and in a comfortable price range.
As with any on-line purchase, they should take care to read the product description carefully, including the stated condition, and then use the "ask a question" button to e-mail the seller if needed. It's also important to check sellers' feedback ratings. Along with their number rating which indicates what percentage of previous buyers were happy with their purchase, comments posted are a must-read.

Conclusion
Hair extensions are a very special purchase that require research. Human hair extensions look most natural but they are usually more expensive. Clip-in extensions are easiest to use, but make sure the product condition–including the condition of the clips–is acceptable. Consider cut, colour, length, and style before making the purchase. Consumers can search eBay for hair extensions that match all their needs in all these categories to find a perfect fit.