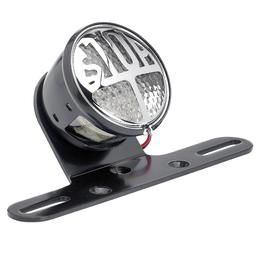 Riding a motorcycle as a primary means of transportation is a decision that requires a good deal of skill and a certain degree of fearlessness. Although threats to a motorcyclist's safety come in many forms, inadequate visibility is among the most pervasive. In order to improve a motorcycle's visibility, super bright LED lights can replace the standard motorcycle lights. These are available for sale from specialty motorcycle part dealers as well as online from eBay. In order to find the best deals on super bright LED motorcycle lights, it is important to know not only which type of lights are required, but also how to search for them and where to look.
Compare Motorcycle Lights
Many people choose to use LED lights in their motorcycles for increased safety or for aesthetic reasons, but not everyone stops to consider how these lights are actually different. LED stands for light-emitting diode, and these types of lights increasingly replace both filament lights and gas-based lights for a variety of purposes. In motorcycles, LED lights can emit more light, which increases visibility and allows lights to last longer. This means that the initial expenditure on LED lights spreads out over a longer time and can, therefore, mean more savings in the long run.
Types of LED Motorcycle Lights
To get the best deal on LED motorcycle lights, it is important to know which types of lights a rider needs for the motorcycle in question. Different LED lights are required for replacing a motorcycle turn signal than are used for replacing the headlight or for decorative purposes. Additionally, other accessories may be required to make sure the LED lights function correctly, which makes the overall investment greater.
LED Motorcycle Brake Lights
The brake lights on a motorcycle are an essential part of its visibility since they must be bright enough to allow other drivers plenty of time to stop when they are driving behind the motorcycle. Replacing standard motorcycle brake lights with super bright LEDs can, therefore, increase the safety of the motorcycle a great deal. Anyone who chooses to use LED lights on a motorcycle should keep in mind that a load equaliser may be necessary since LEDs require different amounts of power than standard lights.
Motorcycle Light Kit
Shopping for LED light kits cannot only be more convenient, but can also lower the price of LED motorcycle lights. Light kits contain multiple LED bulbs expressly for the purpose of use in motorcycles. This is important because although LEDs can indeed be super bright, they also do not have the same directional range of visibility, meaning more bulbs are required in order to maximise visibility. Buying the lights in a kit can be cheaper than buying each LED bulb individually, so it is a good idea to consider this option. Some motorcycle makes or models may not have a kit available, in which case, shopping for an LED cluster may be the most effective way to get LED replacement lights.
Flashing LED Lights
Brightness is certainly a consideration when looking for LED lights, but it may also be worth considering specialty LED brake lights that flash when the brakes are applied. These lights can increase visibility even more than a standard LED. The flashing action acts as an additional signal to other drivers, alerting them of the motorcycle in front of them, and thereby decreasing response time and increasing motorcycle safety. When looking for this type of LED light, be sure to determine whether modification of the motorcycle's electrical system is necessary, since that can come at a greater cost after installation.
LED Accent Lights for Motorcycles
Accent lights are another popular use for LEDs on motorcycles. Although these lights can also increase visibility, the main purpose of accent lights is to add a unique look to the motorcycle. LED accent lighting makes use of strands of LED lights affixed to different parts of a motorcycle, giving the vehicle a colourful glow after dark. Since accent lights are not a practical consideration, getting a deal on LED accent lights is even more important than it is for other types of LED lights.
Consider Used LED Motorcycle Lights
Motorcycle aficionados are often fans of replacing and repairing different parts of their vehicles on a regular basis. This means that even though a motorcycle part, such as an LED light, may be working properly, a rider could still choose to replace it. The result is that a savvy shopper can find used LED motorcycle lights for a low price. When purchasing used LED motorcycle lights, it is a good idea to thoroughly examine the lights, either in person or through photographs, to ensure that the lights are actually in good shape. Asking questions directly of the seller is another way to make sure that the used LED lights for sale are of the best possible quality.
How to Buy Super Bright LED Motorcycle Lights on eBay
Once you have determined that super bright LED motorcycle lights are the best choice for your motorcycle, you can begin to look for available lights on eBay. Use the search box, located on every page of the site, and enter some relevant search terms that describe the lights you need. Use the eBay filters to narrow down the results. Buyers can also use these filters to search only for used LED lights, or to restrain the prices so that you see the best deals. Take the time to compare the different products that are available on eBay before making your final purchase, so that you can ensure that you are satisfied with the lights once they arrive at your home.