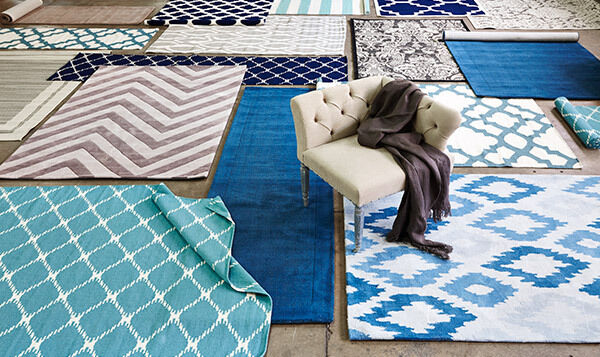 Add a caption
A rug can make or break a room - but how to choose?
Size Matters
We've put together a handy guide to help, covering everything from sizing up your space to caring for your new purchase.
Measure the area
Think about your space. Are you using a rug to fill a whole room, to define the seating or dining area within a larger room or to add colour and texture to a bedroom or hallway? Once you've decided, measure the space. Rug sizes are fairly standard, ranging from 120 x 180cm (4' x 6') right up to 270 x 330cm (9' x 11'). Runners are generally 75-80cm (around 30") wide.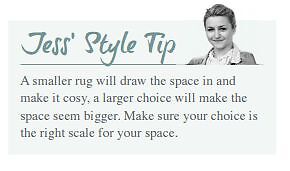 Living spaces
If you're placing a rug in a small room and using it to cover most of the floor space, as an alternative to fitted carpet, make sure you leave a reasonable gap (at least 20 – 30cm) between the rug and the walls on all sides. If you're using a rug in a seating area, there are a few options. A large rug with all the furniture sitting on it will make your room feel more expansive. If your rug (or your budget) doesn't stretch that far, just put the front legs of your sofa and chairs on the rug to anchor the space. A floating rug can also work as long as it's in proportion to the furniture.

Dining rooms
If you're placing a rug under a dining table, it should be wide enough that the chairs are completely on the rug even when guests are sitting at the table. This usually means allowing an extra 60cm each side of the table.


Bedrooms
For a cohesive look, place a large rug under the bed remembering that only pattern or colour at the outer part of the rug will be visible. If you prefer a more layered, eclectic look, use smaller rugs on either side and/or at the foot of the bed.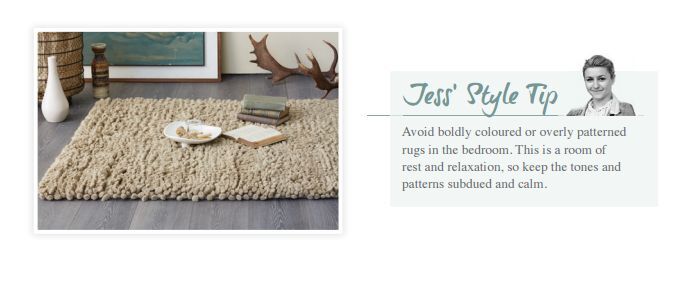 CHOOSING THE RIGHT STYLE
Choose a style to suit your lifestyle as well as your home. Think about how much traffi c the rug will need to handle, whether you'll be eating on it, and whether you have kids and pets using the space. Here are a few of our favourites:

Flat weave rugs
Ranging in style from traditional kilims or dhurries to modern styles featuring patterns, stripes and chevrons, these rugs have no pile because of the way they are woven on a loom. They are often more affordable than pile rugs and are a great way to update a room, but they are also less durable. They won't last as long as a pile rug in high traffic situations and we recommend using a rug pad or underlay to keep them in place.

Pile rugs
Pile rugs may be hand-made (often described as handknotted or hand-tufted) or machine made. The pile protects the warp and weft and a high quality handknotted rug, cared for well, can last a generation or more. Choice of style and price is almost boundless, from traditional Persian designs made using wool and silk to modern 'shag' styles in bold colours. Materials include wool and silk through to practical synthetics such as acrylic and polypropylene.

Natural fibre rugs
Flat woven from natural fibres such as jute, sisal, coir or seagrass, these rugs add a casual feel. They're generally durable, but require regular vacuuming to stop dirt from penetrating the fibres. They don't like getting wet, so steam cleaning is out and spills should be dealt with immediately. Many feature a latex backing to protect your floor and keep them in place.

Indoor/outdoor rugs
Made using polypropylene or similar synthetic fi bres, these rugs are super practical. They can be literally hosed down if necessary and work well outdoors as well as in areas where kids and pets run wild!

Hide rugs
Hide rugs add a cool, contemporary edge and are durable and tactile. Cow hide rugs may be natural in colour, dyed or even printed.

Note: The hides we sell are by-products of the food production industry. All products meet or exceed strict Australian government import standards.
CARING FOR YOUR RUG
Care instructions vary for each different type of rug, but here are some general tips for flat weave, pile and natural fibre rugs.
Your rug may arrive folded or rolled, and will take a few days to flatten out. Some rugs may also shed for a few weeks – this is normal and should ease up after vacuuming.

Vacuum regularly to pick up small particles of dust and dirt.

Treat spills or stains as soon as possible. Don't rub! Blot the stain with a dry cloth or towel first to soak up excess moisture. Use a toothbrush with a small amount of mild liquid soap or wool wash and water to loosen stains, then blot again.

If your rug is in a sunny spot or receives a lot of foot traffic, rotate it regularly to ensure even wear.

Rug underlays are a great way to keep a rug in place as well as preventing the rug from slipping. They will protect your floor from coarse natural fibres and make your rug feel even softer underfoot.

Glossary
Still confused? Here's some of the terminology explained.
Dhurrie: Flat woven rugs traditionally made in India in a range of colours and designs.
kilim: Flat woven rugs which may be made from a variety of materials including wool, cotton and hemp. Styles originate in Persia, Turkey and the Balkans, with many featuring tribal motifs.
Hand-knotted: This refers to a process where the yarn is looped around the warps to form a pile. It is very labour intensive, as a single rug will include many thousands of knots. A high density of knots equates to a high quality and more durable rug.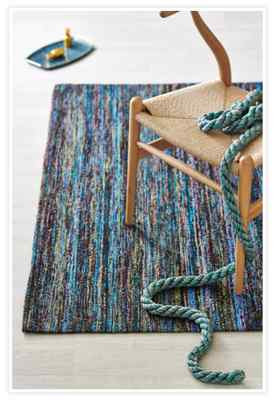 Hand-tufted: Hand-tufted rugs are created using a tool which punches the yarn into a canvas to create the pile. It is a less time-intensive and less skilled process, so hand-tufted rugs are often more affordable than hand-knotted rugs.
Rug pad/underlay: A pad or mesh of feltlike or rubber/plastic material which acts to protect your floor and keep your rug in place.
Warp and weft: These are the threads which make up the basis of a woven rug, with the warp referring to the longitudinal threads and the weft being the lateral threads. Different weaving techniques produce different characteristics.