Fishing with a Baitdrifter reel, is a highly effective way to catch Bream . Often picky and a bit nervous on the bite, our favourite Bread and Butter species can really fall for the freespooling ability of the Baitdrifter reel. You will hear the reel called many names, the most common I will not use, but you may hear it also called, baitdrifter, hit and run system, freespooler, linerunner. They all add up to the same thing. The reel in question is basically a spinning reel with the addition of a mechanism that allows the spool to be disengaged by way of a lever at the back of the reel after casting. Being able to disengage the main drag or Fighting Drag means that when the fish picks up the bait, it feels minimal resistance and is more likely to run with the bait, thereby increasing the chances of a hookup.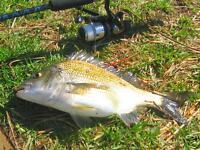 A word of caution though, if you are a catch and release fishermen, I have found in my experience that this style of reel can lead to increased mortality in the fish. The picture above, was chosen because it appears the fish is cleanly hooked in the mouth making release very easy, a quick photo, and back it goes. Unfortunately for this guy though, he was allowed to run and had swallowed the bait and when the handle was turned on the reel to disengage the freel spool, the hook was pulled back up, obviously doing some damage on the way, sorry about the blood. This effectively reduced the fight in the fish and led to the death of the fish, quite quickly after capture.
Now why would someone who sells baitdrifter reels tell you this. First and foremost, I am a catch and release fisherman, and I think it is a salient point that the Baitdrifter feature be used sparingly if you are of the same opinion. Whilst it is a fantastic tool, and gives the angler using one, a clear advantage, it can be used sparingly. When you have all the fish you require for your own needs, why not flick the feature off and fish the reel as a normal spinning reel and sharpen your skills without its assistance.
One other word of caution it its use. If you have never used the Baitdrifter reel, hearing line peeling off the spool can lead to heightened excitement in the angler. Striking at the run, with the spool disengaged can lead to horrible overun and a massive birdsnest tangled line on the spool. Overexaggerated strikes are a thing for beginners, and the overexcited so simply lift the rod gently, and turn the reel handle to disengage the feature, your front fighting drag will do the hooking for you.