Any new parent or expectant mother who has wandered into the baby & maternity section of ebay has probably noticed the plethora of cloth nappies available. One glance at an item description, however, loaded with acronyms and strange terms, probably causes you to back away and not even try to begin deciphering their descriptions. I know this because not that long ago, I was one of these people! In an effort to make buying nappies on ebay easier for all parents, here is a brief explanation of what they are, what to look for, and why they are so popular.
Why cloth?
There are two main reasons. First is the cost. It is estimated that a family will spend between $3000 and $4000 on disposable nappies from birth to toilet training, per child. Conversely, the estimated cost of cloth is less than $800 for that same period. Of course, there are ways of reducing the cost of both types of nappies, but the difference between the two is clear. Second is the environment. Disposables are a fairly new concept, and they have only replaced cloth as the preferred daily nappy some time in the last 20 years. The long term environmental impact of this is still largely unknown; however what we already know is that disposable nappies use trees for wood pulp, water and chemicals in their production, and dumping them with domestic garbage provides a way for disease to spread from community to community faster than ever before. Cloth uses environmental resources too; however the main impact happens when washing in the home, and we have control over the amount of water, washing products and energy we use in cleaning nappies.
Of course, there are many other reasons a lot of families prefer cloth. Take a look at the many styles and designs available and you'll see why!
What is modern cloth? Aren't all cloth nappies the same?
Cloth nappies can be roughly divided into two categories: flat cloth and 'modern' cloth. Flat cloth are the traditional terry squares, and also what are known as 'prefold' nappies (see below). They are the simplest form of nappy and are quite cheap. They require a good quality cover and usually have to be changed more regularly. "Modern" cloth nappies, also known as fitted, pockets and AIO nappies, are shaped like a disposable and don't require folding like a flat nappy. They fasten with touch tape or snaps, and are generally easy and convenient to use.
So many types to choose from….
Prefold- Cloth nappies that are prefolded and sewn with layers of fabric. They are usually 3 panels of varying thickness and can be used inside a nappy cover or as a stuffer for a pocket or fitted nappy.
Fitted nappies – shaped like a disposable so they don't need folding. They generally require a separate cover. They can be made from terry, flannelette, fleece, PUL (Poly Urethane Laminate), hemp and bamboo among other fabrics. Usually they have a fitted closure, such as touch tape or snaps. Some fitted nappies come with a 'pocket' inside which you can stuff with absorbent material and remove to wash, which means they dry faster and can be suited to light and heavy wetters.
All in one nappies - AIO nappies can be very convenient nappies. As the name suggests, the waterproof cover, absorbent material and nappy inner are all in one unit. Some of these come with an additional 'booster' to increase absorbency and reduce drying time (as you can remove half the absorbent material when you wash and dry). These nappies are as easy to use as a disposable.
Covers – you can purchase really good quality nappy covers, that fit so well you can use them with an old fashioned terry square inside. This can be an economical choice, especially while you are still starting out and experimenting. These covers are much more breathable than traditional PVC pilchers (usually made from fleece, PUL wool or similar)


What about washing?
Modern cloth nappies don't require bleaching, soaking, hot washing, ironing; all the jobs that make traditional nappies seem like a chore. They can be washed in cold or warm water, don't need sterilizing, and can be dried on the line or in the dryer. Cold washing and drying your nappies in the sun, or in a hot dryer, will kill any germs. In addition, a lot of modern cloth nappies use hemp in their soakers, which has anti-microbial properties and will help keep the nappy from going mouldy or spreading bacteria. This makes care of modern nappies really easy. Once used, empty the soiled contents into the toilet (and you can use a bio-degradable liner for this if you don't like the mess) and throw the nappy in a dry nappy bucket or straight in the wash. For stubborn stains you can use a toilet hose attachment, or simply hold the nappy near the edge of the toilet and flush, and the spray will rinse off the stain (this is especially true if you have fleece inside your nappy, as waste comes right off without scrubbing). Check the care instructions that come with the nappy you choose for instructions specific to your nappy.
Nappy accessories
Boosters – these are pads of material that soak up the liquid in a nappy to increase the absorbency. They are especially useful when using cloth nappies overnight or on long car trips. You can use small flat or prefold nappies as boosters as well
Liners –are something you inside a nappy to make washing easier. You can buy flushable liners or use washable fleece liners as the soiling is much more easily removed from fleece than from other materials
Nappies on ebay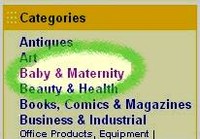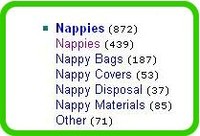 Ebay Australia has a number of nappy sellers with ebay stores, and there are also regular auctions of new and second hand nappies. Do a little research, check out the feedback on these sellers, and check the brand names if they are listed as a specific brand. Check the completed listings to get an idea of how much the nappies usually go for. Don't be fooled that if a seller is charging more then it must be a superior nappy; disposable users will agree that just because a disposable nappy is more expensive doesn't mean the nappy will work better than cheaper brands for every baby, and the same applies to cloth. If you see a nappy you like, invest in one and give it a try; if you like it, buy more! If it doesn't suit your baby then you might consider selling it yourself and trying something else. Most nappy sellers will only accept a nappy back if it is unworn and unwashed.
Happy shopping!
Cara