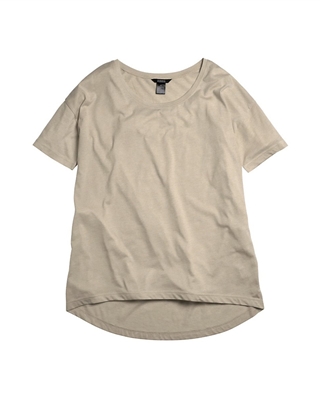 Besides undergarments, T-shirts are the most basic items of clothing that most people own. Originally worn as undershirts for men, T-shirts are now an icon of casual fashion for both sexes. T-shirts vary in look and style, from plain solid colours to unique graphics. Some women prefer fitted T-shirts, while others prefer loose T-shirt s. They are both excellent choices to have in the closet for different reasons. The loose T-shirt can be worn for a relaxed but fashionable look, and the fitted T-shirt is great for layering or tucking into various bottoms. Accessories also contribute greatly to the versatile looks of T-shirts.
In short, both loose and fitted T-shirts can be worn in numerous ways, making them great wardrobe investments. Shoppers can find both styles in women's clothing stores and department stores as well as online on websites such as eBay . Every woman can benefit from the purchase of fitted and loose T-shirts to diversify her wardrobe.
Types of T-shirts
Beyond the loose or tight fit, T-shirts also vary by sleeve length, design, and neckline. Fitted and loose T-shirts can be found in these various styles, and each design or sleeve-length contributes to one's personal styling.
| | | |
| --- | --- | --- |
| Sleeve | Design | Neckline |
| Cap | Plain | Crew |
| Short | Graphic | V-Neck |
| Three-Quarter | Embellished | Scoop |
| Tank (Sleeveless) | Stripes/Patterns | Boat |
When looking for the right T-shirts to complement one's personal style, these factors should be considered. Some women gravitate to the same styles, while others love to fill their wardrobes with all the different styles.
Sleeves
The cap sleeve is popular for women's T-shirts and is characterised by barely covering the curve of the shoulders. Cap sleeves are found only on fitted T-shirt s, as they are intended to provide a more feminine look by accentuating the woman's figure. The short sleeve covers just the upper half of the arm above the elbow, although certain loose fits can leave the short sleeve hanging to just above the elbow. Short sleeves are popular among women who enjoy the look of traditional T-shirts. Three-quarter sleeves are a traditional look for graphic and raglan tees that are known for sporting band logos and team designs. Sleeveless tanks are almost always fitted, although loose styles may be available in some cases.
Design
The plain T-shirt comes in a variety of colours. The most popular fabric is cotton, probably for the softness and comfort. They can be worn lounging around the home, working out, or as a base to a more complex outfit. The graphic tee is popular for the casual yet cool look. Graphic T-shirts vary from alternative rock band looks to funny sayings and sports logos. Embellished T-shirts, on the other hand, often add a more feminine touch to the classic T-shirt look. Embellishments include anything from rhinestones to sequins to frills and even cut-outs and ties in the shirts' designs. It is popular for women's T-shirts to be slightly modified or altered to create unique looks. Stripes and patterns can be found in both bold and conservative styles and colours.
Necklines
The crew neck is the traditional high, oval neckline that covers the collarbone and rests just below the neck. This is popular for workout clothes and lounging T-shirts, but not necessarily for fashionable outfits. The V-neck is the most popular neckline for women. It draws the eye across the collarbone and toward the centre of the woman's torso, creating an aesthetically-pleasing view of the woman's shape. The V-neck can be dressed up or down, and the cut of the 'V' varies from extreme to conservative. Deeper V-necks are meant to be dressed up more with accessories like jewellery and scarves. The scoop neckline is common for graphic tees and band tees. It does show more of the base of the neck and the collarbone, providing a much more feminine neckline than a crew neck T-shirt. The boat neckline would probably be considered the fanciest of the necklines and sometimes appears on embellished styles of T-shirts. It is a modest style that accentuates the neck and top of a woman's shoulders.
How to Wear Fitted and Loose T-shirts
Comparing fitted and loose T-shirt s is like comparing apples and oranges. In terms of wearing them, fitted T-shirts are often chosen when the bottom clothing is looser, as with a skirt or baggy jeans. However, fitted T-shirts are also very popular to add a feminine touch to a casual T-shirt and jeans look. Both fitted and loose T-shirts act as great bases to more elaborately styled outfits, as well.
Accessories to Wear with Fitted and Loose T-shirts
A single statement piece of jewellery goes a long way in dressing up a T-shirt. Scarves look great paired with T-shirts, especially V-neck tees so that some skin can peek out. Layering a cardigan sweater, jacket, or blazer over a T-shirt also provides some structure and style. Adding a belt over a cardigan and T-shirt is a nice touch, as well.
For those who do not like wearing too many accessories, the shoes chosen to wear with a T-shirt and jeans can make the whole look. Rather than wearing the basic Converse sneakers, heels or interesting flats dress up T-shirts and create outfits that are ready for nights out on the town. Open-toed shoes only look good with casual skirts, short bottoms, and loose T-shirts with a bohemian look.
The colour of one's pants also makes a T-shirt look more interesting. Whether wearing a black pair of jeans to dress up a T-shirt or a loose shirt with some light aqua skinny jeans for a fashionista look, women can get creative with their styles to make plain white tees seem less plain. They can also tuck in their T-shirts to create a more styled look. Loose T-shirts look great when worn off the shoulder or tied at the waist for a cute twist on the T-shirt look.
Buying Fitted and Loose T-shirts on eBay
With the newfound knowledge that both fitted and loose T-shirts should be in every woman's closet, the tough task could be finding T-shirts at the best prices. Fortunately, fitted and loose T-shirts of numerous colours and designs can be found on eBay. The site even offers a page of special deals that includes various T-shirt styles. Beyond that, shoppers can use the search box on any page to insert keywords like 'loose T-shirt'. The results can be further narrowed by shirt size, brand name, and even price range.
When shopping on eBay, it is important that every shopper screen the sellers by reviewing their feedback. The feedback feature enables each customer to leave comments and notes about their overall experience with a seller and the product purchased. This helps future shoppers determine whether or not they can trust the seller.
Conclusion
T-shirt styles vary by colour, design, neckline, and sleeve type, and there are versions available for almost any occasion. The debate between fitted and loose T-shirts may still be raging on, but a woman is best served when both types of tees fill her closet. The fitted T-shirt provides structure and looks great on its own when wearing a traditional T-shirt and jeans ensemble or tucked into a skirt or some cute trousers for work. The loose T-shirt is also versatile and looks great dressed up for a night on the town or as a casual look for running errands. Both fitted and loose T-shirts work great with accessories like jewellery, jackets, and cardigans, and they can be dressed up with coloured jeans, heels, flats, and scarves for a classy or eclectic look.
Shoppers can fill their wardrobes with fitted and loose T-shirts by visiting retail stores or shopping online on sites like eBay. Once their wardrobes are complete, they can have a lot of fun mixing and matching items to create new looks with these traditional pieces.
fitted T-shirt|loose T-shirt|v-neck T-shirt|crew neck T-shirt|graphic T-shirt