In today's do-it-yourself culture, home improvement is more affordable than ever. Thanks to a wealth of new products (and a lot of Internet encouragement), homeowners can achieve high-impact results without spending a lot of money. The following guide offers five home improvement ideas that anyone can do on a small budget.
1
Replace Kitchen Flooring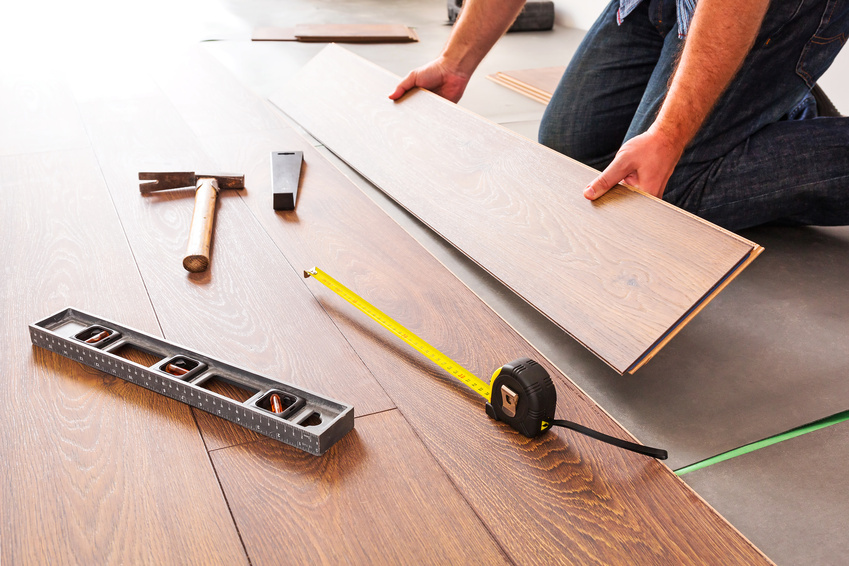 Nothing ages a kitchen faster than dull, warped, or cracked vinyl flooring. Fortunately, vinyl tiles are not only inexpensive, they're also durable, and they come in a wide variety of colours, patterns, and textures to enhance any style of kitchen. Simple to install, vinyl flooring is also easy to clean and maintain over time. Most people like shades and patterns that are eye-catching and in tune with their kitchens' overall colour scheme.
---
2
Add Task Lighting

Any room in the house can be improved with better lighting, but if expensive light fixtures aren't part of this year's budget, consider adding inexpensive floor and table lamps. These are available in a wide range of price points and come in a variety of styles to dress up any room. For a real conversation piece, bring in a contemporary chrome floor lamp with mobile-style pendant lighting, or a sleek, geometric Art Deco torch style. To create ambient lighting throughout the room, choose lamps that are equipped with multiple light settings. Table lamps can help pull a decorative scheme together as well, so choose eye-catching lamps that reflect the styles and colours of the room. Table lamps work equally well for both task and ambient lighting. Just make sure to place them in strategic points near sofas and chairs, or in the outer peripheries of the room where the central light fixture casts more shadow than light.
---
3
Change Bedding

A change of bedding can completely transform any bedroom. Attractive bedding sets suit a wide range of styles and colour schemes, and many are budget-priced as well. If quilt cover sets are too pricey, try mixing and matching inexpensive sheet sets and quilts to create a unique and imaginative colour palette. As a rule of thumb, synthetic rayons and cottons generally cost less than linens and heavier fabrics, but can be as durable as long as they're properly taken care of. Additionally, these lighter-weight fabrics tend to breathe well, making them cool and comfortable. Best of all, they're easy to wash and dry - and many don't even require ironing. Inexpensive accessories, such as throw pillows and baskets, can also liven up a boring bedroom.
---
4
Redo Windows

Window curtains may not seem like a focal point in your home, but changing them can greatly improve the look of your kitchen, living room, or den. Search on eBay for secondhand curtains - or if you're talented with a needle, consider making your own. Many free sewing patterns are available on the Internet. Commercially made curtains can be relatively inexpensive, but skip the damask and velvets unless they're for a large formal living room. Instead, opt for cheaper, easy-care cottons and linens. Also, look for drapery styles that can easily be installed on an inexpensive rack with hooks and rings. These look just as nice as traditional styles but cost significantly less. To really transform a room, install cost-effective Venetian blinds or fabric-covered roller blinds instead of curtains. Avoid traditional white or off-white shades and opt for bright and fashionable colours.
---
5
Shop Secondhand

Whether they're functional and practical or merely decorative, secondhand items can be an important part of any home improvement project. For kitchen renovations, secondhand cabinets and cupboards, even if they need refinishing, cost a mere fraction of new installations. By looking for secondhand items, you can fill your home with unique "new" items, even if you're on a tight budget. With freshening up, many of these items can look virtually unused. This type of bargain hunting might also yield a few genuine (and lower priced) antiques.