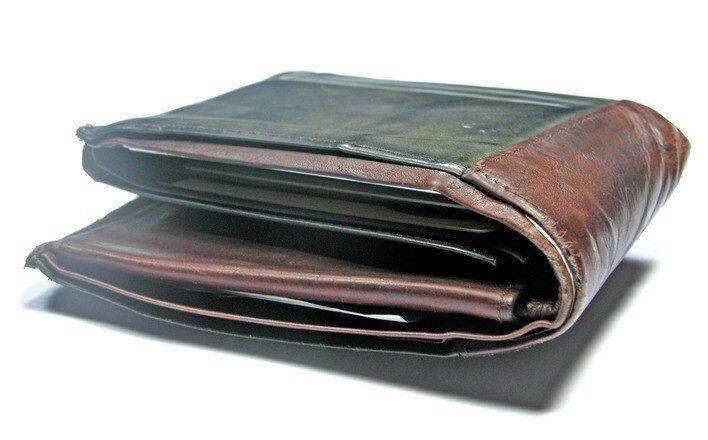 Finally got that dream leather wallet you've been dreaming of? Great. I'm sure you know how it goes. You keep your new leather wallet pristine for a few weeks only to stuff it with junk as time passes by.

Overstuffing your wallet can stretch out the leather and cause serious damage over time. It can also create unnecessary stress. You wouldn't want to struggle finding your items like cash, cards, and coins when you need them in a hurry, would you?

Fortunately, organising your wallet is easier than you think. Here's our five simple tips to help you stay on take care of your clutter:
Always use the bill holder
Your wallet's horizontal bill pocket is there for a reason. Using it gives you easy access to your cash and keeps your wallet slim. Sometimes, you might find yourself sticking your bills in card slots, change area, or any other pockets. That's fine, especially if you're in a hurry. But you need to sort it out once you have the time to do so.
Do a card check
Chances are, you carry around some cards you never use. Take all your cards out and lay the on a table. Decide whether you really need to carry every single card along with you every day. Here's a good rule of thumb to sort them out:

Needed daily: Driver's license or some form of valid identification, health insurance card, debit/ATM card, the credit card you regularly use, and card you use to get into your place of work. Organise them according to frequency of use.

Not needed daily: Secondary credit cards, retail store cards, membership cards, business cards you've been given, dental and vision cards. Keep them all together in a safe place at home. Just bring the ones you'll be needing for the day.
Go through paper scraps
Paper scraps like receipts are the biggest contributors to messy, unorganised wallets. This doesn't mean you should stop sticking receipts inside your wallets. The key is to go through them and get rid of those you no longer need at least once a week.

Throw away receipts for minor expenses like coffee, lunch, movie tickets, or other everyday things. It's a great idea to avoid putting them inside your wallet in the first place.

If you need to do some budgeting, keep your receipts for bigger purchases like household-related items, electronics, clothing, big restaurant meals, and other similar purchases. Keep them in an envelop for easy reference.

Check other paper scraps like notes, coupons, reminders, and phone numbers. Throw away anything you won't need.

Consider going digital
You can use your phone to take down notes or take pictures of your written notes.

You can also sign up for digital services like Google Wallet and Apple Pay. These apps will let you pay for your purchases electronically, send money, store your credit and debit cards, and more.

Cut loose change
Carrying too much change can seriously weigh you down and create clutter. Use your wallet's change holder if it has one. You wouldn't want to spill your change the next time you pull out a few bills.
If your wallet doesn't have a place for your loose change, put them inside your purse's zippered pocket. Place your extra change in a jar at the end of each day. You can take them to your bank at the end of each month.
Check out our line of leather wallets available from
our eBay store...