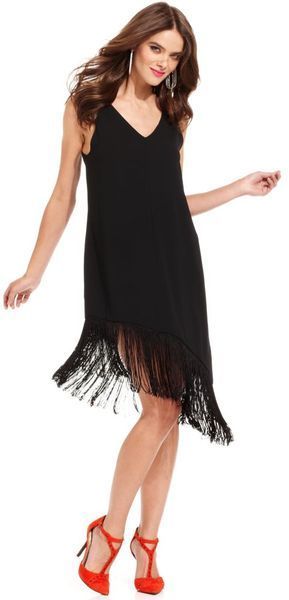 Young women of the 1920s took on the term, "flappers", when they embraced fun, parties, and a more independent lifestyle. These flappers also took on a certain look that was easily identified. Loose dresses, low waistlines, and short hair were what set the flapper apart from the older crowd. To purchase a flapper dress, look for a contemporary dress with many of the same style elements as those preferred by young women of the 20s. Look at the skirts, patterns, and even styling on the dress. It also helps to stick to dress styles that were popular during this time period. When ready to purchase a flapper dress, head to a local retail shop, costume shop, online web store, or site, like eBay.
Flapper Dress Characteristics
During the 1920s, flapper dresses were part of a fashion trend that rejected the ultra strict and conservative mores of the Victorian Era. These dresses featured low waists or no waists. They were loose and simple in design, intended to hide the female form. In fact, flappers took on many masculine elements, even going as far as cutting their hair into short bobs. Flapper dresses also feature short sleeves and thigh to knee length skirts. The dresses were decorated according to several different trends of the era. Many dresses featured bright colours and geometric designs in the Art Deco fashion. Other dresses were covered in Egyptian or Asian influenced patterns and designs from current popular interests of the time. Beads, sequins, fringe, and large belts and buttons also adorned the dresses.
Flapper Dress Styles
Flappers wore dresses in several different styles. Often, they took clothing originally intended for another purpose and modified it to their own ends. This was just another part of the flapper fashion of moulding something to fit a new niche of fun and freedom.
Chemise
The chemise or shift dress is a straight cut dress that was originally used as an undergarment. Flappers wore the chemise as outerwear. The chemise is made from a light fabric, has a round or oval neckline, and is shorter than other dress styles.
Robe de Style
The robe de style is similar to the chemise and was quite popular during the 1920s. The dress features a drop waist, has a full skirt, and a bodice that is either fitted or straight cut. Hoops, panniers, or petticoats could be used to support the skirt.
Tunic
Flappers also made heavy use of tunics worn either with pants or as dresses. These tunics were long, shapeless or loose and heavily decorated in beads or sequins. Most tunics were long sleeved or had three-fourth length sleeves.
Sheath
The sheath dress is a straight cut pattern that is fitted close to the body and has a defined waist. This dress style also used to be worn as an undergarment. It is longer in the skirt, and may be sleeveless or have sleeves. Sheath dresses are conservative, providing coverage of the bust, hips, and waist.
Tea Dress
A tea dress was traditionally worn specifically for tea time. This formal dress of the 1920s was made with soft fabric, fitted close but comfortably to the body, and featured bright, floral patterns. The tea dress of the 1920s is light, sheer, and romantic compared to the darker, heavier fabrics of the Victorian Era.
Accessories for Flappers
No flapper style dress is complete without the popular accessories of the era. When purchasing a dress in the 1920s style, buyers may also want to look into picking up some affordable accessories to complete the look. These accessories range from necklaces to cloche hats, which were all the rage.
Jewellery
Women loved jewellery in the 1920s as much as they do now. During the 20s, costume jewellery and Art Deco inspired pieces were popular. Women wore long beaded necklaces that sometimes reached the hem of their skirts. Bracelets were often a single metal or wood band, broaches were available in animal shapes or in scarabs and other Egyptian symbols. Hat pins were also in common use for larger hat styles.
Feathers and Fur
Fur coats, and stoles were worn as a status symbol amongst the upper class. Women also made heavy use of feathers in pins, hats, headbands, and feather boas.
Hats
In the early 20s, wide brimmed hats were still a popular trend from the previous decade, by the late 20s, however, hats lost the brim and fit very close to the head. These cloche hats were best worn with the short bobs and waves that were in style.
Make-up
Flappers were not afraid to wear makeup and wear a lot of it in direct opposition to the social mores of the previous decades. The ideal look was neutral to cream coloured, almost resembling a porcelain doll. Flappers than accented this with bright red lipstick, soft brown to pink rouge, and matching eye shadow. The eyes were often finished with eye pencil to line the eyes and eyebrows. Since make-up was such a big part of the Flapper style, many carried their make-up in decorative gold lipstick tubes, compacts, and even ultra-small art deco carrying cases.
How to Buy
You can purchase a flapper dress on eBay through clothing and costume sellers. These dresses are easy to find, just make sure to use the eBay search engine for quick results. Popular styles were the chemise, sheath, tunic, robe de style, and tea dress. Vintage dresses are great for collections and careful use, but you can save lots of money by just buying a contemporary dress made in the flapper style. Pick out a few accessories to go with the dress, such as necklaces, the cloche hat, or a feather boa. You may also want to look through the eBay Deals section to see if there are extra discounts available on some dresses and accessories.