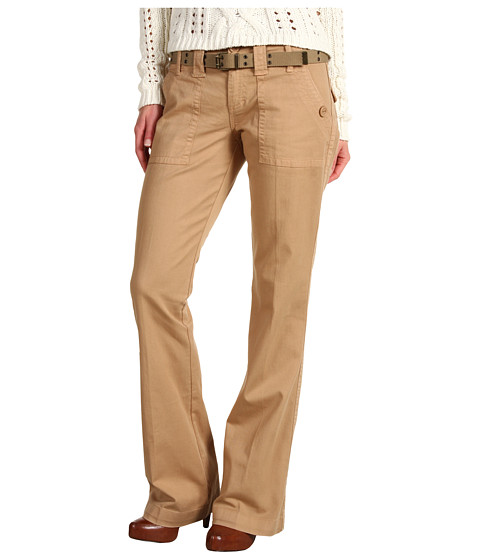 Flared and bootcut pants each have their own benefits and are designed to flatter different body shapes. Both flared and bootcut pants are designed to be slightly fitted at the hips and thighs and then flare at the knees but to different degrees. Flared pants have a much more dramatic flare. They originated in the 1970s with the 'hippie' style in the U.S. Flared pants tend to look best when worn by tall women with boyish figures who are in need of some added dimension to their silhouettes. Bootcut pants were originally designed to offer enough space for cowboy boots to fit underneath the pants. They are more versatile in terms of being flattering for different body types.
Both types of pants can be worn casually or in professional settings, depending on other factors, and both can be purchased in traditional clothing stores as well as online through websites like eBay. Whatever one's body shape, personal style, or preference, the right pair of flare or bootcut pants can be found.
What Are Flared Pants?
Flared pants, also known as bell bottoms, are often associated with the hippie or bohemian look. They fit snuggly from the hip to the knee, at which point the cut of the pants flares dramatically to the floor, hence the bell bottom name. Flared pants tend to offer a more casual look due to the dramatic lower half of the pants, but certain materials can really dress up a pair of flared pants. Besides denim, flared pants are found in other materials, including polyester and corduroy. Women's work pants with a flare are growing in popularity. Flared pants look best with a structured top or blazer and heeled shoes, such as boots or pumps.
Different Types of Flared Pants
The term 'flared' when referring to pants is rather generic. Many types of flared pants exist in the fashion world. While bell bottoms may be the first type that comes to mind, many other types of pants are characterised by smaller flares between the knees and ankles.
Flare Type

Description

Traditional flared pants

Flares dramatically from the knee to the ankle

Maintains a tight fit around the hips and thighs

Best for tall, lanky body types

Least amount of flare, although still flared from the ankles to the knees

Comfortable and casual fit

Most versatile type of flared pants

Can be casual or professional

Good for all body types

Dark-wash denim with a trouser-style design

Intended for dressier or professional occasions

High-waist, wide belt-loops, minimal pockets, and looser fit

Dramatic flare with a looser overall fit

Flares widely from the ankles to the knees

Best for tall, pear-shaped body types
What Are Bootcut Pants?
Bootcut pants are much less dramatic in shape than flared pants. While they also offer more space near the calves and ankles, the finished look is not dramatically flared. Bootcut pants are excellent additions to the wardrobes of all body types. The slight flare adds a little dimension to body shapes and allows wearers to pair the pants with all sorts of shoes, including boots, heels, and flats. Bootcut pants can be as casual as denim or as professional as polyester-cotton blends for work. Because these pants are well balanced in shape, they can be paired with loose-fitting tops or structured tops, and they look great on every body shape and size. The design provides the illusion of longer legs and more balanced hips.
Body Types
Many shoppers may feel uncomfortable shopping for pants if they are unfamiliar with the different body types. Because different trouser designs complement certain body shapes better than others, it is important for a shopper to know her body type before purchasing flared or bootcut pants. Women come in all shapes and sizes, and they can all look great and feel confident when they buy the pants that suit them.
Petite
The petite body shape refers to the body type that tends to be shorter and smaller than the average woman. She can wear most styles because pants for petites tend to be tailored to look aesthetically pleasing on small frames. However, flared pants accentuate the petite shopper's short height and may not be the best choice. Bootcut pants look perfectly fitted. Petite figures can also purchase pants with high-rise or low-rise waists. A high-rise waist makes the legs appear longer, while a low-rise waist gives a longer look to the entire body. Petite frames can wear flats, heels, or sneakers with their bootcut pants.
Pear
The pear body shape describes women who have accentuated curves at the hips that contrast with their lean upper halves. Many pear-shaped women feel very self-aware when wearing jeans. However, both flared and bootcut pants look great on the pear body shape. The fit on the hips and thighs should be tight, not baggy. Darker colours also lend a slimming effect to pear-shaped women. Pear body shapes should look for mid-rise or high-rise waists to compensate for the curves in their hips and bottoms.
Hourglass
Hourglass-shaped women look great in pretty much every pants style. They have well-balanced, curvy body shapes from top to bottom. Hourglass body shapes need jeans that balance the hips' curviness while accentuating the tiny waists. Bootcut pants tend to be better than dramatic flares. In the case of this body type, it is highly recommended for women to try the skinny jean look to show off their beautiful curves.
Boyish
Boyish body types benefit the most from flared and bootcut pants since the added dimension in the pants gives shape to an otherwise lanky body. Boyish body shapes have beautifully long legs, and the flare in both flared and bootcut pants lends a curvy appearance to these bodies. It is important that flared pants fit around the hips, bottoms, and thighs tightly, or the boyish figures can become lost in the fabric. This body type can wear both high-rise and low-rise pants. A high-rise waist gives an hourglass-appearance, while low-rise pants break the lanky body into proportional halves.
Buying Flared and Bootcut Pants on eBay
Before looking through the regular listings on eBay, you may want to check out the eBay Deals page for great special offers on women's pants. The eBay website also offers an easy to use search box where shoppers can insert keywords like 'flared pants' or 'bootcut pants' to find relevant results. Shoppers can also filter these results by specifying a preferred price range, clothing brand, or pants size.
When shopping on eBay, it is important for every shopper to thoroughly research the reputation of sellers by reviewing the feedback left by previous customers. This feedback helps potential buyers determine if a seller is likely to be trustworthy and a product is likely to be high quality. Reviewing the feedback helps shoppers feel more confident when buying on eBay.
Conclusion
Shopping for jeans and pants can be quite a challenge, especially when choosing between flared and bootcut pants. Knowing what to look for when shopping for these types of pants is the first step to successfully finding the right styles. Flared and bootcut pants differ in their level of flare below the knees. Many kinds of flared pants are available, from the conservative bootcut and trouser cut to the more dramatic wide-leg cut and bell bottoms. Dramatically flared pants are best for taller women who can pull off the added curves. Curvier body types are better off with more conservative bootcut pants, which offer enough flare to balance the hips and curvy upper-halves without making a woman appear too short or too curvy.
Flared and bootcut pants can be purchased in women's clothing stores and online on eBay and other retail sites. No matter which pants look and fit best, women can feel confident buying pants online once they are armed with the right information.
flared pants|bootcut pants|flared jeans|bootcut jeans|bell bottom pants