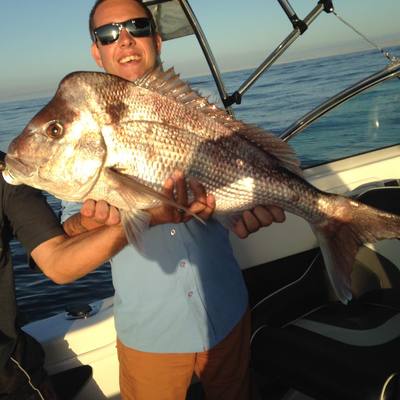 Flasher Rig Lure Part of Surf Fishing Whiting Whispea
Whiting Fishing Rigs Are great to Fish in Many environments , for instance they fish Excellent in the surf when targeting Australian Salmon From the Beach , Just find a Suitable gutter along a stretch of coastline beach , and i'm Confident you Come up trumps. I can tell you first hand there just as good as the old surf popper from a recent trip ,we had some red hot session's casting out to the gutters .We caught Silver Bream , Sand Whiting , Mullet Australian Salmon , Silver Trevally & Tarwhine And Just on the old Whiting Whispera Rig .
The Lure Part of the fishing rig is Lumo infused flasher material tied to the top of the circle hooks and a Lumo bead that sits on top of each hook .The Rig is like a sabiki rig but in a bigger scale the movement though jigging or the natural rocking of the boat helps lure in the fish .
Buy snapper Rigs 10 Pack
Tie Your Own Snell Snapper Rigs
Snelled Fishing Rigs are another great way to catch snapper .
Snapper Fishing Rig 5/0 Twin Hook
Baitholder Tied Suicide Red chemically sharpened - Port Philip Bay Charter Special
Snelled Tied Hooks Port Phillip bay Charter Special
Rig . Pre-Tied Chemically shared Hook Rigged on 50lb leader is a new Product by reedy's rigz the fishing rig in commonly used around Melbourne and Australia to target snapper & Mulloway . The rig features some new improvements for 2016 snapper season , with the induction of 50lb leader to make the rig fish well early season . its known the reds can be fussy at the start of the season and using light leader can enhance your chances of catching a red . The Port Phillip Bay Charter Special Rig utilizes 50 Pound leader or 22.6 kg , so you still get those bites but is Stronger enough to fish through the season . The Rig is offered at a great price And shipping of this item is free to all Australian Anglers. if your Sick of rigging your Snelled Tackle Try a Pre-Tied Rig .The Hooks Are Red chemically sharpened Just like Baitholders the twin Snell Performs well and is ideal to fish Full baits . Drift down a full Pilly or Silver whiting with easy just add your sinker and tie the rig to the Main line and Boom your fishing . Port Philip Charter Special is set to be a Hit this Season weather your tackling winter snapper in Queensland or Fishing offshore in Western Australia your Chance's will improve when fishing for snapper with a Snell Setup. The Rig is a Hot favourite in Melbourne's Bay's . you can fish your Snell rig in combination with a flasher rig to utilize the bottom and mid water column . The rig also features Sucide Red chemically sharpened hooks which fish deadly on big red , if you want to release your fish i would recommend fishing circle hooks or a pre-tied Flasher rig By reedy's rigz.