I bought a Flora by Gucci Perfume from ebay and was shocked when I opened the package. It's a counterfeit!!! The seller advertised it as an Australian Stock and confirmed it is authentic.
I found the following differences:
1. The box was not well sealed as described. The plastic wrap outside the box was roughly sealed by a small piece of sticky tape on the top!
2. The glass of bottle has obvious imperfections. There are bubbles and cracks at the bottom of the bottle!
3. There are significant light scratches and marks on the cap!
4. The spray tube curves and stretches right over to the side of the container! The authentic one is straight down to the bottom of the bottle without any curving.
Upper is only several tips for people buying this type of Perfume online.
I took a photo in a department store with an authentic tester and fake one together. I'll try to upload it.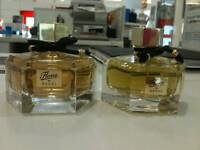 There is just a little note to the people who buy this perfume. Have a look at yours, is it authentic or not.