Flowers On Cigarette Cards (Collectables)
I've been collecting and selling trading cards, cigarette cards and related collectables for over twenty years. Before you read this guide please subscribe to my card collecting newsletters for updates on rare cards and tips on buying by Clicking Here, thank you.
Many flowers have evolved a way to harness the mobility of insects and birds to aid them with pollination. They compete for the attention of insects and birds with their hypnotic colours and patterns. This ruthless free market also existed between the tobacco manufacturers. They issued sets of cigarette cards on topics that would appeal to their potential customers and keep them coming back for more. Flowers are not just irresistible to insects and birds, they are also adored by humans. Many floral cigarette card sets were issued from the 1870s-1930s.
It would be impractical to list every flower card set issued and so I've listed small selection of some of the more unusual and rare card sets that I've come across in my six years of dealing on eBay. I've provided scans of a sample card from each set and tried to include all card titles.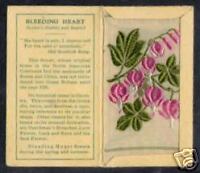 Name Of Set: Kensitas Flowers (Silks)
Manufacturer: J Wix and Sons
Issue Year: 1933
Card Number: 60
Card Titles: Antirrhinum, Aquilegia, Aster, Bleeding Heart, Campanula, Candytuft, Carnation, Chrysanthemum, Cornflower, Crocus, Daffodil, Dahlia, Darwin Tulip, Delphinium, Eschscholtzia, Foreget Me Not, Gentian, Geranium, Geum, Gypsophila, Helenium, Heliotrope, Honeysuckle, Iris, Lady's Slipper, Lavender, Lily of the Valley, Love in A Mist, Lupin, Madonna Lily, Michaelmas Daisy, Montbretia, Moss Rose, Narcissus, Nasturtium, Nicotiana, Orchid, Ox-Eye Daisy, Pansy, Parrot Tulip, Passion Flower, Petunia, Phlox, Polyanthus, Poppy, Primrose, Pyrethrum, Rambler Rose, Red Lily, Red Rose, Scabious, Snowdrop, Sunflower, Sweet Pea, Sweet Sultan, Sweet William, Tea Rose, Ten Week Stock, Thrift, and Violet.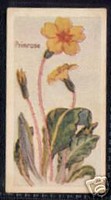 Name Of Set: Devon Flowers
Manufacturer: James Pascall Ltd
Issue Year: 1927
Card Number: 30
Card Titles: Daffodil, Bastard Balm, Tree Mallow, Primrose, Creeping Gromwell, Hellebore, Small Rest Harrow, White Heather, Lesser Periwinkle, Goldylocks, Horned Poppy, Purple Willow, Yellow Monkey Flower, Squill, Snowdrop, Trefoil, Pyramid Orchid, Narrow-Leaved St Johns Wort, Colchicum Autumnale, Polypody Fern, Hart's Tongue Fern, Sweet Scented Coltsfoot, Maiden Pink, Wood Sorrel, Stork's Bill, Purple Spurge, Navelwort, Bullace, White Rock Rose, and Gladwyn Iris.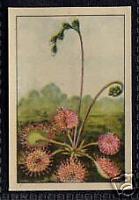 Name Of Set: Carnivorous Plants (Wonders of the World Vol. 3)
Manufacturer: Nestle Ltd. (Chocolate)
Issue Year: 1930s
Card Number: 12
Card Titles: Round-leaved Sundew, Butterwort, Aldrovanda, Bladderwort, Australian Pitcher-plant, Portuguese Sundew, Venus' Flytrap, Pitcher-plant from Java, Pitcher-plant from Borneo, Side-Saddle Flower, and Californian Pitcher-plant.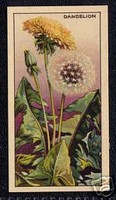 Name Of Set: Wayside Flowers (Green Back)
Manufacturer: CWS
Issue Year: 1928
Card Number: 48
Card Titles: Daisy Dandelion, Red and White Clover, Primrose, Comfrey, Sweet Violet, Spotted Palmate Orchis, Tufted Vetch, Snake Weed, Wood Betony, Sneezewort, Hemp Agrimony, Broad Leaved Hawkweed, Great Hairy Willow Herb, White Dead Nettle, Black Knapweed, Germander Speedwell, Dog Rose, Scarlet Pimpernel, Deadly Nightshade, Creeping Cinquefoil, Buttercups, Wood Strawberry, Field Gentian, Greater Stitchwort, Chicory or Succory, Deltoid Leaved Orache, Traveller's Joy, Common Rock Rose, Small Bindweed or Field Convolvulus, Great Mullein, Field or Trailing Rose, Procumbent Rest Harrow, Common Monkshood, Common Loosestrife, Cornflower or Bluebottle, Blood-red Crane's Bill, Perennial Flax, Pale Yellow Oxytropis, Ragged Robin, Lesser Celandine, Pasque Flower, Cloudberry, Beautiful St John's Wort, Water Crowfoot, Lesser Periwinkle, Common Groundsel, and Mountain Pansy.
Name Of Set: Orchids (Large)
Manufacturer: Carreras
Issue Year: 1925
Card Number: 24
Card Titles: Cattleya Trainae, Cattleya Labiata, Cypripedium Insigne, Cypripedium Fairieanum, Odontoglossum Crispum, Miltonia Vexillaria, Coelogyne Cristata, Disa Grandiflora, Dendrobium Nobile, Dendrobium Densiflorum, Aerides Odoratum, Cymbidium Lowianum, Epidendrum Radicans, Maxillaria Sanderiana, Masdevallia Coccinea, Vanda Coerulea, Laelia Anceps, Lycaste Skinneri, Angraecum Sesquipedale, Vanilla Planifolia, Stanhopea Tigrina, Phalaenopsis Schilleriana, Odontoglossum Grande, and Sobralia Macrantha.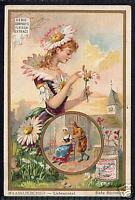 Name Of Set: The Language of Flowers III (S349)
Manufacturer: Liebig Extract of Meat Co
Issue Year: 1892
Card Number: 6
Card Titles: -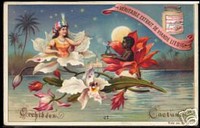 Name Of Set: Flower Girls VII S520
Manufacturer: Liebig Extract of Meat Co
Issue Year: 1897
Card Number: 6
Card Titles: -
Name Of Set: Flower Girls VIII
Manufacturer: Liebig Extract of Meat Co
Issue Year: 1898
Card Number: 6
Card Titles: -
Name Of Set: Alpine Flowers S474
Manufacturer: Liebig Extract of Meat Co
Issue Year: 1896
Card Number: 6
Card Titles: -
*
More Card Guides & Newsletters
If you are interested in rare and unusual cigarette cards please consider reading my other guides and joining my newsletters.