Capri Cars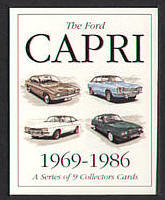 This is one of many illustrated classic car guides I've created for the community. I hope you enjoy it. If you wish to find out more about the classic Ford Capri art featured in this guide please click here.
This guide celebrates the key models in the 18 years history of the Ford Capri. Launched in 1969, the Capri was in continuous production until 1986, concluding with the special edition 280 Brooklands. A total of 1.9 million examples were assembled.
Capri 1300/1600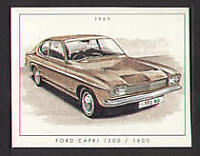 The MkI Ford Capri hit the showrooms early in 1969 dubbed as "the car you always promised yourself". The Capri was an inexpensive and practical four-seater with the lines of a sports fastback. A bewildering array of options and accessories could be specified by the owner, in effect making each Capri almost tailor-made to an individual's tase, starting with 32 basic derivatives! With a choice six engines, (1300, 1600, 1300GT, 1600GT, 2000GT and 3000GT, the Capri could be customised by selecting from three Custom Plans. They were L, which was an exterior smartening option, X which upgraded the interior, and on GT cars the R would add sporty options such as a sports paint scheme, halogen lamps and sculptured road wheels.
Capri 3000GT XLR
The Capri 3000 GT was the ultimate expression of the early Capri range with its 2,994cc Kent V6 engine and a version that truly justified the Capri's sporty appearance. In common with all GT models, the 3000GT had servo brakes, radial tyres, wood trimmed centre console, a full array of sports gauges, close-ratio gearbox, twin speed wipers and a passenger vanity mirror. The original 3000GT was capable of 113mph and 0-60mph in 9+ seconds, but by October 1971 the 3000GT and 3000E models were delivering a 122mph top end, and 0-60mph in around 8 seconds. Of the pre-facelift MkI Capris, only the 3-litre models were adorned with the popular bonnet power bulge, which time would see spread to the entire Capri range. Visible on the 3000GT XLR is a sub-gloss black bonnet, grille and sills, courtesy of the R Custom Plan, with attractive sports wheels standard on this particular version.
Capri RS3100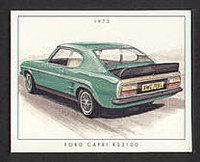 The Capri RS 3100 was created as a low volume homologations special for used on the track against the mighty BMWs for the 1974 season. Although adored by the motoring press, sales fell victim to the Arab-Israeli war and the earlier Launch of the new Capri II. That should not take anything away from the RS3100, it was a truly stunning and aerodynamic creation. With its FAVO styled boot-mounted duck tail spoiler, low ride level, modified spring rates and cross member, matt black quarter (and rear) bumpers, quad halogen lamps, 4 spoke AVO alloys, and body stripes, the RHD V6 Capri boasted a then creditable drag factor of just 0.375. The Essex coded engine was basically overbored to 3091cc and the ports and inlet tracts were polished resulting in 148bhp, 124mph and 0-60mph in under 8 seconds. Only 250 models were produced, making this a rare collectors car indeed.
Capri 3000GXL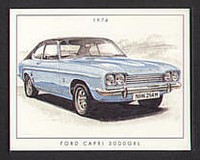 1972 brought about significant changes and as a result the facelift Capris were launched in an attempt to keep ahead of the growing competition. These facelifted Capris were easily identified by larger lights, indicators in the front bumpers, the bonnet bulge adopted by models other than the V6, smaller side dummy air scoops and new rear suspension set up with anti roll bar as standard. Interior luxury was becoming a reality with cloth inserts to greatly improved sculptured seats and revised facia with the now familiar large instrumentation and switchgear. The 3000 GXL sported quad headlamps of the type first seen on the limited production RS2600 and destined for the RS3100. Further refinements included a general softening of suspension, use of an excellent single rail gearbox and viscous-coupled fan. The 140bhp 3000GXL could be specified with automatic transmission, originally introduced on the 3000E and GT, which would push 1972 purchase price to a shade over £2000.
Capri II 2.0S JPS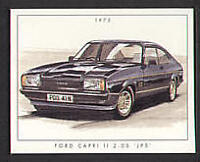 By early 1975 industry trends and the Carpi's ego was steered to a more sporting nature and the Capri S GT appeared codenamed midnight. This model was blanketed in sensual black paintwork and featured gold coach-lining to its sides as well as bonnet and grille edges: a colour scheme borrowed, from the distinctive and successful John Player Special Formula 1 Lotus team cars. Black bumpers, headlining, door handles, door mirrors, window mouldings and exhaust pipe(s) continued the theme, whilst gold badging, seat panels and spayed alloy wheels (of varying designs) added the finishing touches. The Capri IIs generally soft suspension benefited from harder settings with luxuries such as tinted glass, twin rear view mirrors, halogen headlamps and rear wash-wipe, making the 1.6S, 2.0S, and 3.0S desirable sporting packages. The GT designation was dropped early on in S history and later models received a generous air-dam spoiler and less striping.
Capri II 3000 Ghia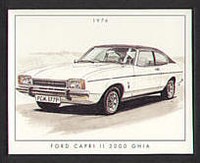 The Capri II was born in 1974 amid a gloomy economic climate, and this, with the cessation of US exports of the Capri, saw sales figures of the new generation Capri half that of the original. The new breed was larger, had mores space, with a better ride and generally was a much improved car, it incorporated a hatchback with the fuel tank repositioned to behind the rear axle under the floorpan. The V6 offerings were the 3000GT and 3000 Ghia - the newly acquired Turin styling house's influence resulting in a higher level of luxury than Fords had previously enjoyed, with liberal use of plush fabrics and extra padding to the now opulent interior. In terms of performance the 3000 twin-piped engine in its new shell did not sparkle as much as the retiring 3000GXL, but improved brakes and tyre combinations made it infinitely more controllable. The Ghia enjoyed vinyl roof, tinted glass, sunroof and stood on unique 8-spoke alloy road-wheels.
Capri 2.0S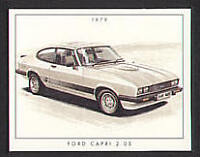 1978 saw the emergence of the third generation Capri, a sleeker, faster and altogether safer car, easily identified by its quad headlamps nestling under a restyled drooping bonnet line and large ridged rear lights used extensively as a trademark by Ford models of the early 1980s. Based on the Capri II floorpan, the MK III Capri benefited by a liberal used of plastics and aerodynamically by the introduction of a standard rear spoiler for all the S models. The S range had a choice of 3 engines - the 1600 OHC, 2000 OHC and 3000 V6, all with twin venturi carburettors. At this time, models were shod with alloys first seen on the luxurious Capri II Ghia S, and were trimmed with the fashionable Carla seat fabric and huge S body-side stripes.
Capri 2.8 Injection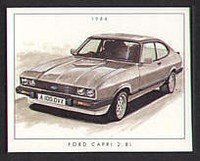 The swansong of the Capri's history, the 2.8 injection, did much to revive the fortunes of the ageing Capri, and was a sensation at its launch in 1981, adding years onto the life of the genre. The 3-litre Essex plant was dropped in favour of the aggressive Bosch K-Jetronic fuel injected Cologne V6, and handling improved by a taughter suspension and lower ride height resulting in a package far more refined than any yet presented, and all at the lean starting price of £7995. The 2.8i could reach 60mph in under 8seconds and achieved 130mph. This feisty performance with luxuries such as Recaro seats, unique perpperpot alloys, tilting/sliding sunroof, power steering, tinted glass and opening rear quarter windows ensure this model a cult status, going down in history as a true drivers car and a high point in Ford's sporting model range.
Capri 280 Brooklands
The final chapter in the Capri's history, and a fitting end was the Brooklands 280, of which only 1038 were produced as late as December 1986. Basically a 2.8i with special Brooklands Green metallic paintwork, the 152bhp Capri was undeniably attractive with its unique red and white coachlining and enormous 7J 15inch 7-spoke allooy wheels with road hugging 195/50 VR15 Pirellis, Trimed copiously in raven leather hide and with every extra one could possibly want, the Capri 280 could be nothing other than an instant classic, a dignified end to the Capri story, which spanned 18 years, and linked itself with such illustrious names as Jackie Stewart and Emerson Fittipaldi. Culminating 1.9 million examples, and loved by people worldwide, it really was "the car you always promised yourself".
Thank you for reading my guide and I hope you found it interesting!