Ford Consul, Zephyr, Zodiac Cars
This is one of many illustrated classic car guides I've created for the community. I hope you enjoy it. If you wish to find out more about the classic car art featured in this guide please click here.
Consul 375 Mk2 1961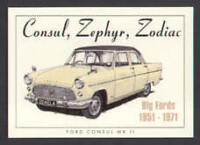 Revised low-line Mk II models were launched in February 1959. Changes were mainly external, being a lower, flatter roof-line and increased use of bright-work. In 1961 the Mk 2 Consul was given the full title Consul 375 in order to distinguish it from the medium sized Consul Classic 315.
Zephyr Mk1 1951-1956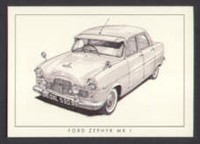 The Mk 1 models, in production from 1951 to early 1956, were promoted by Ford as The Five Star Cars. Technically advanced, with monocoque construction, overhead valve engines and independent (MacPherson) front suspension, these were the first modern post-war cars from Dagenham.
Zephyr Mk2 1956-1962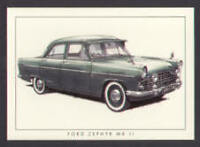 The Mk 2 Consul, Zephyr and Zodiac followed the success of the original MkI range in 1956. Featuring significantly larger bodywork than before, its styling having a distinctly transatlantic look. The Zephyr now used a 2,553cc six cylinder offering increased performance, an automatic gearbox was also available for the first time on a UK built Ford.
Zodiac Mk 2 Convertible 1956-1962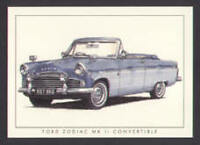 Convertible Versions of the Consul, Zephyr and Zodiac were included in the Mk II range from the launch. The Zodiac Convertible came fully loaded with luxury fittings and even boasted a power operated three-position folding hood. Two-tone bodywork added even more glamour. Always rare, only 16,309 MkII convertibles were produced, just 2.4% of total production.
Zephyr 6 Mk3 1962-1966
The Mk 3 range featured a new bodyshell, which had striking fins and a lower roof profile than the Mk II cars. The Zephyr 6 had a distinctive front grille and a plush interior, overdrive and automatic transmissions were both available as options. Front discs were now standard.
Zodiac Mk3 1962-1966
The Zodiac was a six-light saloon and the first 100mph car to be catalogued by Dagenham, its increased performance due to a redesigned, high-compression cylinder head and dual exhaust system. Now a unique model, its major breakthrough was a four-speed all-synchromesh gearbox. Zodiac estate conversions were offered by Abbott of Farnham.
Zodiac Executive Mk4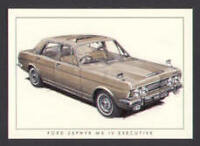 The Zodiac Executive was launched at the 1966 Earls Court Motor Show. Based on the Zodiac, this luxury saloon was even better equipped than the standard Zodiac, with automatic transmission, power steering and hide upholstery. Other standard fitments included a heated rear-screen, fog and spot lamps, a push-button radio, steel sliding sunroof and inertia seat belts.
Thank you for reading my guide and I hope you found it interesting!