Ford Popular, Prefect and Anglia

This is one of many illustrated classic car guides I've created for the eBay community. I hope you enjoy it and if you would like to find out more about the classic Ford car art featured in this guide please click here.
October 1962 saw the introduction of the Anglia Super. It came complete with the Cortina's 1,198cc version of the '80 bore engine, all-synchromesh gearbox improved brakes. Offered in distinctive two-tone, chrome-highlighted combinations, the Super was designated the 123E.
Popular 103E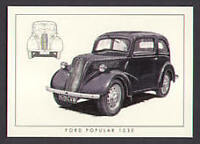 Although the introduction of the 100E range in 1953 signalled the end of the old Anglia and prefect, Ford still wanted a budget entry model in the range, and dusted off the Anglia E494A to produce the new 103E Popular. This no-frills model proved a success, with over 150,000 produced between 1953-1959.
Prefect 107E
Since the new Anglia was only available in 2-door form the old Prefect 100E bodyshell was continued to retain a low-priced 4-door model, but with the 105E power unit and four-speed transmission. Deluxe specification only it had two-tone paint, floor carpets front and rear and improved seats.
Squire Estate 100E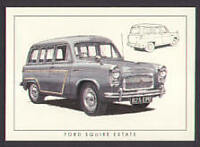 The Escort and Squire Estates were Ford's first factory-built small wagons. Escorts were 5cwt vans with Anglia grilles, seats and windows. Squires used the Prefect grille and wood strakes on the side. Mechanically, they were identical.
Popular 100E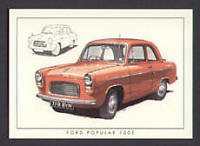 When the trendy new 105E Anglia came out in 1959, the old 100E Anglia was downgraded to become the new Popular. Externally it differed only in having simpler round rear lamps. The Standard Popular had no parcel shelf or opening quarter lights, fittings only found on the Deluxe version.
Anglia 105E Deluxe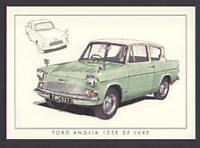 Most Anglia 105E buyers opted for the Deluxe specification car, since it was only slightly more expensive than the standard model. The Deluxe boasted a full-width chrome grille and the option of two-tone paintwork, in which the roof panel and rear pillars received the second colour. 1959 prices were £589 (Standard) and £610 (Deluxe).
Anglia 105E Estate
Ford launched an estate version of the Anglia 105E in the autumn of 1961. This featured a completely restyled rear-end, in which the saloons rear wing line and tail lamp treatment disappeared. A counterbalanced lift-up tailgate was provided, giving access to a 35 cubic feet load-space. Some estate cars received the 1200 engine.
Thank you for reading my guide and I hope you found it interesting!