Ford RS Performance Models 1983-1992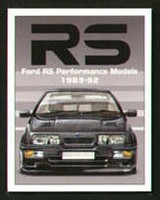 This is one of many illustrated classic car guides I've created for the eBay community. I hope you enjoy it and if you would like to find out more about the classic Ford RS car art featured in this guide please click here.
The introduction of the Escort RS 1600i for the 1983 model year provided a significant milestone in performance Ford history, marking the return of the all-important RS badge. This guide celebrates six of Ford's best Rallye Sport models produced between 1983 and 1992, including Escort, Sierra and Fiesta models.
Ford Escort RS 1600i
The Ford RS1600i performed a vital role in restoring credibility to the RS legend in the switch to front-drive for performance Fords. Its 1982-3 debut was confused by Ford of Britain's simultaneous launch of the XR3i, but the model found long-term loyalty in the hearts of RS owners and a cult following today.
Ford Escort RS Turbo (S1)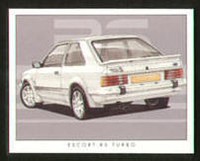 Produced for homologation into international Group A, the RS Turbo was designed and developed by Special Vehicle Engineering (SVE) in Britain for German production to Ford Motorsport specification. Steel 3-door hatchback with plastics for front and rear spoilers plus side extensions. Aerodynamic drag factor of 0.38Cd.
Ford Sierra RS Cosworth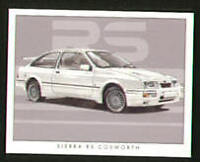 A "homologation special" numbering 5,000 examples, produced by Ford and based on the three-door bodyshell of the normal Sierra. Easily identified by its flamboyant "duck-tail" spoiler that was completely functional given the extraordinary performance of this 150mph sports hatchback.
Ford Sierra Sapphire RS Cosworth
In 1988 and 1989, Ford produced approximately 14,000 cars based on the four-door Sierra Sapphire saloon body shell. These used the same running gear as the original RS Cosworth, but the lines were now much more understated. The third generation models followed in 1990, offering 224bhp and four-wheel-drive.
Ford Fiesta RS Turbo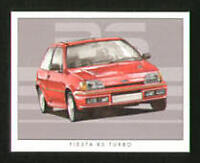 Launched in 1990 and fitted with a 1.6-litre turbocharged version of the CVH engine, the Fiesta RS Turbo was based on the Ford Mk3 Fiesta two-door hatchback shell used on the Fiesta XR2i. The first production turbocharged Fiesta model was available in Diamond White, Radiant Red, Black and Mercury Grey.
Ford Escort RS Cosworth
Conceived to comply with 1993 Group A international rallying regulations (minimum production of 2,500), the RS Cosworth was the first mass produced car with front and rear downforce aerodynamics. Using a modestly uprated Cosworth Ford YBT engine power output peaked at 227bhp, fractionally more than the legendary RS500.
Thank you for reading my guide and I hope you found it interesting!