Ford Thunderbird
Ford Thunderbird 1955-1963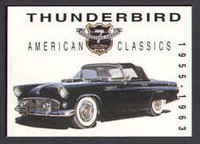 This is one of many illustrated classic car guides I've created for the community. I hope you enjoy it. If you wish to find out more about the classic Ford Thunderbird car art featured in this guide please click here.
Few post-war automotive nameplates have achieved such legendary status as the Ford's "personal car". An instant classic when introduced in 1955, this sleek two-seater stunned America with its stylish lines and luxury options. It sold exactly 53,166 copies in a three-year model run to 1957 and fired the public's imagination in such a way that for the next decade American buyers looking for lively power in a stylish package would greedily devour every Thunderbird going.
1956 Ford Thunderbird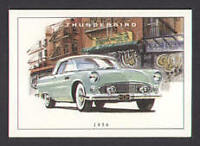 Mechanical changes were perhaps more significant than styling revisions for Thunderbird's second season. The most obvious difference was a standard "Continental" exterior-mount spare tyre, which opened up more cargo room in the trunk. Inside, a padded dash and dished steering wheel reflected Ford's efforts on the safety front, together with newly optional seatbelts. Detroit was still engages in a "horsepower war" so the 292 V-8 returned for '56 with 202 bhp, though it now coupled only to the standard three-speed manual transmission, with stick overdrive or Ford-O-Matic you got a new 312-cid Thunderbird special engine offering 215 or 225 horsepower.
1957 Ford Thunderbird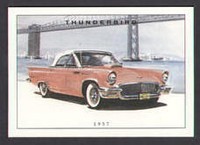 The two-seat Thunderbird entered its final year carrying fresh front and rear styling. At the rear, tailfins mirrored those of Ford's '57 full-size line up, while the front ends adopted a loop bumper with stand-alone pods. Top power option was a new (F-Code) supercharged 312 producing 300 advertised bhp, although some estimates put it closer to 340. Fitted with this engine, a '57 T-Bird was an extremely quick motorcar. With a 21,380 production run, the '57 was the most numerous of the little-Birds and is also the most popular with collectors today.
1958 Ford Thunderbird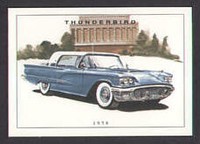 Swapping two seats for four in 1958 showed the powerful influence of Ford's accountants. In search for greater sales volume, the Thunderbird was taken upmarket, losing its youthful verve and turning the car into a prestige cruiser. These 1958-1960 second generation Thunderbirds gained eleven inches in the wheelbase and were nearly 800 pounds heavier. A substantially bigger 'Bird, the blocky profile later prompted the Squarebird nickname. A larger "FE-Block" V-8 was offered for '58 to help offset the car's weight gain. It came in only one configuration, 352 cubic inches with four-barrel carb. '58 model year production totalled 37,892 units.
1959 Ford Thunderbird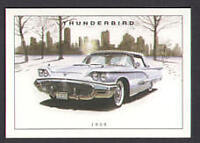 Radical updates to the basic '58 styling were considered for the '59, but none materialised. With a revised tooling budget of just $700,000 for all 1959-1960 modifications, the Squarebird received only minor visual changes. For '59, a horizontal-bar grille replaced the previous year's honeycomb design with the theme being repeated for the taillight surrounds, and chrome spearheads leading Thunderbird script replaced grilles on the bodyside "bombs". Most noteworthy styling changes for 1960 were a new honeycomb grille overlaid with three vertical bars, and triple taillight cluster replacing dual lights.
1961 Ford Thunderbird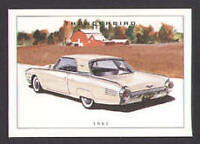 Thunderbird gained a sleek new "bullet" shape for its third generation. With a completely redesigned chassis and improved suspension, the new model handled much better than the Squarebird, and steering was more responsive. There were better brakes too, which was appropriate as kerb weight had risen sharply over the previous models. The standard, and only engine was a 300 horsepower 390 cid V-8. The '61 rated as the best engineered Thunderbird to-date. One gold-painted rag-top served as the pace car for the 50th running of the Indy 500.
1963 Ford Thunderbird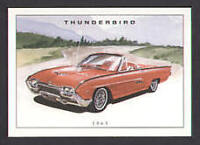 New for '62, the Sports Roadster model was the finest incarnation of the '61-63 Thunderbirds, and a spiritual successor to the two-seat T-Bird. With Kelsey-Hayes wire wheels and a two-seater fibreglass tonneau, it was one of the most glamorous and exclusive convertibles of the early sixties. With only slight visual changes from the '61 models most interesting was the newly optional M-series 390 V-8, with triple two-barrel carbs and 10.5:1 compression, good for 340bhp. Reasonably priced at $242.10, the M option enabled 0-60 mph in 8.5 seconds and 115 mph all out.
Thank you for reading my guide and I hope you found it interesting!